Whatever Happened To Country Star Joe Diffie?
Terry Wyatt/Getty Images
Throughout the 1990s, country star Joe Diffie was everywhere. With a string of No 1 hits, he quickly became a country music legend in the prime of life. Diffie, who was born in Tulsa, Oklahoma, grew up in a family that loved and valued the art of music, reports All Music. Performing in public at age 4, Diffie helped his aunt with her country band. In high school, he was part of a rock band and by the end of college he was in a gospel quartet called Special Edition. 
Focusing on his songwriting, it wasn't until 1986 that Diffie took himself seriously and moved to Nashville, taking a job in a guitar plant while continuing to write music, per All Music. When Holly Dunn recorded "There Goes My Heart Again," a song Diffie had helped write, he became a must-have in the music industry and signed with Epic Records in 1989. When his debut album, "A Thousand Winding Roads," came out in 1990, his single, "Home" shot to No 1. 
Over the next decade, Diffie would see several more No. 1 songs and others that rose to the No. 2 spot; solidifying his place as a country music star that was shining bright. 
Joe Diffie died from coronavirus complications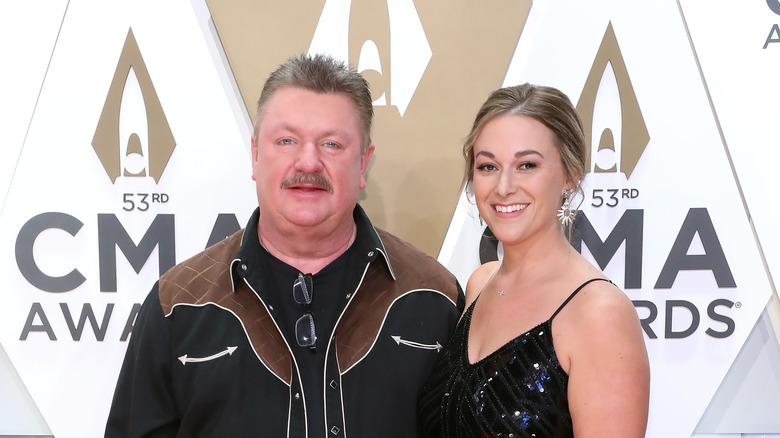 Taylor Hill/Getty Images
While the '90s treated Joe Diffie to chart-topping success time and time again, the 21st century wasn't as kind. His last chart topper was 2001's "In Another World," according to the Tennessean. In May 2018, Diffie married his fourth wife, Tara Terpening. In 2019, the couple were welcomed onto the "Bobby Bones Show," where they talked about their marriage. 
When asked what it was like to be married to Diffie, Terpening replied with a smile. "It's magical...it's magical." She also went on to tell listeners that her husband had a hidden talent — apparently he has a knack for cooking and made her a home-cooked meal every night. "He honestly, he loves me more than anyone in the world."
Unfortunately, Terpening would get just a couple years with the "love of her life." In March 2020, Diffie passed away from coronavirus complications, according to the Tennessean. In tribute to her late husband, Terpening shared their last photo together on her Instagram page.