Who Is James Harris From Million Dollar Listing And What's His Net Worth?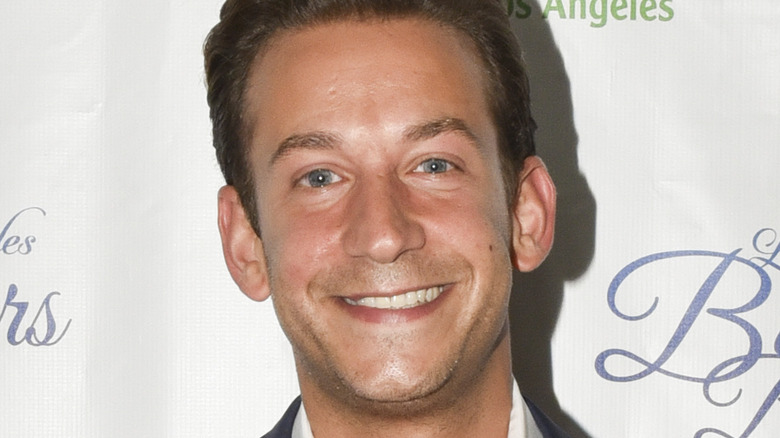 Rodin Eckenroth/Getty Images
James Harris is known as the charming real estate agent from "Million Dollar Listing: Los Angeles," but while he made his fortune in the United States, the British-born reality star started his career on the other side of the pond. 
Contrary to his present-day polished persona, Harris was a difficult child during his school days. "I'm an only child raised by my very daring mother who had to deal with me being asked to leave eight schools growing up," he revealed to Livabl in 2018. By the time Harris was 16, he quit school and started his career in real estate which led him to leave the U.K. for Los Angeles, Calif. when he was 21, per Haute Residence.
The "MDLLA" star has a wife named Valeria, and they have two daughters named Sofia and Chloe, but Harris' longest relationship is with his business partner, David Parnes. Long before the duo became real estate magnates, they were childhood friends in Britain with visions of one day making it in Los Angeles, Calif. "David and I have known each other from day one. Our mothers until this day are best friends," Harris told Livabl. While making a name for themselves in the City of Angels, the pair would walk door-to-door to high-end properties. "We started out our careers door knocking to find listings, and played rock, paper scissors to determine who would knock on the next door," Harris said. That work ethic resulted in the two making a fortune together.
Their firm has sold record-breaking homes
The goal for James Harris and David Parnes to strike it rich was always to focus on high-end real estate. Early in their Los Angeles, Calif. days, while they were still going door-to-door, the pair even knocked on the gates of Dr. Dre's estate, per Joe Fairless. Once they started landing high-end properties, the only thing that changed was the amount of zeros on their paychecks. "[W]hether you're trying to sell a $500,000 home or a $5 million home. Nothing really changes except the paycheck's a lot bigger," Harris told Digs in 2020. Although the duo are members of the prestigious The Agency real estate agency, they also have their own firm called Bond Street Partners.
In 2017, Bond Street hit a landmark as they cracked $500 million in sales, per Livabl, and they have been on an upward trajectory ever since. The firm has pulled in over $1.5 billion in sales since that year, and have been behind several record-breaking sales. They sold a home to Rob Lowe for $3.75 million in 2020, but that was small potatoes compared to their colossal sales. 
Harris and the firm sold a property known as "The Manor" for $120 million which was "the 4th highest sale ever in Los Angeles County and the 6th highest sale in U.S. history," per Bond Street Partners. Thanks to the success of Harris' firm, the reality star has amassed a personal fortune of $6 million, per Celebrity Net Worth.