What's Going On With Darcey Silva's Engagement To Georgi Rusev?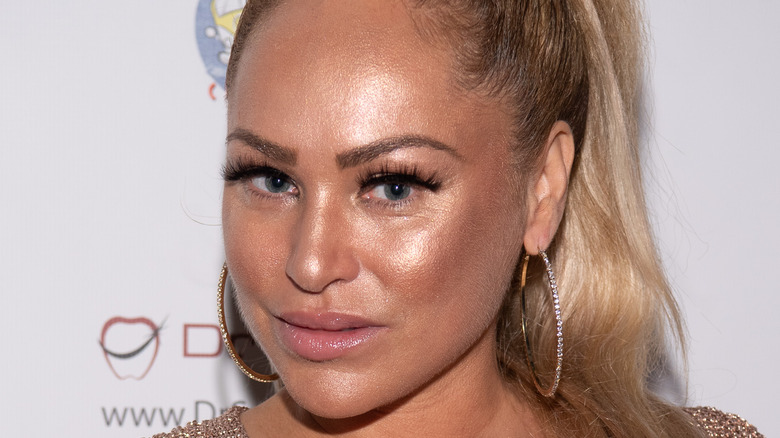 Brad Barket/Getty Images
Fans of the super-smash show "90 Day Fiancé" fell in love with Darcey Silva from the minute she debuted on our screens with her then-boyfriend, Jesse Meester. Throughout the trials and travails of their relationship — and her follow-up relationship with Tom Brooks, who never deserved her anyway — viewers were rooting for Darcey to find her one true love. 
But it took a spin-off show with her twin sister, Stacey — titled, of course, "Darcey & Stacey" — for our favorite reality twin to come close to finding true love. And although Stacey was lucky enough to get married to her Albanian hunk, Florian, Darcey is still struggling to get her fiancé, Georgi Rusev, down the aisle.
The latest "Darcey & Stacey" teaser video suggests that these two broke up, but some recent Instagram comments suggest that these two are still very much together. So what's really going on with Darcey's engagement to Georgi? Here's what we know.
Are Darcey and Georgi playing the 'are they or aren't they' game?
If you believe the latest "Darcey & Stacey" teaser video, Georgi Rusev and Darcey Silva are on the skids. Georgi even stoops so low as to call up Darcey's old boyfriend, Jesse, on a video call to get some dirt on his fiancé!) Oof. It's a big blow considering Darcey described Georgi as "calm and understanding" in a previous interview with Entertainment Tonight.
But if you believe the latest two Instagram posts made by Darcey, she and Georgi are still very much together and very much in love. In one Instagram shot of her bum from July 4, which Darcey titled "Kiss my a**!", Georgi responds with "sexy a**" and a kissing lips emoji. In another follow-up post, Darcey wears a swimsuit and lounging in the pool, which prompts Georgi to respond with heart emojis. 
It's entirely possible that these two are still very much together, and the drama is just for the camera. It's also entirely possible that these two have to maintain a façade of being together until the show airs. Whatever the case, we definitely hope to get some answers when Season 2  of "Darcey & Stacey" premieres on July 19!