Inside Elizabeth Taylor And Richard Burton's Troubled Relationship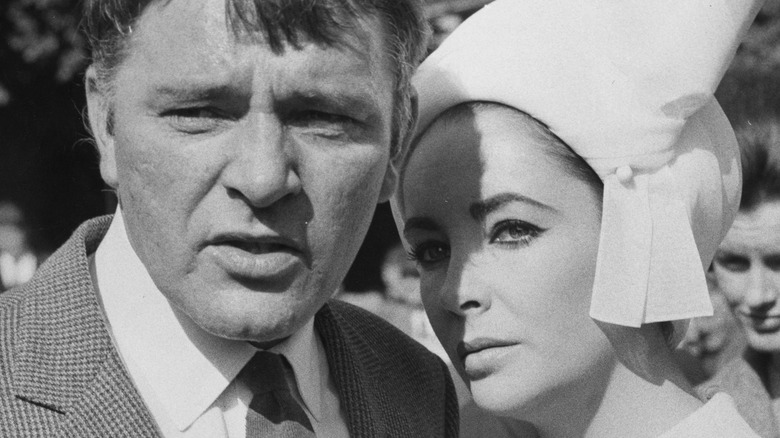 Les Lee/Getty Images
Elizabeth Taylor and Richard Burton had an epic love story. They made 11 movies together, including "Who's Afraid of Virginia Woolf?" and "Cleopatra." In 1973, Taylor said (via Vanity Fair), "When you are in love and lust like that, you just grab it with both hands and ride out the storm." A storm is an apt metaphor; they were married to and divorced from each other twice.
The first time Burton laid eyes on Taylor was at a party at the home of actors Jean Simmons and Stewart Granger in 1953. "A girl sitting on the other side of the pool lowered her book, took off her sunglasses and looked at me," he would later write in his diary. "She was so extraordinarily beautiful that I nearly laughed out loud. She was unquestioningly gorgeous..." Taylor decided to ignore him — Burton had a reputation as a ladies' man and a player. Nine years later they were cast as Anthony and Cleopatra and Taylor was determined not to fall for him. She failed at that and sparks flew as the two actors shot their love scenes for 1963's "Cleopatra."
Keep reading to find out the inside scoop of Elizabeth Taylor and Richard Burton's troubled relationship.
They were married to other people when their affair started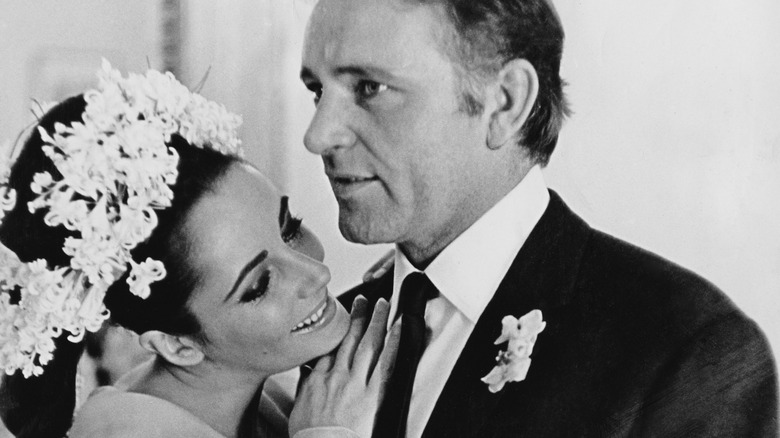 William Lovelace/Getty Images
When Elizabeth Taylor and Richard Burton fell in love they were both married. Burton to Sybil Christopher and Taylor to Eddie Fisher, her fourth husband who was the subject of a separate love triangle with Debbie Reynolds. They married 10 days after Taylor's divorce was finalized in March 1964, per Ranker. It was called the "Marriage of the century" and the press followed their jet-setting life of excess. Burton bought a $960,000 plane on a whim after they flew on it to Paris, per Vanity Fair. Their marriage was one of excess in all ways — spending on homes and jewelry, drinking, fighting, and making up.
They divorced for the first time in 1974. Taylor plainly said (via The Independent), "There were too many differences. I have tried everything." Burton didn't give up even when they were divorced. They remarried in 1975 but divorced for the second time in 1976. Their marriage was marked by Burton's alcoholism and Taylor's addiction to pills and their mutual addiction to drama. After their second divorce, Taylor said "I don't want to be that much in love ever again ... I gave everything away... my soul, my being, everything."
Days before Burton died of a brain hemorrhage in 1984, he wrote Taylor asking her if she wanted to give their relationship one more go. The letter arrived after his death. Taylor reportedly kept that letter in her nightstand drawer for the rest of her life.