Helen Mirren Reveals The Curious Activity She Did During The Pandemic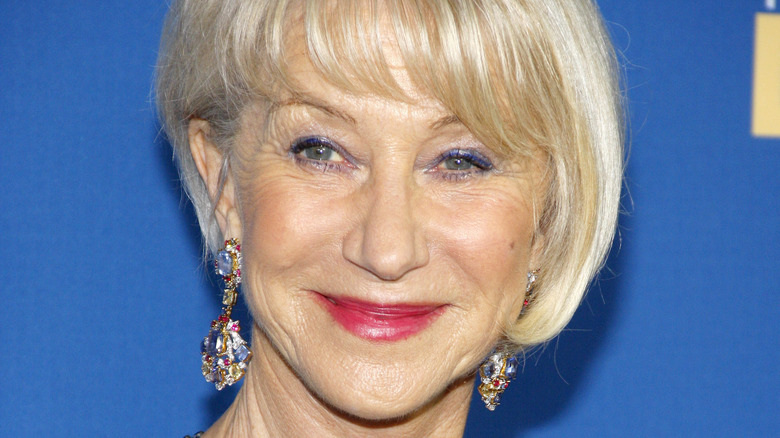 Shutterstock
Helen Mirren loves getting glammed up. The legendary actor has been a spokesperson for major cosmetics brand L'Oreal Paris since 2014, a deal which she signed at 69 years old, following the steps of fellow actors Jane Fonda and Julianne Moore. According to Vogue UK, Mirren appealed most to the 9,000 consumers the brand surveyed, with participants "repeatedly describing her as genuine, intelligent and glamorous, with looks that seem only to improve with the passing of time."
In a statement at the time, Mirren said, "I am truly delighted to become an ambassador and join such an impressive group of high-achievers. I hope I can inspire other women towards greater confidence by making the most of their natural good looks. We are all worth it!" Obviously, Mirren's enthusiasm for beauty and makeup (and embracing life!) is a big part of her identity — so much so that she refused to give in to the bare-faced look throughout the pandemic. Keep on reading to find out what she did even when at home that had people talking.
Helen Mirren did not give up her beauty routine during the pandemic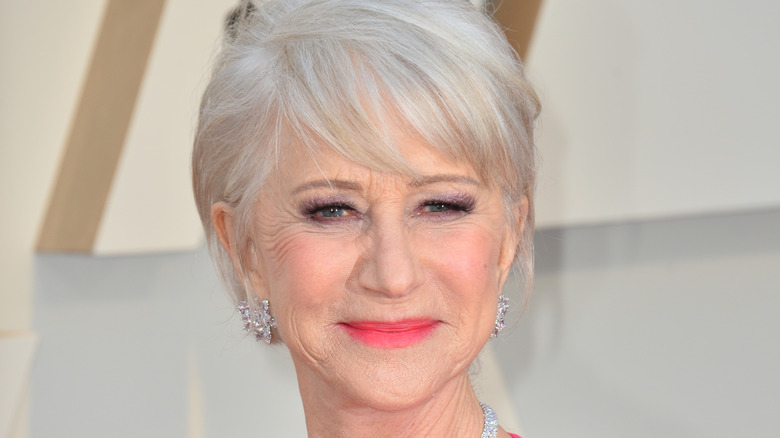 Shutterstock
Unlike the rest of us who perhaps let go of our daily beauty regime during the coronavirus pandemic (and threw on some sweats), Helen Mirren remained diligent with her appearance by glamming up every day. "Every day I put on makeup," Mirren told People in its July 15 issue. "I didn't do it for [husband] Taylor [Hackford] because Taylor never notices. He asks if I've got makeup on or not and doesn't really care, but he certainly doesn't notice."
Mirren added that her husband would sometimes be "puzzled" about her appearance, but give her compliments anyway. "You just associate the fact that I look nice with the fact I've just spent an hour doing my makeup!" she joked about Hackford, before adding, "But I would put my makeup on every day and get dressed every day because I enjoy it." Mirren added that she maintained her daily ritual because she wanted a sense of normalcy, and felt "it was actually a good experience" for her. "I felt like I was living my life properly," she said.
"I love the opportunity to wear incredibly beautiful clothes," Mirren added on returning to this year's Cannes Film Festival. "I appreciate the craft of couture. I'm a girl, I love, love dressing up. And then I'm perfectly happy to give it all away at the end of the night and go back to my scruffy, Bohemian outfits." She's an icon!