Who Is Christian Birkenberger From Big Brother?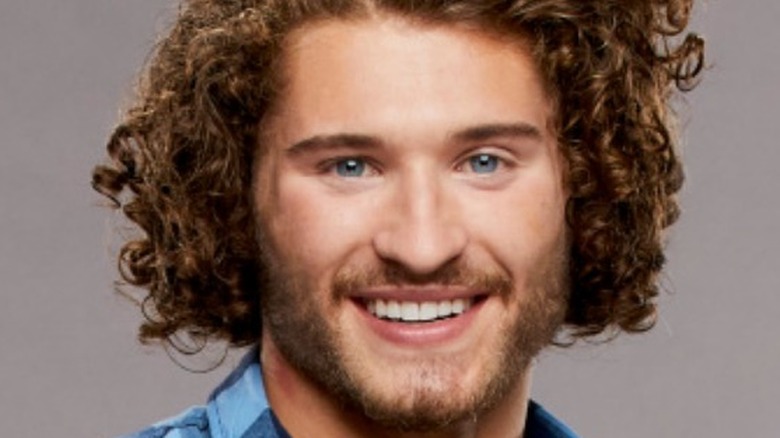 Cliff Lipson/CBS
Christian Birkenberger is a contestant on the 23rd season of "Big Brother," and the hunk is already scoring fans thanks to his bright blue eyes and curly mop of hair — even if his fellow housemate Brandon "Frenchie" French has written him off as a "meathead," per Big Brother Network. Turns out, there's definitely more to Christian than meets the eye.
Christian has his own plan for winning the CBS reality show, and that supersized $750,000 grand prize. According to his bio on CBS, his strategy is to be himself but also appear "fun and clueless as to not raise any flags." Despite his fit physique, he doesn't want to come off as a physical threat, but he also plans to "slip up" and use his skills in physical competitions when he needs to. Christian already won the first Wildcard competition of the season and kept himself safe from the nomination block, per Gold Derby — which is lucky for him, because Head of Household Frenchie was eyeing him up for eviction.
The Connecticut native describes himself as "charming, friendly, and determined," and despite his good looks, he claims he has only had one girlfriend in his life. Sounds like a showmance probably won't be on Christian's radar this summer, even if he was getting a little flirty with housemate Alyssa Lopez early on!
Christian Birkenberger has kept an important part of his past a secret from his Big Brother housemates
On his CBS bio, Christian Birkenberger's occupation is listed as a "General Contractor Assistant." Sounds non-threatening enough. But what Christian neglected to tell his fellow "Big Brother" competitors is that in the past, he has also worked as a model. On his Instagram bio, Christian does list himself as a "fashion model" and a "modern day Tarzan," but his sequestered housemates aren't privy to that information just yet.
A bio on Model Management reveals images of a younger-looking — and shorter-haired — Christian with a blurb about him being "a professional model with representation across the Northeast United States." The bio adds that Christian models in both photos and on video, works with clothing designers for runway work, and has experience in "freeze modeling, print modeling and commercial acting." On his Instagram page, Christian also noted that he works with the modeling agencies Model Club Inc. and True Modeling Management. Plus, he recently revealed he started his own fitness business, in partnership with his trainer's.
Even if Christian doesn't win the "Big Brother" grand prize, he will get a "win" with a larger social media following thanks to his stint in the CBS summertime house.