For Every Time Melania Trump Has Been Controversial, This Moment Stands Above The Rest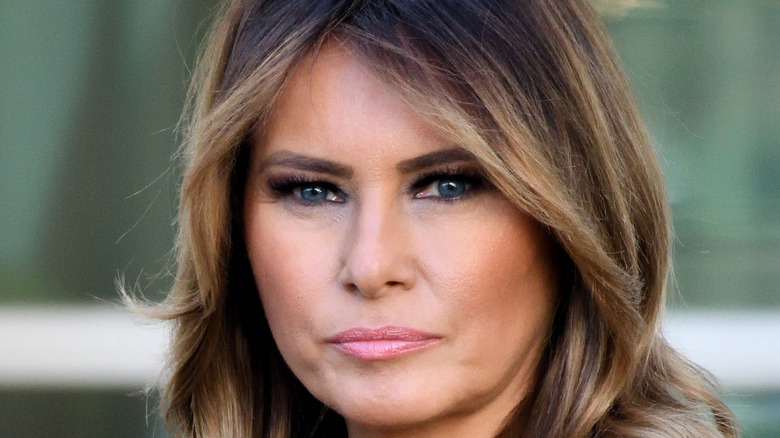 Shutterstock
During her tenure in the White House, Melania Trump was a woman of not many words. Unlike her husband Donald Trump, the former first lady of the United States opted for brief statements, seldom using her social media platform unless it was to share a message of unity or to slam claims about her family. So when Melania had something to say, she didn't type out a long-winded response on Twitter — instead, she chose to relay her message through her body language and her clothes.
Although Melania is used to turning heads in the finest dresses and expensive jewels, there is one particular item she wore as FLOTUS that still has people talking to this day. And no, it wasn't her baby powder blue Ralph Lauren ensemble that she wore during Donald Trump's inauguration or all-white outfits that she might have strategically worn during her husband's state visits. Instead, it was a $39 piece of clothing that she only wore just once.
So how did this item of clothing fit into Melania's most controversial moment ever? Read below to find out!
Melania Trump's jacket had people seeing red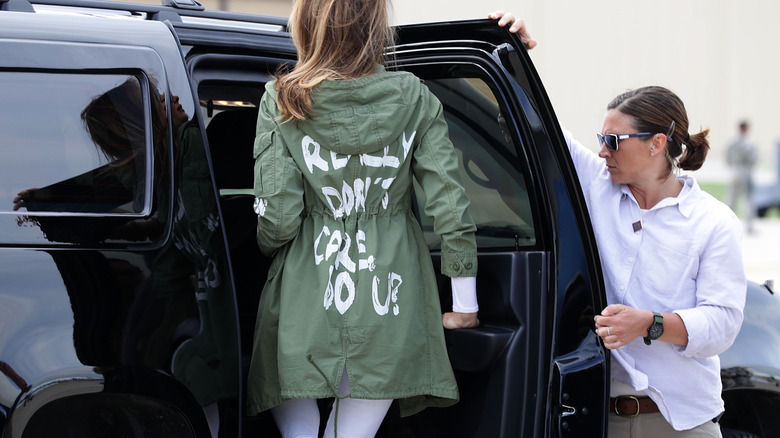 Chip Somodevilla/Getty Images
In January 2018, Melania wore a green jacket with the words "I really don't care, do u?" emblazoned from the back when visiting children in detention centers at the U.S.-Mexico border in 2018. Given Melania's preference for high ticket items, never would have anyone guessed that she would take an affordable jacket from Zara to make one of her most powerful statements during her husband's time in the Oval Office. 
As for that intended statement? Some assumed Melania took a glib approach to the immigrant kids separated from their parents due to the Trump administration's "zero-tolerance" policy. But according to Melania, the media got the message behind her jacket all wrong. Soon after she wore it, she told ABC News, "It's obvious I didn't wear the jacket for the children, I wore the jacket to go on the plane and off the plane. It was for the people and for the left-wing media who are criticizing me." She continued, "I want to show them I don't care. You could criticize whatever you want to say. But it will not stop me to do what I feel is right."
Despite her protests, the jacket inspired countless headlines, think pieces, and even a potential rebuttal from first lady Dr. Jill Biden, as she wore a jacket emblazoned with the word "LOVE" in June. "That should sum it up for you," one Twitter user noted about the ladies' dueling jackets.