What Harry Styles Gave To Stevie Nicks When They First Met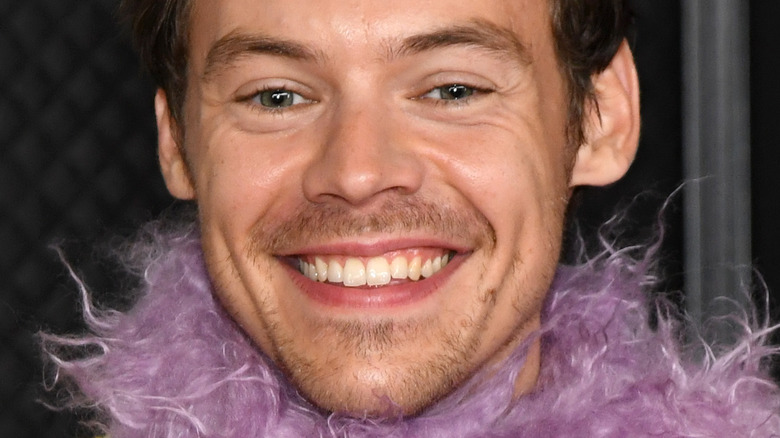 Kevin Mazur/Getty Images
When you think of friendships in Hollywood, Harry Styles and Stevie Nicks may not be the first two people who come to mind. Nonetheless, the two musicians have forged quite the friendship — and, as it turns out, Styles' gift to Nicks the first time they met may have helped them hit it off!
There's no denying the history that Styles and Nicks have together. According to Insider, the two first met in 2015 and, over the years, their friendship has continued to evolve, with Nicks even referring to Styles as "the son [she] never had" in 2019. "When Harry came into our lives, I said, 'Oh my God, this is the son I never had.' So I adopted him," Nicks said during an interview with Rolling Stone. And Styles seemingly reciprocates this adoration. In 2019, Styles inducted Nicks into the Rock & Roll Hall of Fame as a solo artist. (Nicks had previously been inducted with her band, Fleetwood Mac.) Styles has also joined Nicks onstage for performances, and vice versa. Needless to say, the two musicians have forged a wonderful bond!
It's crazy to think of a world where Nicks and Styles are not friends, but if the former One Direction member had not come bearing just the right gift for Nicks, the friendship may have never been. So, what did Styles give to Nicks when they met? Keep reading to find out! 
Harry Styles had a sweet surprise for Stevie Nicks the first time they met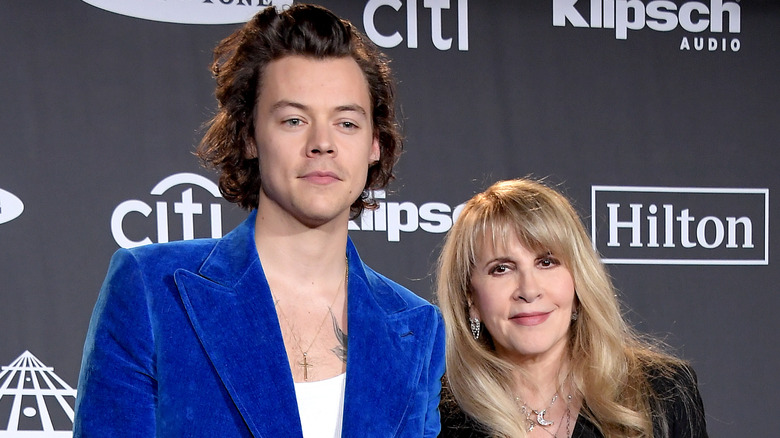 Michael Loccisano/Getty Images
It can be nerve-wracking to meet new people — especially when the person you are meeting is one of the most iconic musicians of all time. Fortunately for Harry Styles, he hit it off with Stevie Nicks pretty easily thanks to a special gift: a cake!
According to Insider, Styles first met Nicks in 2015 backstage at a Fleetwood Mac concert. As it turns out, it was also Nicks' 67th birthday, and Styles came prepared with a cake. "Piped her name onto it," Styles explained during an interview with Rolling Stone. "She loved it. Glad she liked carrot cake." Who wouldn't love to receive a carrot cake from Styles on their birthday?
Needless to say, Nicks was definitely impressed by the gesture. While speaking to the Daily Mail, she fondly remembered the day, saying that it was "the nicest birthday [she'd] had in ten years" and confirming that "Harry Styles brought back a cake." It's been more than five years since Styles and Nicks first met, and their friendship has only grown since then. And to think that a simple carrot cake is what started it all!