How Is Donald Trump's Tour With Bill O'Reilly Selling?
Shutterstock
Donald Trump may indeed be plotting his return to politics, and he's taking advice from disgraced Fox News powerhouse Bill O'Reilly. Back in June, the pair announced their four-stop "History Tour" taking place this December, with the former POTUS explaining (via The Washington Times) that "these will be wonderful but hard-hitting sessions where we'll talk about the real problems happening in the U.S., those that the fake news media never mention." Trump continued, "I will be focusing on greatness for our country, something seldom discussed in political dialogue."
Well, it seems the whole thing was O'Reilly's idea. Speaking with Talkers Magazine on a podcast (per The Washington Times), he recalled how "The History Tour: Donald Trump & Bill O'Reilly" came to be. "I said to myself, 'I don't know what the deuce happened during four years inside the Trump White House' ... so I thought, 'how can I right this wrong?'" That's when he decided he had to "convince Trump to go out on a history tour with me" and flew to Mar-a-Lago to do just that.
The political pundit shared how he sold the idea to Trump, reasoning, "You know Mr. President, if you want to run again or be a political titan going forward, you really have to get facts about your administration on the record. There's nobody better than me to do it, because I am a pretty tough interviewer. And if you come with me, it's not going to be a rally." But how are the ticket sales actually going?
Will the History Tour be a success?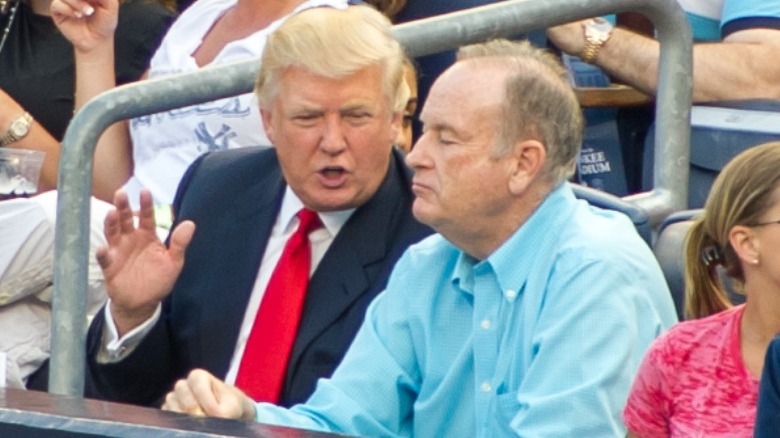 Michael Stewart/Getty Images
"The History Tour: Donald Trump & Bill O'Reilly" currently has just four stops planned — two in Florida (Sunrise and Orlando) and two in Texas (Dallas and Houston), according to Ticketmaster, with prices ranging from $100 to a VIP Meet & Greet that costs a whopping $8,500-plus, per Politico. But despite Donald Trump promising it'll be "fun, fun, fun for everyone who attends," per Vanity Fair, tickets are reportedly not moving.
Politico reached out to box-office employees and learned it "hasn't been [selling] like crazy" in Sunrise, while about 60 to 65% of seats are unsold in Houston. One employee at Amway Center in Orlando admitted that "there's still a lot of tickets open" and noted, "We have concerts that are doing a lot better than this," like Bad Bunny's show which sold out in two days.
Following Politico's report, Trump spokeswoman Liz Harrington shot down those numbers, telling The Hill that they've sold "over $5 million of tickets, and the excitement and enthusiasm is unlike anything we've seen before." She added that "come December, the sold out shows will be a memorable night for all." Meanwhile, Bill O'Reilly reportedly threatened to sue Politico's Daniel Lippman who wrote the story and boasted they'd sold $7 million-worth of tickets and "haven't spent a nickel on marketing." O'Reilly noted that "marketing will start in about a week" and bragged, "Nobody has sold tickets this fast at this price, and VIPs are sold out at three of the four venues."