The Truth About Ex-Fox News Host Britt McHenry And Tyrus' Feud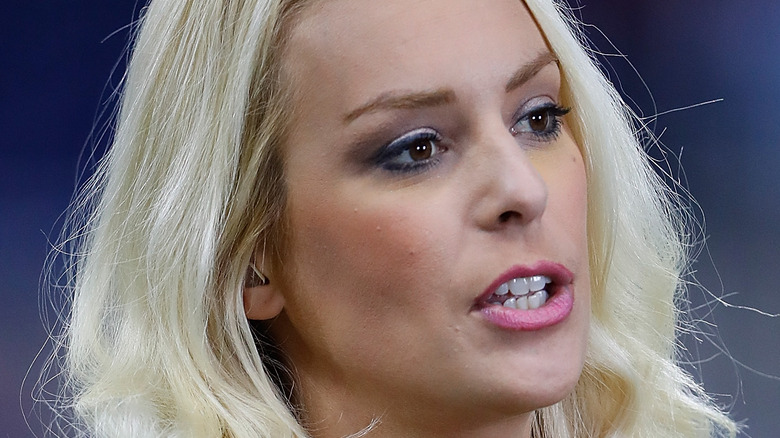 Leon Halip/Getty Images
What's really going on with former Fox News host Britt McHenry and Tyrus (aka George Murdoch)? The two were once seemingly friends and co-stars, appearing on Fox News' "Un-PC," which ran from 2018 until 2019, however the two haven't exactly been on great terms since.
Tyrus infamously left "Un-PC" in April 2019 without an on-air explanation, before Tom Shillue then took over his role alongside McHenry. Daily Beast reported in June 2019 that the former WWE wrestler had left the show following a complaint from McHenry and he later went on to appear on his own series, "Nuff Said."
A source alleged that former ESPN host McHenry and Tyrus had a "personal dispute," which was investigated by Fox News, with the network deciding that "the best course of action was to break up the show's hosts." The network didn't elaborate further at the time, but did tell the outlet in a statement that is does "not comment on internal matters."
McHenry then went on to file a lawsuit against Fox News in December 2019 (via Deadline), and that lawsuit has now been settled. Read on for the details.
Britt McHenry is 'very proud to have to stood up for [her] rights'
Britt McHenry has settled her lawsuit against Fox News involving Tyrus after voluntarily dismissing it, per Daily Beast. According to two sources who spoke out to the outlet, it's reported that she will likely have accepted "a nondisclosure agreement and undisclosed cash settlement."
McHenry filed the lawsuit against the network four months after a source alleged to Daily Beast in June 2019 that Tyrus had purportedly sent her "unwanted and unsolicited text messages with lewd, sexual comments" while they were working together.
Deadline reported that McHenry's lawsuit was based around a "sexual harassment complaint" in which she referenced the alleged messages and claimed Tyrus had also "grabbed her in a forceful manner." McHenry claimed that when she complained about Tyrus' alleged behavior, she was purportedly asked by the network what she "did to provoke her harasser." McHenry also alleged that after she shared her complaints, she was "frozen out of other opportunities and snubbed by Fox executives."
In a statement issued to Daily Beast, McHenry said of settling the lawsuit, "I am very proud to have to stood up for my rights and hope that I have empowered other women to do the same. Although I fully stand by the truth of my allegations, I am pleased to put this matter behind me and move forward with my career."
What Fox News and Tyrus said in the wake of Britt McHenry's lawsuit
Fox News Media issued a statement to Daily Beast regarding Britt McHenry's lawsuit involving Tyrus being settled. The network claimed it "is confident it would have prevailed in the lawsuit" but was "pleased" that the matter had come to an end "without further litigation."
As for what Tyrus said? An attorney for the former WWE wrestler said in a statement issued to the outlet that Tyrus was "pleased that the parties have reached a settlement in which the claims against him will be dismissed with prejudice." It also claimed that Tyrus once again denied the allegations of sexual misconduct made by McHenry and "will not be making any financial payments."
It's thought that McHenry will leave Fox News in the wake of the lawsuit and will also no longer appear on the network's streaming service, Fox Nation. However, it's been reported that she will continue on with her role at FOX 5 in Washington, D.C., where she's the host of "WTTG."
If you or anyone you know has been a victim of sexual assault, help is available. Visit the Rape, Abuse & Incest National Network website or contact RAINN's National Helpline at 1-800-656-HOPE (4673).