What We Know About Mariah Carey's Daughter, Monroe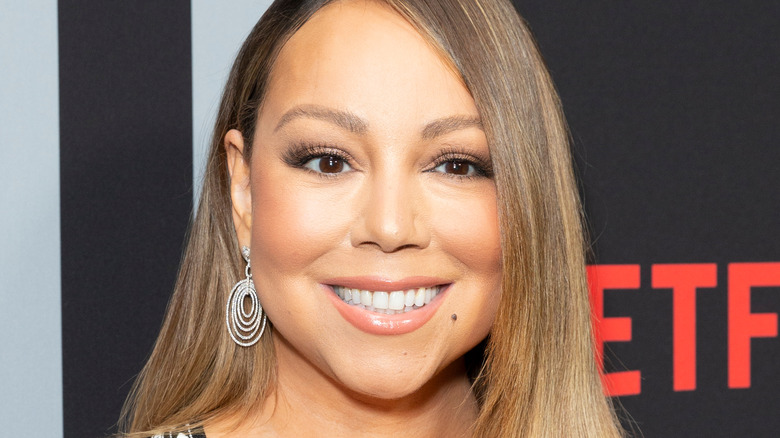 Shutterstock
Mariah Carey's fraternal twins Moroccan Scott Cannon and Monroe Cannon (with ex-husband Nick Cannon), born April 2011, once sat atop the celebrity world as The Babies. In fact, the chanteuse herself started the viral hashtag #DemBabies as a way of commemorating her twins before they were even born. "My attempt @ festiveness on 327!.. Comin soon #dembabies!," Carey captioned a March 2011 Twitter pic of her growing baby bump with a butterfly and "Dem Babies" hand-painted over it. After their births, fans watched as said babies blossomed into mini style icons, often matching outfits with Mommy and Daddy (even after Cannon and Carey's divorce in 2014) at public outings. Via PopSugar, for instance, the foursome were spotted glamming front-row at the 2017 Kids' Choice Awards, with Carey and Monroe rocking navy Adidas minidresses and Cannon and Moroccan both shrouded in different sizes of the same sleeveless orange hoodie'd sweatsuit.
Dem Babies continued growing into their fashion plate statuses as they appeared alongside Carey in the 2018 Harper's Bazaar cover story of "The First Families of Music." With their mother wrapped in a gorgeous Versace gown, Moroccan and Monroe seemed like they just left a Gap Kids ad shoot with their denim ensembles and cherubic cheeks. "They've developed their own unique personalities. Moroccan has a knack for technology, and Monroe is really musical," Carey beamed then.
In July, Monroe made a stunning and decidedly more grown-up foray into modeling that sure has people talking. Keep reading for why! 
Monroe Cannon becomes Mariah Carey's actual mini-me in new campaign
Mariah Carey's daughter, Monroe Cannon, officially made her modeling debut in OshKosh B'gosh's back-to-school campaign "Today is Someday" – and it will please fans of vintage Mimi for sure. Carey sported the same OshKosh B'gosh overalls in 1990's music video for "Someday" and loose cascade of curls as her daughter. Cannon, playing a childhood version of Carey, monologues via voiceover over footage of her journaling, faux-belting in front of a vanity mirror and playing with a butterfly.
In character, Cannon says, "Someday it's going to be different. The melodies that live in my head, someday they'll live on the top of the charts. The songs in my heart will touch millions of hearts. Artist of the year, artist of the decade, artist of the century, artist of the millennium. But the meaning is in inspiring generations of little girls to hit their high note," with the last line delivered as Cannon sings into a hairbrush. "How's that for a daydream?" Carey's mini-me quips.
"Someday"'s music video premise (Carey revisiting her high school as an adult) was the perfect springboard for this blast from the past. "As a little girl, I was determined to realize my dreams," Carey voiced in a statement, via the Daily Mail. "Now as a mother, it brings me so much joy to see my children visualize and develop the dreams they hold in their own hearts." What a beautiful bonding experience for Mariah and Monroe!