How Bobby Flay's Hollywood Walk Of Fame Ceremony Went Totally Wrong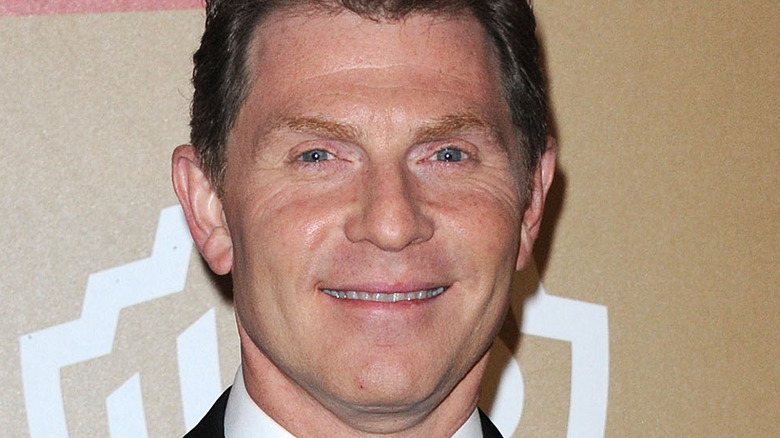 Shutterstock
Celebrity chef Bobby Flay has led an interesting life. He was born into an affluent family on the Upper East Side of Manhattan. He dropped out of high school at 17 and got a job making salads at the Joe Allen restaurant in the Theater District of New York City. His father was a partner in the restaurant. He lucked out because this turned out to be the perfect career for him. Joe Allen was so impressed with Flay's talent (per Celebrity Net Worth) that he offered to pay his tuition at the French Culinary Institute. Flay graduated in the culinary school's very first class in 1984.
From there, Flay slowly built his career in the food business, but it is his association with the Food Network that has catapulted him to wealth and fame. He's appeared on "Hot Off the Grill with Bobby Flay," "3 Days to Open with Bobby Flay," "Throwdown! with Bobby Flay," "Bobby Flay's Barbecue Addiction," and several other series over the years, including "Bobby and Giada in Italy," per IMDb. Flay is also the author of 14 cookbooks and has a star on the Hollywood Walk of Fame.
The day he got his star, some weirdness went down. Keep reading to find out all about that.
Bobby Flay's Walk of Fame ceremony was awkward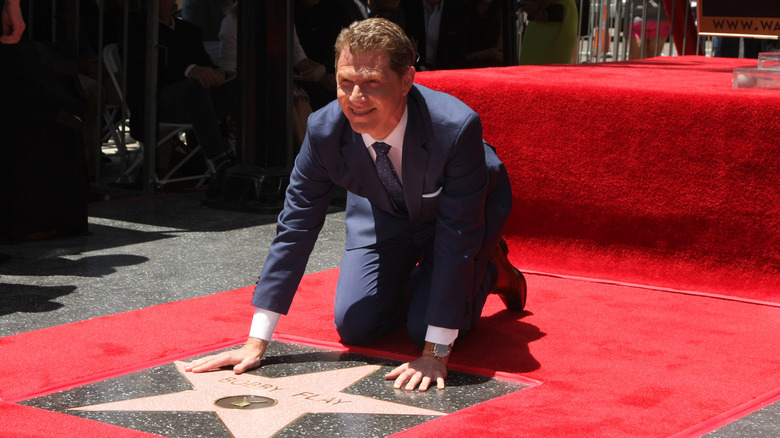 Shutterstock
In June 2015, celebrity chef, author, and television personality Bobby Flay received his star on the famous Hollywood Walk of Fame. He was the first chef to be honored with a star on the Walk of Fame, per People. That's a reason to celebrate! Unfortunately for Flay, during his ceremony, a plane flew overhead with a banner that read "CHEATER."
At the time of the ceremony, Flay was in the middle of a public divorce battle from his third wife, actor Stephanie March, to whom he had been married for 10 years. Their divorce battle got ugly, with March accusing Flay of having a multi-year affair with his assistant Elyse Tirrell, per Page Six, as well as affairs with a number of other women, including "Mad Men" actor January Jones, per HuffPost.
At the time of Flay's Walk of Fame event, the couple had been estranged for just a few months, and a friend of March's told Page Six, "She came to my house and was sobbing uncontrollably," they claimed. "She said, 'I can't believe the last 10 years of my life have been a lie.'"
When the "CHEATER" banner flew over Flay's Walk of Fame ceremony, it was natural for people to think March was responsible for it. However, her attorney Deborah Lans released a statement to Us Weekly at the time saying, "Stephanie is absolutely not behind [this]."