Will & Grace Stars Share Photos From Set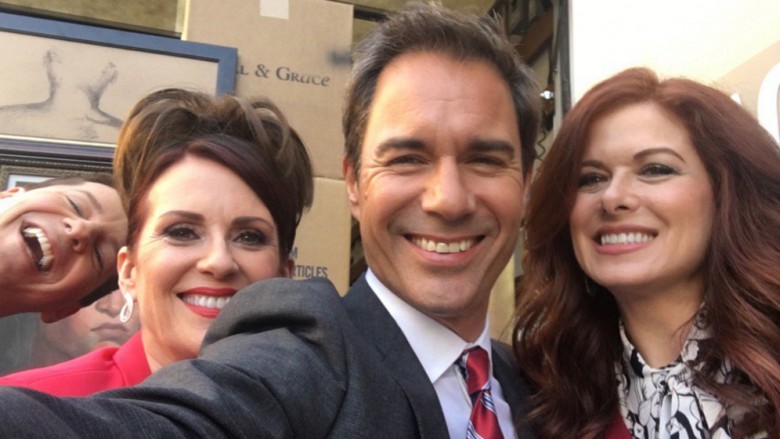 The gang's all back together!
The cast of Will & Grace has officially reunited on the set of the show's upcoming revival—and there are photos to prove it! This past weekend, the stars of the NBC hit started working on the much-anticipated next 10 episodes of the show and seemed to really enjoy being back in each other's company.
Eric McCormack, who plays the eponymous Will, shared a photo with his cast mates on Twitter, writing, "Spent the last 3 days with these loons & boy, are my arms tired." Debra Messing posted a similar photo on Instagram with the caption, "Yeah, this weekend was a little fun. Just a little. #thegang #reunited&itfeelssogood."
Actor Sean Hayes took to Twitter to share how he felt about stepping back into Jack McFarland's theatrical shoes. "Just like riding a bike," Hayes wrote, adding a smiley face to the post.
Megan Mullally posted a photo of herself donning her character's signature updo, captioning the picture, "Back in drag." Mullally also shared a photo with Hayes on Friday, March 3 as the pair took part in promo shoots together.
According to People magazine, not only are the four main cast members back for the show's return, but the original series creators of Will & Grace, Max Mutchnick and David Kohan, have snagged positions as showrunners and executive producers. Director James Burrows, who directed every episode of Will & Grace's eight seasons, will also direct and executive produce the limited series.
The new season of Will & Grace comes after the core four actors returned to their characters for a video concerning the 2016 presidential election. Regarding the campaign, Hayes explained on Jimmy Kimmel Live!, "This was the first time we ever got together and NBC just thought, 'Wow, this actually working, why don't we do it again?' and we were like 'Yeah!'"
Well, that's certainly one good thing that came out of the election.
ET reports that the next season of Will & Grace is set to premiere in the 2017-2018 TV season. So you know what that means—time to start marathon watching the entire series.