Miley Cyrus Supports Little Sister Noah At The iHeartRadio Music Awards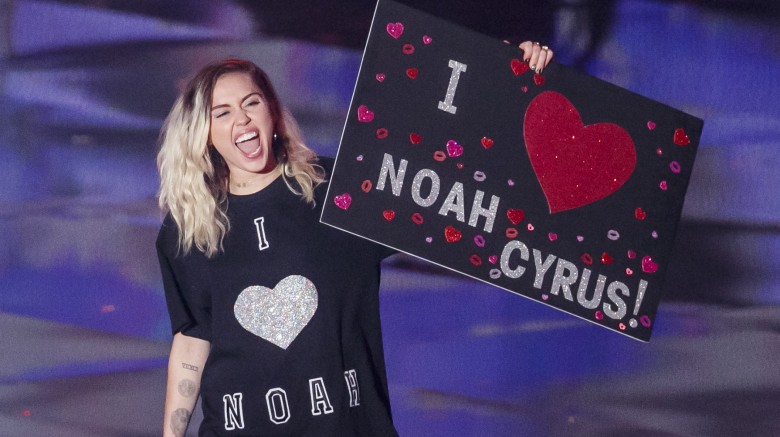 Getty Images
At the iHeartRadio Music Awards, held on Sunday, March 5, 2017, Miley Cyrus introduced her younger sister Noah Cyrus as one of the night's performers. But, in true Miley fashion, there was nothing subtle about her presentation.
The "Wrecking Ball" singer walked on stage wearing an oversized black "I [heart] Noah" t-shirt and holding a sign that boasted, "I [heart] Noah Cyrus!"
Miley, 24, then announced to the audience, "She's who I want to be when I grow up. And that's saying a lot because she's a lot younger than me." The Hannah Montana star then added, "Get ready everybody because 2017 is about to be Noah's year!"
After Miley's introduction of her "favorite person in the world" to the crowd, Noah began her performance of her hit song "Make Me (Cry)" with British R&B star Labrinth—earning her the second best live performance of the night, according to Billboard.
Noah, 17, shared some love for her big sis in return on Instagram, posting a photo of the moment Miley introduced her to the iHeartRadio audience. With the picture, she writes, "I love you so much moreee!"
Noah recently opened up to Rolling Stone about the advice that Miley's given her. "Miley always says, 'Don't ever look yourself up or read your comments, 'cause you're gonna see stuff that you don't want to see'...That's the best advice ever. If it's making me happy, then it's working."
While there's no official release date for Noah's album, it'll be called NC-17. In the meantime, fans can listen to Noah's emotional acoustic single, "Almost Famous," for a taste of the new record's sound.