A Look At Alex Cooper's Dating History
Best known as the host of the popular dating advice podcast "Call Her Daddy," which was recently acquired as a Spotify exclusive for a reported $60 million, per Variety, Alexandra "Alex" Cooper is on her way to becoming a household name in media. Cooper, who originally started the podcast at Barstool Sports with former co-host Sofia Franklyn, now is a solo player and landed Spotify's biggest deal for a women-led show.
On "Call Her Daddy," Cooper has divulged details about her relationships throughout the podcast's episodes, while still providing the men some privacy. Although Cooper is open about discussing her sex life and dating tips for other women, she refers to the men under various code names — including "Slim Shady" and her current boyfriend known as "Mr. Sexy Zoom Man."
Despite the nicknames, fans of the popular podcast have still managed to piece together parts of Cooper's past and present relationships. Here is a breakdown of that history.
Alex Cooper says this athlete gave her career a boost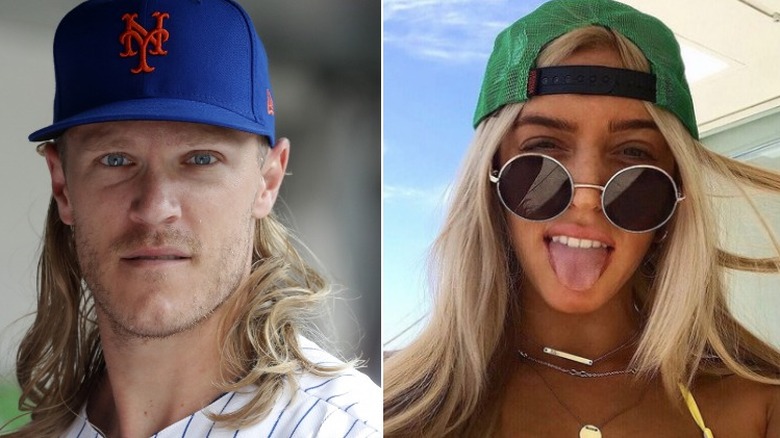 Jim Mcisaac/Instagram
"Call Her Daddy" host Alex Cooper and New York Mets baseball player Noah Syndergaard dated on-and-off throughout 2017, with their last public outing at a Knicks basketball game that December. Syndergaard appeared to confirm that his relationship with Cooper was officially over that same month, with a tweet stating, "Baseball is my significant other," along with an image of a single status change.
Cooper has allegedly discussed her relationship with ex Syndergaard under the nickname "Slim Shady," as listeners on Reddit have pointed out. The moniker stems from his alleged juggling of women, but that isn't confirmed. As for what is clear? Cooper confirmed to Bustle she began dating Syndergaard during her senior year at Boston University. Cooper also revealed that dating him helped her get an advertising job at a magazine called Gotham, before "Call Her Daddy" took off. "I basically got that job because of him, and I have no shame saying that," Cooper said.
So who else has captured the heart of Alex Cooper? Keep on reading to find out.
Alex Cooper's new man might be in the entertainment biz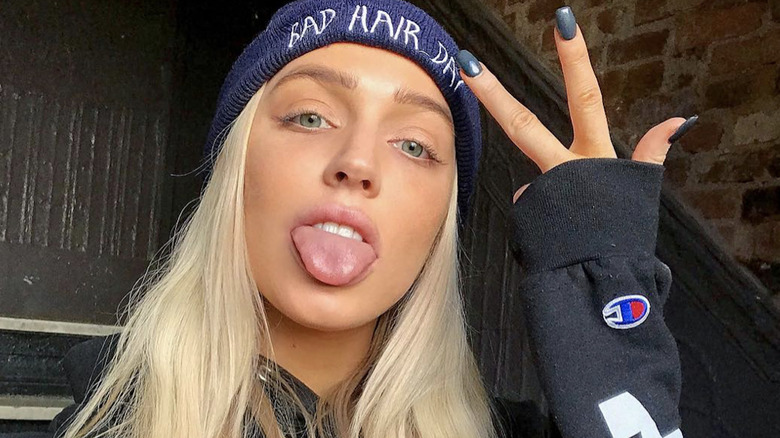 Alex Cooper/Instagram
Throughout the past few months, Alex Cooper has confirmed on the "Call Her Daddy" podcast that she has been exclusively dating someone, referring to him under the nickname "Mr. Sexy Zoom Man." The nickname references her meeting him over Zoom for business (they later took their relationship to the next level during a trip to Los Angeles, where Cooper now lives). She hasn't identified the "movie producer" in question, because as she explained to Bustle in July, "He was more like, [...] 'I fully respect and I support you and your podcast, but I have a job.'" 
But there are theories to his identity. In a Reddit thread, "Mr. Sexy Zoom Man" is rumored to be Matt Kaplan, the CEO of Ace Entertainment, a film production company. His production credits include "To All the Boys I've Loved Before" and "The Lazarus Effect," to name a few. 
Dating Mr. Sexy Zoom Man is a far cry from Cooper's early relationship experiences, like when as a sophomore in college, she dated an unidentified Red Sox player who had just won the World Series. "He opened my eyes to truly some of the most psychotic, intense games to be played in a relationship," she shared on her podcast (via Time). "... it was like he put me through training camp, and I came out not really alive." Here's to Cooper getting out of the situation and into the arms of Mr. Sexy Zoom Man!