The Strange Way Mark Zuckerberg Met His Wife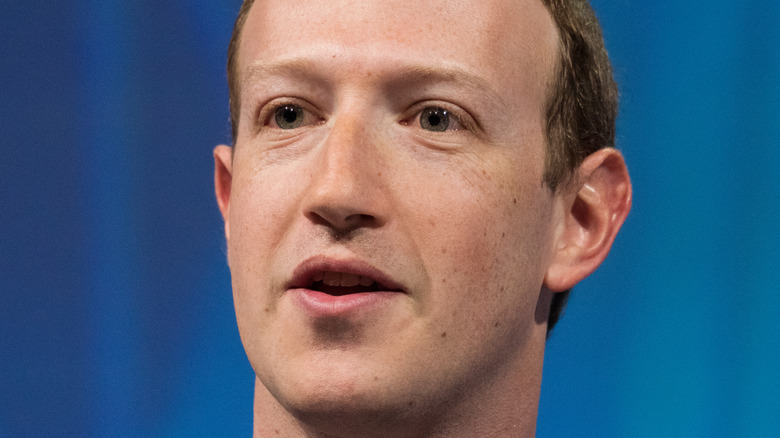 Shutterstock
If you have seen Aaron Sorkin's "The Social Network," the film adaptation of how Mark Zuckerberg invented Facebook (and created a whole lot of guy-on-guy drama along the way), you'll notice one person ostentatiously missing from the story: Zuckerberg's real-life wife, Priscilla Chan. 
Married in 2012, per Insider, the couple has consistently made headlines together over the years. In 2015, upon the birth of their daughter Max, Zuckerberg announced he and Chan would donate $45 billion in Facebook stock to their charity, the Chan Zuckerberg Initiative, CNBC reported at the time. (That meant 99% of the couple's personal Facebook shares.) "Giving back has been part of my life before I even met Mark," Chan, a pediatrician who has founded her own school of pediatrics, told Quartz. Even the power couple's Puli, a Hungarian sheepdog whose coat texture resembles a mop, was such a buzzworthy Internet sensation that, per The Guardian, photos of the adorably named "Beast" overshadowed Max's birth announcement. 
But how did the First Couple of Social Media come together in the first place? Keep reading for the part of the story "The Social Network" eschewed from its script. 
Priscilla Chan and Mark Zuckerberg's love story origin involves a bathroom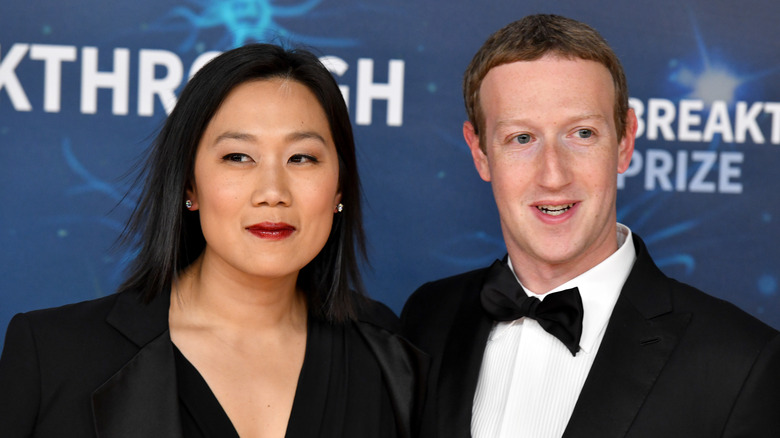 Ian Tuttle/Getty Images
Mark Zuckerberg and Priscilla Chan's meet-cute is, indeed, cute, and quirkily befitting the eccentric Facebook founder. Zuckerberg and Chan met standing in line for the restroom at a 2003 fraternity party hosted by Harvard University's Alpha Epsilon Pi, of which Zuckerberg was a member. As Chan later told The New Yorker, instant sparks flew, with Chan describing Zuckerberg as "just a little bit out there" enough for her. "He had these beer glasses that said 'pound include beer dot H.' It's a tag for C++. It's like college humor but with a nerdy, computer-science appeal," Chan recalled. Given that we're not sure everyone still, uh, gets the joke even after that explanation, it is lucky for Zuck that Chan did!
As it turned out, Zuckerberg's 2017 Harvard commencement address revealed the party as a "going-away" affair for him as he had anticipated being expelled imminently for creating Facebook's beta version at the school. This actually worked to his romantic favor, too, with Chan. "I had just launched this prank website Facemash, and the ad board wanted to 'see me,'" Zuckerberg recounted of that fateful night. "In what must be one of the all-time romantic lines, I said: 'I'm going to get kicked out in three days, so we need to go on a date quickly." Now, that's confidence! 
Although Zuckerberg's relationship with Harvard ended in 2004 when he dropped out, he and Chan are going the distance.