Why The Star Of Geico's Claims Audition Commercial Looks Familiar
Geico is known for delivering a wide range of hilarious commercials. The insurance brand even recruited recognizable celebrities — who have perhaps fallen out of the spotlight — for their "Claims Audition" campaign. They had Lisa Loeb appear as she auditioned using a song that was eerily familiar to her hit "Stay (I Missed You)," and famed basketball color commentator Dick Vitale audition using his trademark phrases and enthusiasm. Billy Blanks was also used for one of the faux-audition tapes. And it's a knockout.
Blanks was joined by two fitness instructors as he punched out his frustration over a hypothetical insurance claim. "My windshield just got broke and I feel like I got to blow off some steam," Blanks says before shadow boxing. The casting directors stop Blanks to inform him that the claim is easy to file. Blanks feigns relief and says he "wants to celebrate with some fireworks," and proceeds to continue air-punching. It's fun! 
"I get my energy from watching people change and improve," Blanks told Spark People in 2011. "To help people accomplish things that change their lives gives me joy — and the energy to keep going." The martial artist got his start appearing in B-movies such as "Bloodfist" and "Talons of the Eagle," and with small roles in studio films such as "The Last Boy Scout," and "Kiss the Girls," per IMDb. But acting is not how this recent Geico star became a household name.
Billy Blanks' fitness tapes were wildly successful in the '90s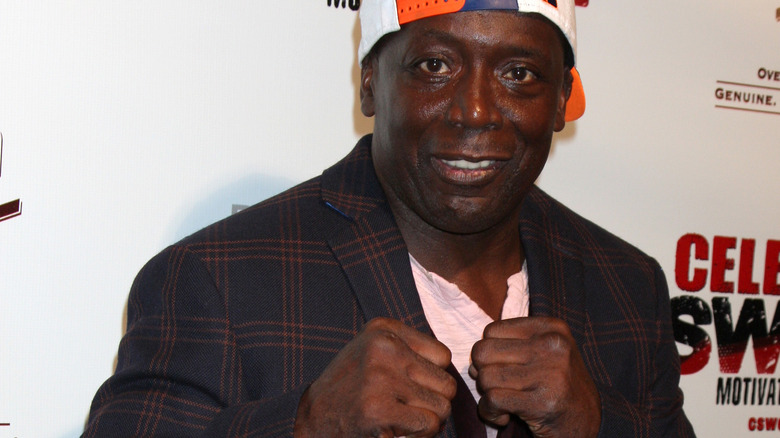 Shutterstock
Billy Blanks earned his fame and fortune as a fitness instructor and the creator of the Tae Bo fitness routine and tape series. The creation of Tae Bo happened one day when Blanks was working out alone while listening to the "Rocky" theme song. "As soon as the song came on I started moving, kicking, and punching to the beat," he told Unlocking Connecticut. "I started combining karate moves, boxing moves, and calisthenics all together into a routine," Blanks added. He became a fitness instructor for multiple celebrities, including Paula Abdul, who was one of his first clients. 
In 1998, Blanks created Tae Bo workout tapes that were marketed on late-night infomercials. These became so wildly successful that the fitness guru secured a book deal worth $1.5 million, and appeared on "Oprah" for a week straight, per Sports Illustrated. His Tae Bo tapes made $80 million the first year they were released. 
Understandably, Blanks put his acting career on hold as Tae Bo became a part of the pop culture lexicon. "I just said, 'You know what? I'll just put movies on the back burner,' hoping that later on in my career I could get back to doing movies." Blanks told The Action Elite in 2015. That was a wise business decision, as the Tae Bo honcho has a net worth of $20 million according to Celebrity Net Worth. And who wouldn't get a kick out of his Geico commercial?!