The Tragic Death Of Slipknot Drummer Joey Jordison
The heavy metal band Slipknot burst onto the scene in 1999 with their major label debut album "Slipknot" and quickly became known for their attention-grabbing, aggressive style of music and chaotic live shows, per All Music. Formed in 1995 in Des Moines, Iowa, the band performs wearing creepy masks. Their second album, "Iowa," was darker in tone, but more popular.
Drummer Joey Jordison made his way to Slipknot by way of the metal scene in Des Moines in the 1990s. He was the drummer for a thrash metal band called Modifidious, which opened for a band called Atomic Opera, of which future Slipknot guitarist Jim Root was a member, per "Slipknot: Unmasked," the 2001 biography of the band by Jim McIver.
Jordison left Slipknot in 2013. No official statement was made at the time, but Jordison later revealed that the reason he left was a neurological disease. In a speech at 2016's Metal Hammer Golden Gods Awards (per NME) he said, "I got really, really sick with a horrible disease called transverse myelitis, I lost my legs. I couldn't play anymore. It was a form of multiple sclerosis, which I wouldn't wish on my worst enemy." He went on to say he got himself into the gym and physical therapy to regain the use of his legs. Sadly, however, we learned Jordison has died. Keep scrolling for the details on his tragic death.
Joey Jordison's family will miss his 'gentle personality' and 'giant heart'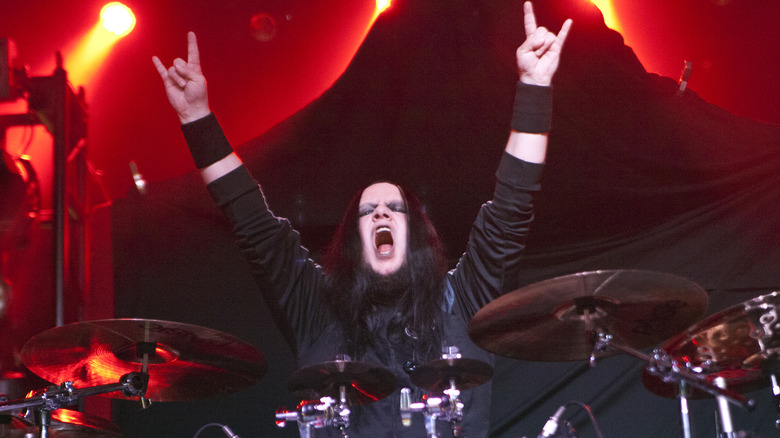 Jeff Hahne/Getty Images
Joey Jordison, the co-founder, original drummer, and co-writer of many songs for the band Slipknot has died. A statement from his family indicated that he died in his sleep.
The statement from his family reads, (per Variety): "We are heartbroken to share the news that Joey Jordison, prolific drummer, musician, and artist passed away peacefully in his sleep on July 26, 2021. He was 46. Joey's death has left us with empty hearts and feelings of indescribable sorrow. To those that knew Joey, understood his quick wit, his gentle personality, giant heart, and his love for all things family and music." The statement goes on to request privacy, saying, "The family of Joey has asked that friends, fans, and media understandably respect our need for privacy and peace at this incredibly difficult time. The family will hold a private funeral service and asks the media and public to respect their wishes."
In addition to his work with Slipknot, Jordison played guitar in the horror rock band Murderdolls and drums in the alt-metal band Scar the Martyr. His most recent band is an extreme metal supergroup called Sinsaenum, which he formed with members of Mayhem and Dragon Force, per Rolling Stone.