The Real Reason Joan Rivers Was Banned From The Tonight Show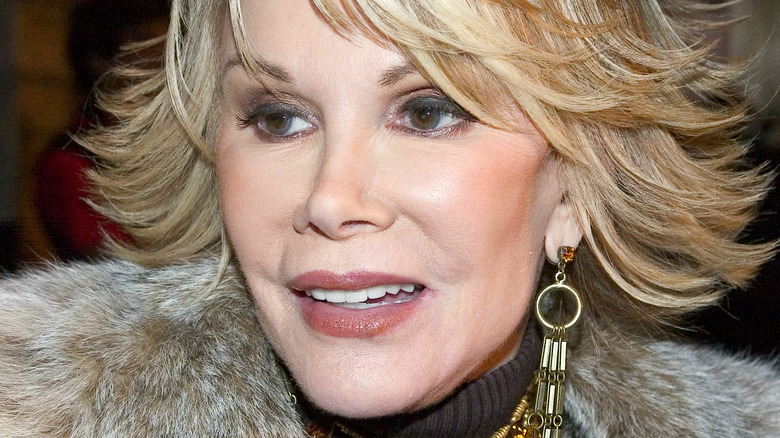 Astrid Stawiarz/Getty Images
Joan Rivers was a comedian, best known for her larger-than-life presence critiquing celebrities on "Fashion Police" and "The Apprentice." Before her death in 2014, Rivers had a tamer approach when she first entered the world of comedy. Throughout the 1950s in New York City, Rivers was one of few women pursuing stand-up. In 1965, she made her second (but first notable) appearance on NBC's "The Tonight Show" — which, at the time, was hosted by fellow comedian Johnny Carson.
Following that one night on Carson's show, Rivers gt hired by NBC as a writer for "The Tonight Show." Eventually, she even worked her way up to one of the guest hosts. Carson and Rivers always seemed to get along well, maintaining a solid comedic relationship. Yet, in the mid-1980s, things began to take a turn for the worse — leading to Joan Rivers getting banned from "The Tonight Show" and a rift up until Carson's 2005 death. So what happened? We break it down here.
Joan Rivers accused Johnny Carson of jealousy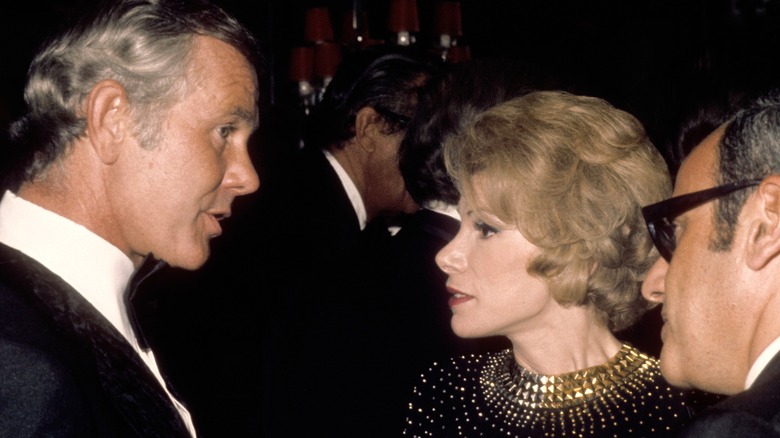 Michael Ochs Archives/Getty Images
In 1986, NBC's former host of "The Tonight Show," Johnny Carson, banned his co-host and comedian Joan Rivers from all future appearances. Interestingly enough, that same year, Rivers had accepted a deal with Fox for her own late-night spot, "The Late Show with Joan Rivers." The deal prompted Carson to ban not only Rivers but any guests who appeared on her competing show, as he claimed she didn't tell him about the new job first.
Rivers touched on her controversial past with Carson in a personal essay for The Hollywood Reporter, writing, "The first person I called was Johnny, and he hung up on me — and never, ever spoke to me again. And then denied that I called him. I couldn't figure it out. I would see him in a restaurant and go over and say hello. He wouldn't talk to me." The star continued, "I kept saying, 'I don't understand, why is he mad?' He was not angry at anybody else. I think he really felt because I was a woman that I just was his. That I wouldn't leave him. I know this sounds very warped. But I don't understand otherwise what was going on." She added, "He didn't like that as a woman, I went up against him."
Of course, Rivers went on to have a successful career without Carson and was a powerhouse until her death in 2014.