Amy Schumer Regrets Losing Weight For Trainwreck: I Looked Stupid Skinny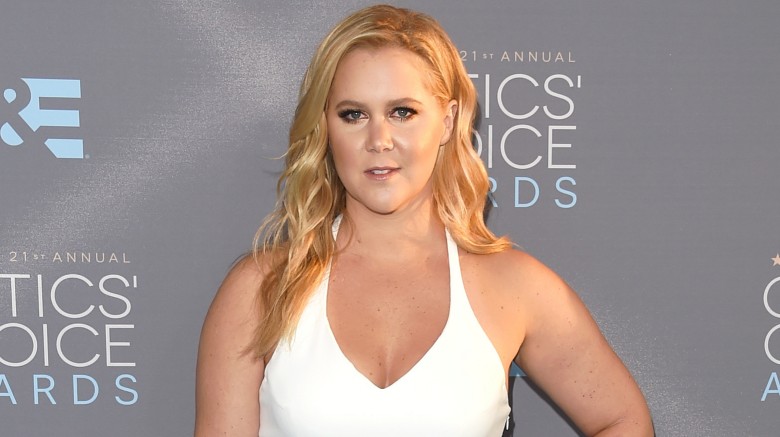 Getty Images
From her hilarious Comedy Central show, Inside Amy Schumer, to her stand-up, Amy Schumer is taking over the world. So it's easy to forget that she's still fairly new to the movie industry.
In her latest stand-up special, Amy Schumer: The Leather Special (via People), the comedian explains the scrutiny that came with taking on a leading role.
"I'm what Hollywood calls, 'very fat,'" Schumer told the crowd, recalling her film debut in Trainwreck (2015). "Somebody, like, explained to me, 'Just so you know, Amy, no pressure, but if you weigh over 140 lbs, it will hurt people's eyes.'"
So, Schumer did what most other women in her position would do: she lost weight. She accepted the idea that she had to be skinnier in order to be successful on the big screen.
But Schumer wasn't pleased with the results. Looking back on the movie, she admits that she's not happy with her appearance. "I look very stupid skinny. My dumb head stays the same size but then my body, like, shrivels and just look like a, like a Thanksgiving Day parade [balloon] of Tonya Harding," the writer and actress said. "Nobody likes it. It's not cute on me."
Schumer's spoken out about her struggle with feeling confident in her skin. In October 2016, she spoke with the Today show's Maria Shriver about her perception of her body. "It's been a struggle for me my whole life, especially just being in the entertainment industry, standing on a stage in front of people," Schumer admitted. "I can't perform my best or be confident if I'm not sure if I'm pulling at [my clothes]. Sometimes I would just want to throw in the towel and say, 'I'm not going to do stand-up tonight.'"
Today, however, Schumer's feeling better about her body. "I feel very good in my own skin," she announced in The Leather Special, which premiered on Netflix on March 7, 2017. "I feel strong. I feel healthy. I do. I feel sexy."
She's even dressing more confidently thanks to help from stylist Leesa Evans.
What's more, she's gotten her body back through "revenge eating" after wrapping up Trainwreck—which, well, sounds like a lot more fun than dieting.