Why The Queen Wears Neon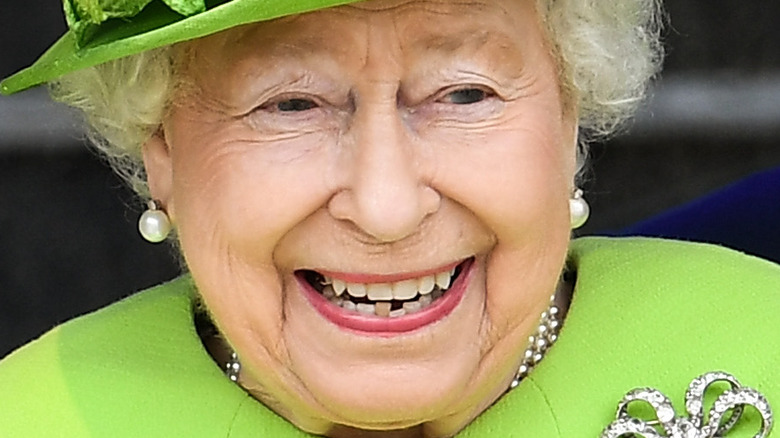 Jeff J Mitchell/Getty Images
Queen Elizabeth is one of the most respected women in the world. Whether the British monarch is meeting with dignitaries or attending a horse race, she always looks well put together. Over the years, the queen has developed her very own fashion style that can't be mistaken. For example, she is often seen wearing a pearl necklace and matching pearl earrings whenever she makes a public appearance. According to People magazine, the main reason is because pearls are traditional. "She wants to wear pearls every day as her mother and grandmother did before her," author Leslie Field told the outlet back in August 2020.
The queen is almost always seen wearing a hat and gloves, as well. According to ABC News, the queen has quite an impressive hat collection with more than 5,000 toppers in her closet! "Hats, you see, are obviously very significant items of clothing in a monarch. You could say when she's wearing a hat that she's wearing a sort of crown substitute," royal expert Robert Lacey told the outlet. The reason that the queen often wears gloves is "to avoid the exposure to germs as she shakes a lot of hands," according to Express. 
Whenever the queen steps out, she's often wearing bright colors, and sometimes even neon — and there's a reason for that, too. Keep reading to find out more.
The queen has a good reason for wearing bright colors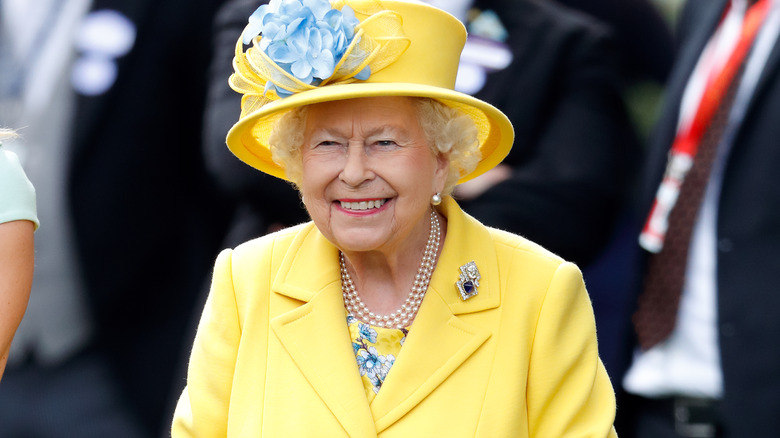 Max Mumby/indigo/Getty Images
The reason that Queen Elizabeth wears neon is quite simple; she wants people to see her and to be able to easily identify her when she's out in public or walking through crowds. "She needs to stand out for people to be able to say 'I saw the queen.' Don't forget that when she turns up somewhere, the crowds are two, three, four, 10, 15 deep, and someone wants to be able to say they saw a bit of the queen's hat as she went past," Sophie, Countess of Wessex said in the 2017 documentary "The Queen at 90," according to Town & Country. "You have to be able to see that figure in a lemon coat and hat from far away," royal biographer Hugo Vickers told The New York Times back in 2012.
Throughout her reign, the queen has worn the full rainbow, almost always matching her coat to her hat, and making sure that she's visible from afar. It's important, of course, since she is only 5 feet, 2 inches tall! Of course, the queen does dress for the occasion; at her husband's funeral back in April 2021, she wore all black — though she still wore a matching hat, a pair of gloves, and her pearls.