The Real Reason Amanda Knox Isn't Happy With Matt Damon
Amanda Knox's story was followed by the media before, during, and after her 2009 trial where she was convicted of murder, for which she was later acquitted. She was accused of murdering her roommate, Meredith Kercher, while the two lived together in Italy in 2007, per The Guardian. Knox and her former boyfriend Raffaele Sollecito had their convictions overturned in 2015, while Rudy Guede, who was convicted of Kercher's murder, stayed in prison until his 2020 release, per ABC News.
In 2011, Lifetime made a movie about the case titled "Amanda Knox: Murder on Trial in Italy," starring Hayden Panettiere. Knox caught the trailer for the film when she was still behind bars. "I was physically ill when I saw the images. I thought I was going to throw up," she told family at the time, per ABC News. Knox and her ex-boyfriend petitioned Lifetime to not air the movie, and Kercher's father described the murder reenactment as "absolutely horrific," via CBS News. But that wasn't the last time Knox's tale would be fictionalized on film.
A decade later, Knox's story was used as inspiration for "Stillwater," starring Matt Damon. In the movie, Damon plays an American construction worker who drops everything and travels to France after his daughter is accused of murder while traveling abroad, per The Guardian. "Stillwater" director and co-writer Tom McCarthy said to Vanity Fair that the film was inspired by Knox's story. Keep reading to see what Knox thought of Damon's involvement in the picture.
Amanda Knox believes Stillwater viewers will question her involvement in the murder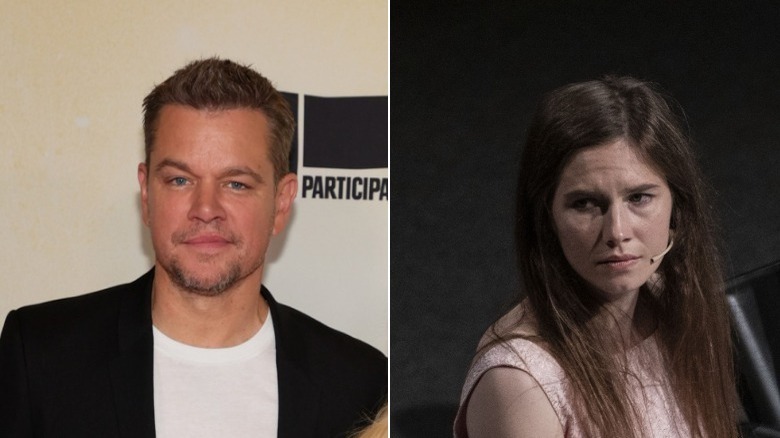 Theo Wargo, Emanuele Cremaschi/Getty Images
"Stillwater" director Tom McCarthy decided to "leave the Amanda Knox case behind" and instead have his film focus on the fictional relationship of Matt Damon's character and his accused daughter, per Vanity Fair. Even though details were changed from her real-life experience, Knox took issue with the film, which was inspired by her case.
On July 29, a day before the movie's release, Knox wrote a Medium essay titled "Who Owns My Name?" Knox asks in the opening paragraph of her essay, "Why is my name used to refer to events I had no hand in?" She notes that this fictionalized version of her story paints her as a willing participant in the roommate's murder. "By fictionalizing away my innocence, my total lack of involvement ... McCarthy reinforces an image of me as a guilty and untrustworthy person," Knox writes.
Knox notes that having Damon attached to the film will bring a lot of viewers. "And with Matt Damon's star power, both [he and McCarthy] are sure to profit handsomely off of this fictionalization of 'the Amanda Knox saga,'" she wrote while referencing McCarthy's Vanity Fair interview. Knox believes "Stillwater" will make many ponder her involvement in the real-life murder of her roommate. Still, she extended an olive branch to Damon and McCarthy by inviting them to appear on her podcast to get a firsthand account of the hardships she endured.