This Is The Song That's Playing In The New Visa Commercial
Visa's new TV commercial marks a new era for the business. Titled "Meet Visa," the new spot defines the company as a network rather than a credit card company, allowing people to move money from "here to there." In the commercial, created by agency Wieden+Kennedy, small business owners can be seen connecting with customers worldwide thanks to the circular economy.
Speaking with AdWeek, Visa's EVP and global chief marketing officer Lynne Biggar explained that the new commercial wants to position the company as an "engine of commerce" that provides "access to the global economy for everyone, everywhere." The spot also unveiled the company's new logo, which features "Visa" in a lighter shade of blue, as well as an additional one featuring the brand's familiar blue-white-and-yellow stripes. "Think of it as an addition to our toolbox," Biggar said.
The "Meet Visa" TV spot officially debuted at the 2021 Tokyo Olympics, which also enlisted Visa as their exclusive payment technology partner. Despite the new logo and branding, the commercial's new song seems to have caught viewers' attention... and the artist behind it may surprise you. Scroll on to find out more.
Visa's new spot features 'Jarreau Of Rap' by Nas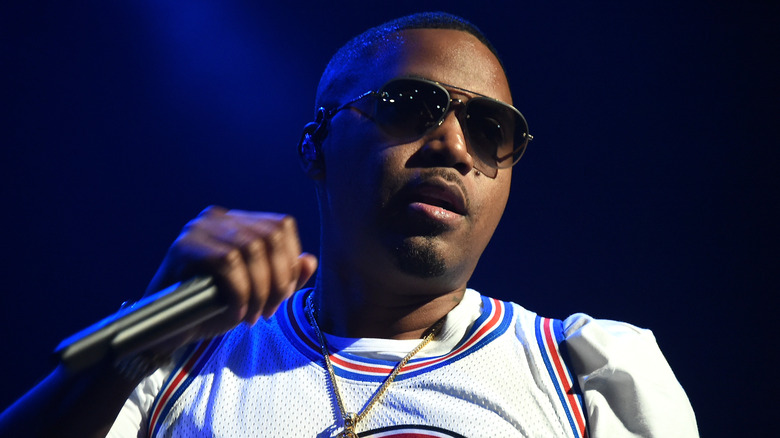 Mike Coppola/Getty Images
The song featured in Visa's new commercial is Nas' "Jarreau Of Rap (Skatt Attack)" from his 2019 album "The Lost Tapes 2." Produced by Xharlie Black, the song features sampled vocals from late jazz singer Al Jarreau, and sees the Queens rapper humble-bragging about his achievements. "My Wikipedia just said it, I'm multimedia / When you rock O2 arena / You made it then it's crazy and now you gotta rock stadiums," Nas raps in the third verse.
Working with Al Jarreau was a dream collaboration for Nas, but the singer died before they could link up. "I wanted to work with Al Jarreau. I was driving by. I was in San Diego and he had a concert. I saw his name on the marquee earlier in the day," Nas told Mass Appeal in 2019. "I wish I could've stayed and seen it but, we was traveling. And he passed away, man, and that never came to happen."
Then, while listening to a jazz radio station, a song by Al Jarreau came on... and Nas had a lightbulb moment. "I have to flip. I have to do this — I have to do this record. So I did it," Nas explained. However, the song didn't turn out as expected. "I saw [it] different in my head and it didn't come out the way I originally saw it but it came out in its own original way for whatever reason, and I respect that."