How Emily Blunt Nearly Killed Tom Cruise While Filming A Movie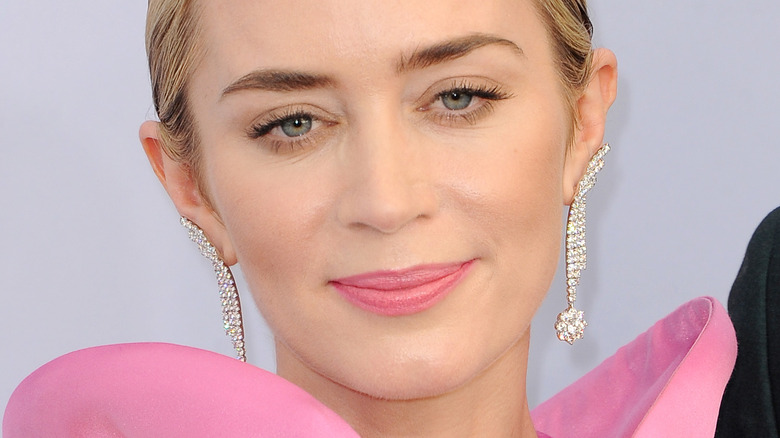 Shutterstock
Tom Cruise is known for performing his own stunts in action movies. But one of his most dangerous moments while filming a movie was because of Emily Blunt. The fact that the "Mary Poppins Returns" star nearly wiped out the "Top Gun" star is nothing short of shocking.
According to Insider, Cruise has climbed some of the world's tallest buildings and pulled off "the most dangerous helicopter chases ever captured on film" while doing stunts for the "Mission: Impossible" franchise. Insider reports that in "Mission: Impossible — Fallout," Cruise's character, Ethan Hunt, jumps 25,000 feet out of a plane before landing in Paris. If Ethan Hunt does it, that means the 58-year-old Cruise does it! The outlet also revealed that in "Mission: Impossible 2," the legendary actor climbed a 2,000-foot cliff in Utah with only a "thin safety rope" to keep him from falling.
Cruise broke his ankle doing a stunt on the film "Mission Impossible: Fallout," he shared on "The Tonight Show Starring Jimmy Fallon" (via The Hollywood Reporter). He wanted to jump across rooftops, with only wires holding him. The injury forced the "Mission Impossible" actor to recover for a few weeks. Cruise also almost drowned while filming "Top Gun," per the New York Post. With all of his scary stunts for action films, how did Blunt almost kill Cruise while filming a movie? Keep reading to find out!
Emily Blunt's driving in Edge of Tomorrow almost hurt Tom Cruise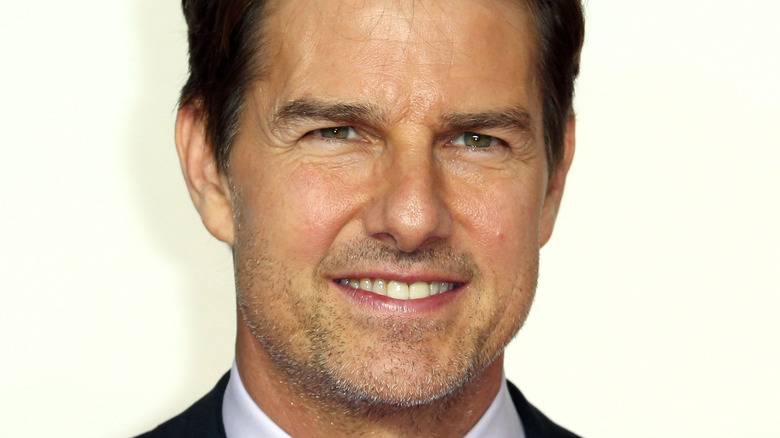 Shutterstock
Despite all his dangerous stunts for the "Mission: Impossible" films, Tom Cruise was almost killed by Mary Poppins. People reported in 2014 that Emily Blunt almost killed Cruise while they were filming "Edge of Tomorrow."
During an interview on "Conan," Blunt said, "He [Cruise] really does everything and wants to do everything even if the stunt guys and the producers are like, 'Please don't do that.'" Blunt said that Cruise inspired her to want to do more stunts, too. Blunt and Cruise were doing a driving scene where she was driving, and the director told her to go faster.
Blunt told Conan, "I tear down this part and Tom's being very quiet behind me, and suddenly, I just hear him under his breath as I approach the right-hand turn, I hear him go, 'Brake, brake, brake. Brake. Brake, Brake, brake... Oh God. And brake, Brake, Brake. Brake it hard! Brake hard!'" Blunt recalled that she didn't brake in time and drove them into a tree ... "I almost killed Tom Cruise.'"
Emily Blunt has serious acting chops as an action hero
According to Screen Rant, Emily Blunt's role in the "Quiet Place" movies set her up perfectly to be an action hero in her latest film, "Jungle Cruise." Screen Rant reported that the "Quiet Place" movies have "heavy action sequences and quick, life-or-death decision making," which prepared Blunt to shine in her latest film with one of the biggest action heroes, Dwayne "The Rock" Johnson.
But it's not just the "Quiet Place" movies that have helped Blunt build her acting chops for action movies. She's been playing action roles since "Looper" in 2012. In 2015, Blunt won raves for her role as a DEA agent in "Sicario," per Meaww. The outlet reported that Blunt was Jon Favreau's first choice to play Black Widow in "Iron Man 2."
Blunt is getting rave reviews for her work in "Jungle Cruise," and her co-star gushed about her during an interview with The Hollywood Reporter. Johnson said, "Not only is she a huge movie star but, more importantly, really the most empathetic human being I've ever met." Aw!