What Is 50 Cent's Real Name?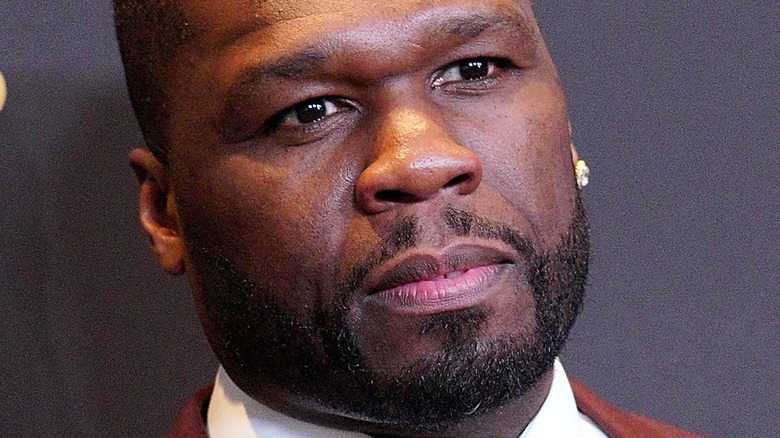 Jc Olivera/Getty Images
Rapper 50 Cent is known for hits such as "In Da Club," "Candy Shop," and "Many Men," as well as producing popular TV series such as "Power," and surviving nine shotgun wounds. In 2000, the NYC rapper was shot in his hand, arm, hip, legs, chest, and face after drug kingpin Kenneth "Supreme" McGriff ordered a hit on him. As Billboard reported, McGriff was allegedly angry with 50 Cent over the song "Ghetto Quran" which, in his opinion, revealed too much about his illegal activities.
"I was hurt bad," 50 told Hot 97 in 2014 about the failed attempt on his life. "I was afraid and uncomfortable with being afraid and the only time I wasn't afraid is when I was actively involved in actually looking for somebody connected to it." 50 Cent's gangster persona is reflected in his stage name, too. In fact, his name was inspired by an actual New York robber from the '80s, Kelvin "50 Cent" Martin. 
In a 2005 interview, 50 Cent opened up about why he decided to borrow Martin's street name. "It says everything I want it to say," he told Stuff Magazine. "I'm the same kind of person 50 Cent was. I provide for myself by any means." Now that we know the history behind his stage name, the next question is: What is 50 Cent's real name? Let's find out below.
50 Cent's real name might surprise you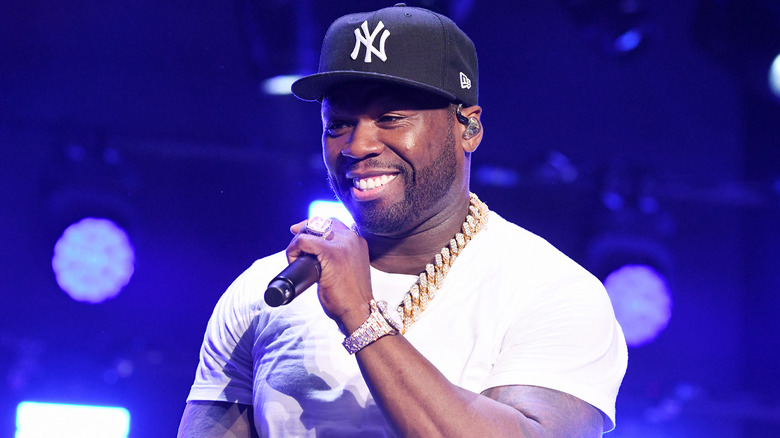 Michael Kovac/Getty Images
50 Cent was born in 1975 in Queens, New York, to Sabrina Jackson and Curtis James Jackson. His parents named him Curtis James Jackson III, after his father, although he usually just goes by Curtis Jackson. As 50 Cent fans will know, the rapper has dropped his real name throughout his music career. In 2007, for example, 50 Cent released his third studio album, titled "Curtis," which also includes a track called "Curtis 187."
The rap mogul also uses his real name while acting, going by Curtis "50 Cent" Jackson. Most recently, 50 unveiled a spin-off to his hit show, "Power," titled "Power Book III: Raising Kanan," which is largely based on his own childhood in Queens. "These are real things, like, I really experienced being roughed up in the park before my mom sent me back to the park, and I was just more afraid of her than the kids in the park, so I ended up going back to fight them instead of dealing with my mom," he told Sky News in July. 
With Jackson being a pretty popular last name, 50 Cent shares the same last name as many other celebrities. Still, fans came up with some pretty wild speculations after finding out he and another rising rapper from New York City had the same last name. Find out more below.
Pop Smoke's last name was Jackson, too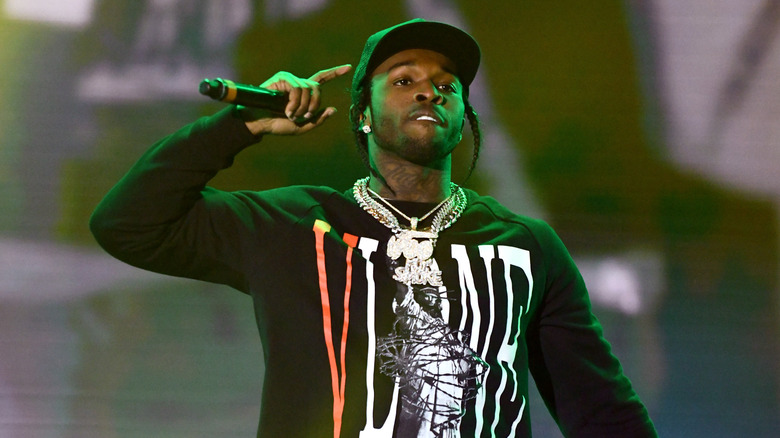 Scott Dudelson/Getty Images
Rapper Pop Smoke (real name Bashar Barakah Jackson) had the same last name as 50 Cent, which led some people to think the two could be father and son. Considering the fact that 50 Cent has a son who was born in 1996, it definitely could have been possible. (Pop Smoke was born in 1999). However, there is no evidence of the two being related at all.
Even before Pop Smoke's last name became public knowledge, fans thought he and 50 Cent had a similar energy, voice, and charisma. They were not wrong, as 50 Cent saw the similarities for himself. "When I met Pop Smoke, I told him, it was time to do my records over," he told Billboard. "I didn't even realize his last name was Jackson," 50 Cent continued, "He even had the same bucky-a** teeth that I had before I fixed them." 
Pop Smoke was so influenced by 50 Cent that he sampled his track "Many Men," which he appreciated. "That's not copying," 50 said on Instagram Live (via Complex). "He never copied one f**king thing from me. He just looked at it, he saw what was good in it. It influenced him, and he was doing his own thing with it. I fell in love with the n***a at that point."