Evander Kane And Anna Kane's Drama Explained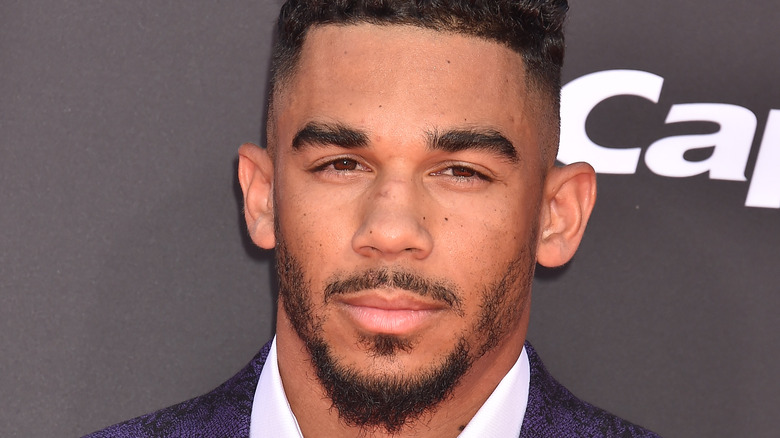 Shutterstock
When we talk about the NHL in the realm of celebrity gossip, we think of it first and foremost as a venue for eligible bachelors to meet glamorous stars. Just think of Carrie Underwood and her marriage to former NHL player Mike Fisher. "Dancing With the Stars" alum Julianne Hough also found love for a time with NHL's Brooks Laich, though that was not destined to last. Then, in 2019, Savannah Chrisley announced her engagement to hockey wiz Nic Kerdiles. With all this in mind, professional hockey just seems like an extension of "The Bachelorette," with gloves and helmets added for effect. But sure, they can swat a puck around too.
So apart from the occasional ruckus on ice, one might not suspect the NHL of offering much in the way of drama. But think again! While still rare, the gloves, metaphorically speaking, come off even when ice is nowhere to be found. At least this is the case with the San Jose Sharks left winger, Evander Kane, and his estranged wife, Anna Kane. Keep reading to find out what's going on.
Anna Kane makes some serious accusations against Evander Kane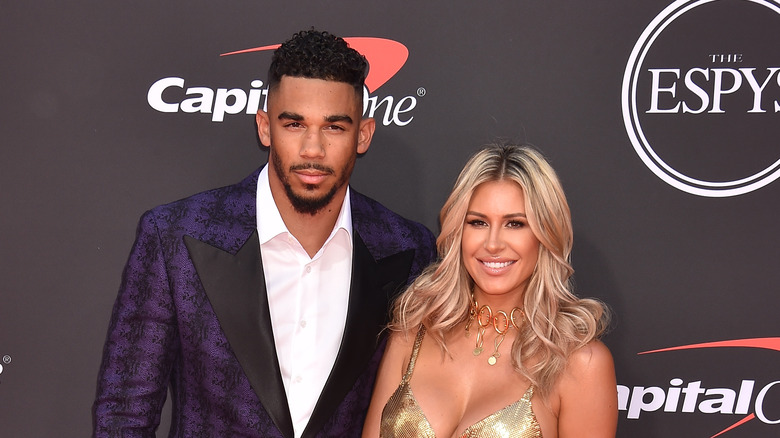 Shutterstock
Anna Kane, the estranged wife of the NHL's Evander Kane, accused the hockey player of several things in an Instagram story on July 31, according to People. Anna tagged the NHL in her post and asked: "Can someone ask Gary Bettman how they can let a player gamble on his own games? Bet and win with bookies on his own games?" For the record, Bettman is the commissioner of the NHL. Anna also wrote: "How does the NHL let a compulsive gambling addict still play when he's obviously throwing games to win money? Hmm maybe someone needs to address this," according to ESPN.
As People notes, Evander filed for bankruptcy in January after finding himself to be $27 million in debt. Anna really let it rip, accusing Evander not only of gambling but also of infidelity. "So I was supposed to let you gamble, cheat on me with prostitutes and be ok with that life. Sorry these are the Facts," Anna wrote (via People). Anna also claimed that Evander went to Europe with model Mara Teigen and she said he abandoned her and their daughter. But Evander came back with a response, as did the NHL. Here's what they said.
Evander Kane's response denies everything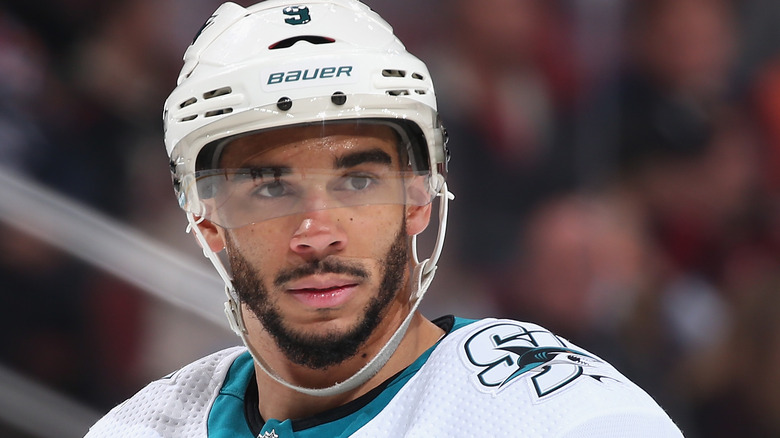 Christian Petersen/Getty Images
Evander Kane responded to his estranged wife, Anna Kane, and her accusations of infidelity and gambling addiction on Aug. 1. Evander jumped on Twitter with a lengthy message, saying: "Unfortunately I would like to address the completely FALSE accusations that my estranged wife and soon to be ex wife has made against me."
"Even against the advice of my legal team I feel strongly that the public and fans hear this directly from me," Kane added. "I have NEVER gambled/bet on Hockey, NEVER gambled/bet on a Sharks game, NEVER gambled/bet on any of my games and NEVER thrown a hockey game." Evander also addressed Anna's familial complaints. "I love my daughter," he said. "I will and always have taken care of my daughter in every way possible. I have always made sure her mother has had everything she's needed and more."
The NHL's public relations team also jumped on Twitter with a response to Anna's claims. "The League was made aware this evening of a post on social media alleging that San Jose Sharks Player Evander Kane bet on NHL games," they wrote. "The integrity of our game is paramount and the League takes these allegations very seriously." They added in a second tweet: "We intend to conduct a full investigation and will have no further comment at this time."