The Queen's Grandson Reveals The Hardest Part Of Prince Philip's Funeral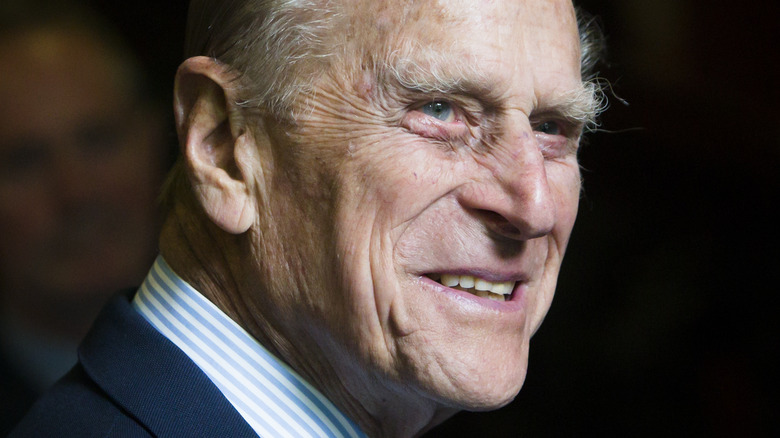 Wpa Pool/Getty Images
When Prince Philip died at age 99, it seemed like everyone grieved for the Queen Elizabeth II's loss. The couple had endured the longest-running marriage in British royal history, having been together for more than 73 years. If photos are anything to go by, the pair always looked absolutely smitten with each other, but after Philip passed on April 9, one particular image now seems to resonate with people.
During the Duke of Edinburgh's funeral, the queen was poignantly photographed sitting alone in order to adhere to the UK's strict social distancing regulations amid the COVID-19 pandemic, per ABC. All guests were required to sit at least two meters apart in the chapel, unless they were from the same household. And as the queen had only been shielding with Prince Philip at Windsor Castle, other family members were unable to join her on the pew. While us onlookers were sympathetic for the monarch, understandably, her family was even more saddened to see her on her own. The queen's eldest grandson, Peter Phillips, said that, while they tried to "support her as much as we can," not being able to physically comfort her was difficult, per BBC.
Peter Phillips wishes he could have hugged his grandmother, Queen Elizabeth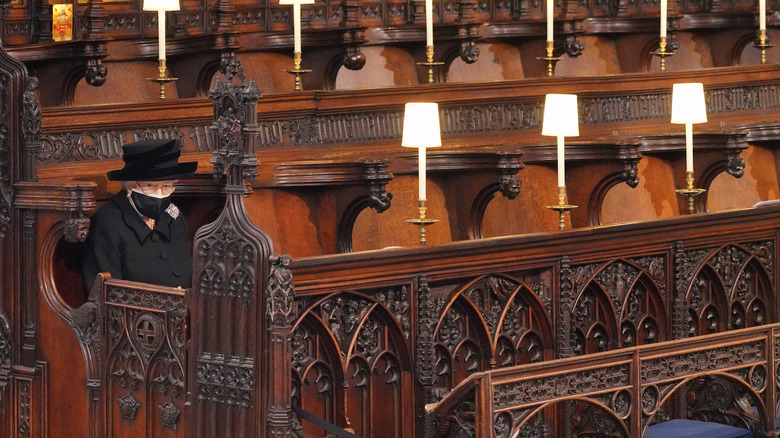 Wpa Pool/Getty Images
The pandemic has certainly changed how we commemorate events or people, and for the royal family, it's no different. Peter Phillips, the only son of Princess Anne and Captain Mark Philips, opened up to the BBC about Prince Philip's funeral and said his "thoughts immediately went to my grandmother." "Everybody saw the image of Her Majesty sitting alone. It would have been the same for any other family, the hardest part is not being able to hug those closest to the person who's been lost."
Recognizing that the previous COVID-19 rules applied everywhere — the UK has since eased all restrictions — Phillips said, "It's the same for a lot of families. There have been some great sadnesses but at the same time you've got to try to take the positives out of these situations, whether that be new life, or happy memories, that's what you've got to focus on." Phillips, who royal insiders described as Queen Elizabeth II's "favorite" grandson, said one of these "positives" has been that his daughters, Savannah, 10, and Isla, 9, have been able to spend more time with their now 95-year-old great-grandmother. "They're exceptionally lucky to have had two great-grandparents who have lived as long as they have. My children certainly appreciate that and know that it's something special."
Aside from his grandmother, Philips said the Duke of Edinburgh would not want anyone "moping around." "He would absolutely be wanting us to carry on in continuing the work that he's been doing, well, he did, for all of those years supporting the Queen."