This Is The Song In Allstate's 'Everything's Alright' Commercial
As illustrated in the insurance titan's latest commercial, "You're in good hands with Allstate" — even whilst cruising around town in a fancy convertible with the top down and music blaring from the four-piece jazz ensemble located inside your car.
During the 30-second advertisement, Allstate works hard to illustrate the lengths they'll go to in order to take care of their customers. In one scene, a tree branch heroically moves over to provide much needed shade for a gentleman on an ultra bright day. In another instance, a little girl is magically bestowed a new scoop of strawberry ice cream after hers is tragically lost to the pavement below. Phew! 
Per iSpot.tv, the popular insurance company also called in the big guns to provide the narration for the new advertisement. Enter: famous singer and songwriter Alicia Keys. But what song did Allstate pair with the ad? Keep reading after the jump to find out!
'Grazing in the Grass' is a blast from the past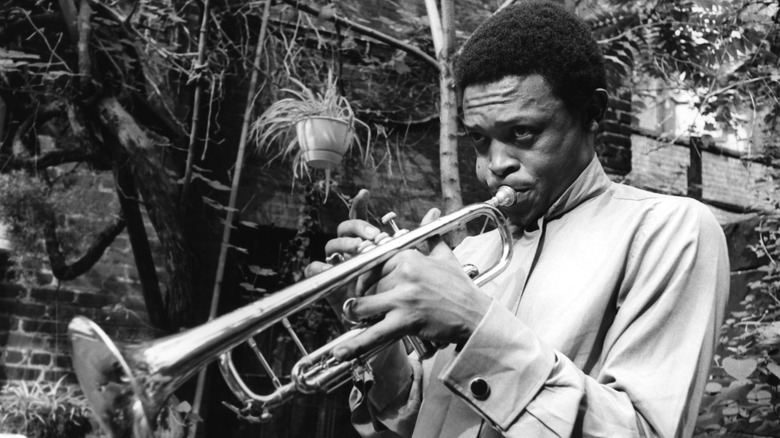 Michael Ochs Archives/Getty Images
If you guessed that Allstate's new commercial featured a song by the famous singer turned commercial storyteller, Alicia Keys, you would be wrong. Instead, the insurance company opted to give viewers a blast from the past and utilize a vintage bop to set the mood for the warm and fuzzy ad.
Per the comments section in the commercial's YouTube post, the song featured in the ad is a 1960s jazz number by Hugh Masekela titled "Grazing in the Grass" — a single that would go on to achieve No. 1 status on the Billboard Hot 100 chart in July of 1968. Not too shabby, eh?! But it's only by happenstance that the successful song even came to fruition. As reported by Stereogum, Masekela found himself three minutes shy of meeting the album's time length criteria as outlined in his contract. In an effort to make good on the deal, he quickly came up with "Grazing in the Grass." Fortunately, musical artist Philemon Hou just so happened to be visiting Masekela the same day he was recording the song and lent his own genius to create the melody for the track (via Minnesota Public Radio). And voila! The rest is simply history!