Who Is Joe Buck's Wife, Michelle Beisner-Buck?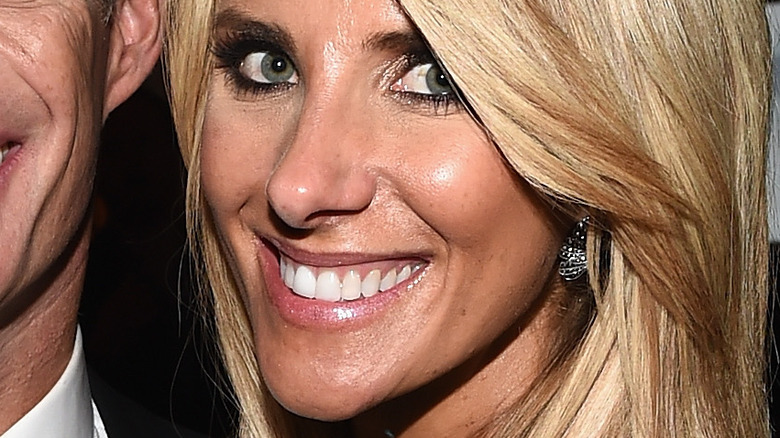 Michael Buckner/Getty Images
Joe Buck is married to Michelle Beisner, a journalist who works for ESPN and serves as the host for Monday Night Countdown and Monday Night Football, according to her Instagram bio. Before becoming a sports reporter, Beisner tried out for the Denver Broncos cheerleading squad, and made the team in 1997, according to ESPN Press Room. Trained in acting and dancing, Beisner served as the cheerleading captain for four of her six years with the team. During that time, Beisner also tried to break into the entertainment industry, and was even cast in a couple of movies. According to her IMDb page, she has five credits to her name, including a role as a "party girl" in the 1999 hit film, "Any Given Sunday." 
When she broke into journalism, Beisner worked with various outlets, including Fox Sports, CBS, and NBC. She worked for the NFL network for eight years before joining ESPN as a features reporter in 2014. Over the course of her career with the network, she has interviewed some of the biggest names in football, including Russell Wilson, Richard Sherman, Pete Carroll, Peyton Manning, Ray Lewis, John Elway, and JJ Watt, to name a few. 
Perhaps unsurprisingly, it was through her work in journalism that she ended up meeting her husband. Buck is a sports announcer, after all! Keep reading to find out more about Beisner's home life with Buck.
Michelle Beisner married Joe Buck in 2014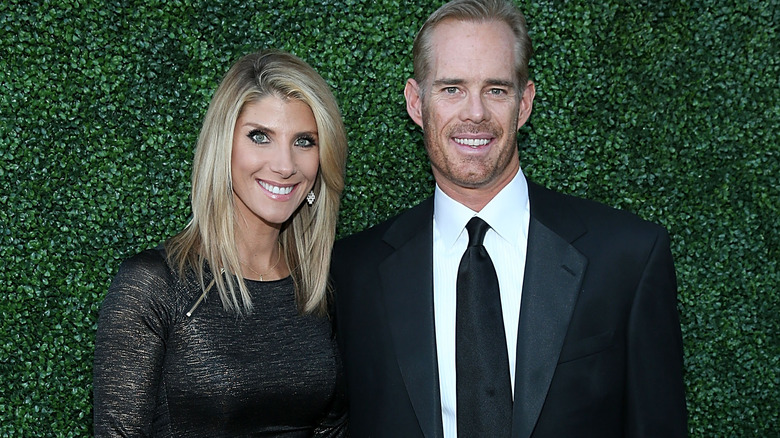 Gary Miller/Getty Images
Joe Buck and Michelle Beisner met back in 2012. At the time, Buck asked his pal, Rich Eisen, to tell Beisner that he wanted her number, according to The Ringer. Beisner was living with a boyfriend, however, and made it clear that she wasn't on the market. In 2013, she bumped into Buck at the Super Bowl in New Orleans, according to Sports Illustrated. This time, she was single. The two started dating, and by August of that same year, they were engaged.
In April 2014, Buck and Beisner tied the knot, according to TMZ. They exchanged vows in Cabo San Lucas, Mexico, with some very familiar faces in attendance. According to People magazine, Tim McCarver, actor Paul Rudd, Tony Romo, Troy Aikman, and Dallas Cowboys owner Jerry Jones were all in attendance. On their 7-year wedding anniversary in April 2021, Beisner shared some stunning photos from the wedding on Instagram. "[Seven] years strong(er). Happy Anniversary to the person I would choose again & again & again. More today than yesterday @boejuck – Always. Against All. Don't blink on that last frame or you will miss highlights from one of the best days of our lives," Beisner captioned the sweet post.
Buck, who was previously married to Ann Buck, was a father of two when he and Beisner married. In the years that followed, Buck welcomed two more children into his life. He and Beisner are parents to twin boys!
Michelle Beisner-Buck is a mother of two boys
In April 2018, Michelle Beisner gave birth to twin boys. "Welcome to the world Wyatt Joseph Buck and Blake Andrew Buck. What a ride we've been on. Now to see you. Smell you. Snuggle you. All worth every second of it. What a gift from God. Okay, two. This is actually Joe typing this. Michelle has her hands full at the moment. Happy Birthday Lil Men.....We are so in love with you," she captioned a sweet Instagram post, sharing the first public photo of her boys. Beisner is very active on social media, and often shares photos of her boys, and her husband. 
The Beisner-Buck family lives in St. Louis, Missouri. In September 2020, the St. Louis Business Journal reported that Joe Buck purchased a "five-bedroom, eight-bathroom property at more than 6,500 square feet" in the Ladue area. The home reportedly cost a cool $4.5 million.