What Michael Phelps Is Doing During The Tokyo Olympics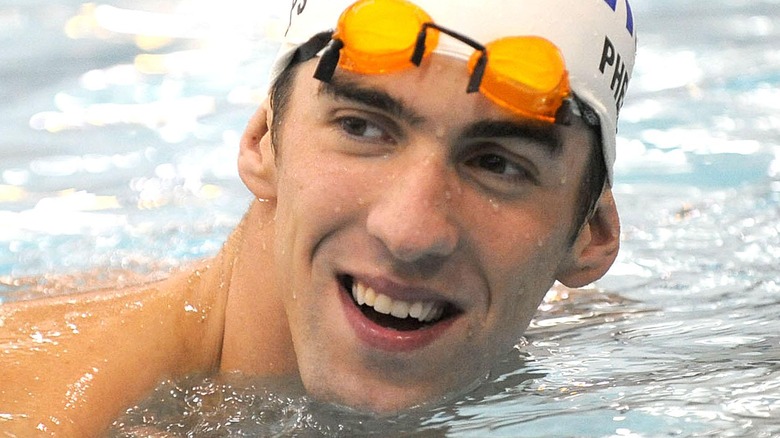 Shutterstock
Gold-winning Olympic swimmer Michael Phelps has likely seen the last of his Olympic Games. The most-decorated athlete in Olympic history, with 28 medals total, originally retired from the sport back in 2012 after the London Games (via Britannica). However, Phelps just couldn't stay away from the competition, and returned in April of 2014. His final Olympic participation was at the Rio de Janeiro 2016 Olympic Games, which was his fifth Olympic competition, and he subsequently set a record for an American male swimmer. Phelps didn't disappoint, going on to add an additional three gold medals to his whopping 23 total. 
Despite the false retirement four years prior, Phelps finished the 2016 Olympic Games and decided to officially step away. Speaking with the Today Show, the Baltimore native confirmed, "Done, done, done — and this time I mean it. I wanted to come back and finish my career how I wanted and this was the cherry on top of the cake." The now 36-year-old expanded on the experience of participating in his final Games, telling interviewers that realizing Rio would be his last was an emotional experience. "I was so much more emotional during these Games ... Because I knew this was the last race that I ever had, the last Olympics that I ever had," he said. "And everything just really hit hard."
Just because Phelps is retired doesn't mean he's disappeared from the Olympics altogether. Keep reading to find out what he's up to during the Tokyo Olympics.
The first Olympic Games without Michael Phelps in two decades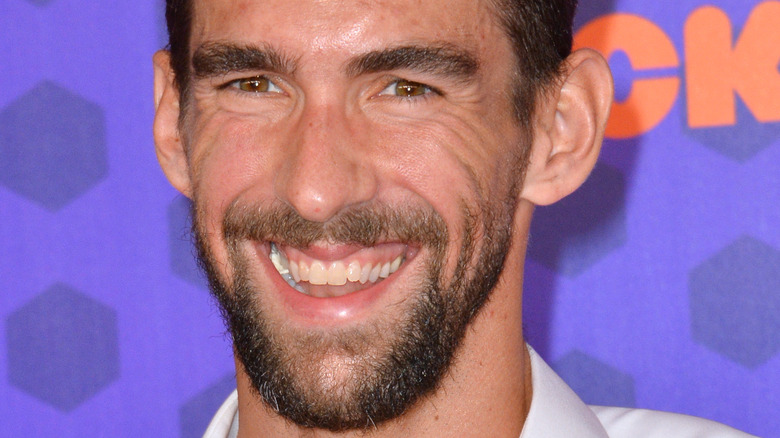 Shutterstock
The Tokyo Olympics are the first Olympic Games in over two decades in which American swimmer Michael Phelps is not participating. However, Phelps was not ready to take the sidelines yet and stay home. He has been attending the Games in Tokyo since they began on July 23 and serving as NBC analyst for several swimming races alongside Dan Hicks and Rowdy Gaines (via Sporting News).
His experience trading in his swimsuit for a spot in the stands has been "overwhelming," according to Phelps (via The Washington Post). "It's weird. That's the easiest way to tell you," Phelps confessed. "Walking to the pool this morning I was filled with tons of emotions. But for me, it was almost peaceful being here. I was so excited, just being back in [a realm] I felt so comfortable in. I've spent so much time in it."
In addition to serving as swimming commentator, Phelps has spent his time in Tokyo marketing his swimwear line, which rebranded in 2020 as "Phelps Brand" (via Front Office Sports). In October 2020, the brand celebrated their biggest athlete signing to date with Canadian 2016 Olympic gold medalist Penny Oleksiak. Phelps has also been serving as spokesperson and doing appearances for Omega Timing, the official timekeeper of the Olympic Games. While Phelps would most likely prefer competing to watching, he clearly has plenty to keep him busy during his retirement.
What has Michael Phelps been up to since retiring?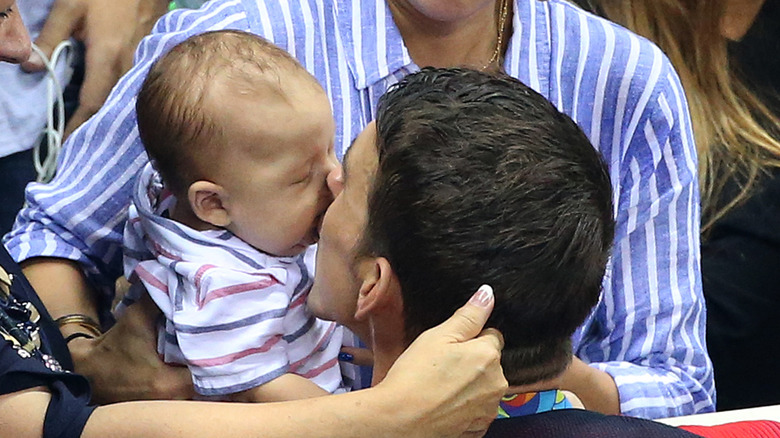 Jean Catuffe/Getty Images
Michael Phelps definitely didn't trade competitive swimming for a life of boredom. He shares three sons — Boomer, Maverick, and Beckett — with his wife Nicole Johnson. The swimming champion has revealed how much he loves being a family man and cherishes the moments he gets to spend with his wife and sons. "I love how we have dinner every night together at the same exact time," Phelps told People in an interview. "It's fun just being able to hear them talk about the day ... It's fun to be a part of and just fun to be a dad."
Family has been of the utmost importance to Phelps since sharing with the world that he struggles with depression and ADHD (via The Washington Post). "I've been on a little journey, just understanding more about myself and why I work a certain way," Phelps revealed. "I'm happy where I am ... I'm happy being a dad, happy being a husband." Phelps also swims to help manage his depression. He told The Washington Post that if he's having one of his bad days, he heads straight to the pool.
Ultimately, Phelps summed up perfectly how he's been spending time since retiring: "I'm trying to wrangle three kids, trying to make sure I'm taking care of what I need to in the business world but also trying to make sure I take care of my mental health, my personal well-being. It's a full-time job."