What All Of Diddy's Kids Are Up To Today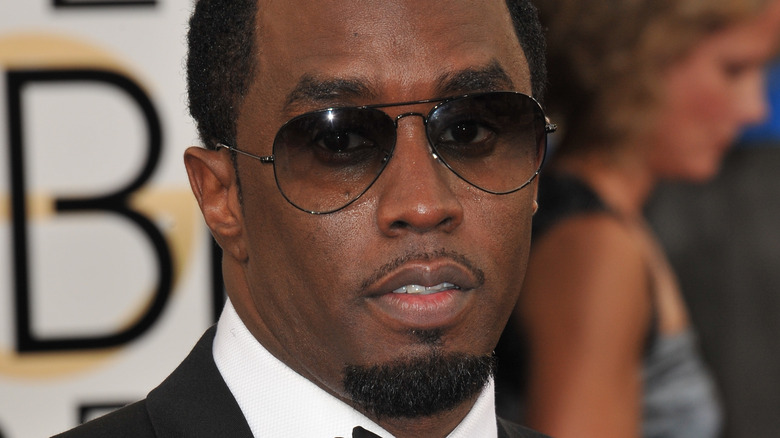 Shutterstock
After just one (gorgeous) viral photo, the world was suddenly reminded that, oh yeah, Diddy has kids. The photo in question, published in Vanity Fair, showed the rapper-slash-music mogul posing with his three teenage daughters: 15-year-old Chance and 14-year-old twins D'Lila Star and Jessie James. The girls wore chic black ball gowns and nothing short of regal hairstyles, while their dad sat (a little awkwardly, if we're honest) at their feet. Chance is Diddy's daughter with Sarah Chapman and D'Lila and Jessie's mother was Kim Porter, who tragically died in 2018.
In addition to these three stunners, Sean Combs also has three sons: Quincy, Porter's biological child who Diddy formally adopted, Christian, who was born in 1998, and Justin, who he had with designer Misa Hylton-Brim. So now we want to know what's new with this big, blended, Brady-esque fam. As you might have already guessed, these genetically blessed kiddos are pretty much killing it.
Diddy's daughters have bright futures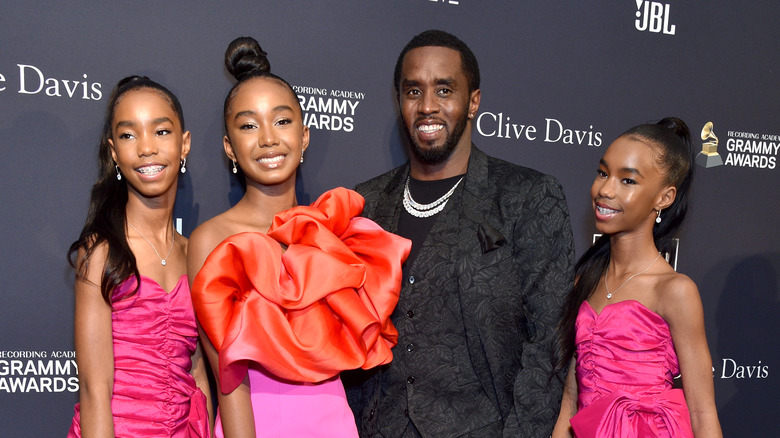 Gregg Deguire/Getty Images
Diddy's three daughters — also his youngest children — may still be teens but they are already making moves in the sweetest possible way. In addition to, ya know, high school, Chance, D'Lila Star, and Jessie James are putting their high profile to good use.
Because of course they do, D'Lila and Jessie have their own popular YouTube channel, The Combs Twins, where they offer beauty and skincare tips and advice as well as occasional peaks into their home life. In January, the three girls made a surprise visit to Alexandria House in LA to donate special packages of customized beauty and skincare products, which they documented on the channel. Alexandria House is a transitional home for women and children moving from emergency shelters to a permanent home, via People.
While the twins are killing it on the internet, Chance is working towards a future career as an actor. "Here's a sneak peak of some of the self tapes and reels i've been working on," she captioned an Instagram post, along with some still shots. While she hasn't reached Diddy status yet, something tells us Chance is gonna be all over our screens pretty soon here.
Diddy's sons have already been killing it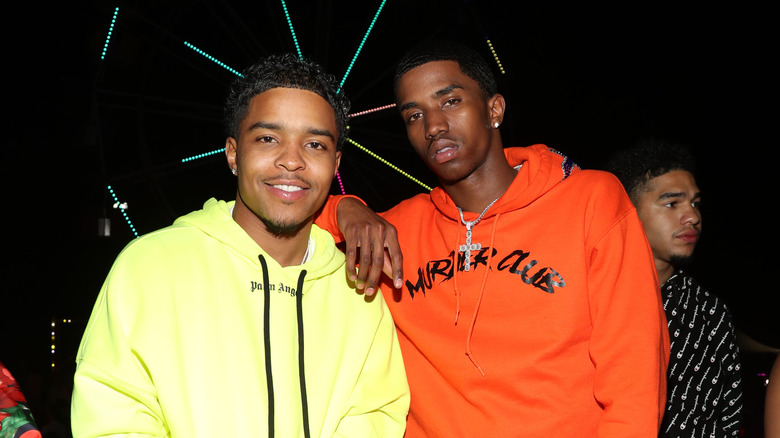 Cassidy Sparrow/Getty Images
Sean Combs' sons, Justin, Quincy, and Christian are all adults now and their careers are already underway. It should come as no surprise that they are all major rising stars.
Unlike his siblings, Justin Combs' first rise to the top wasn't in entertainment. The 27-year-old first made a name for himself by playing football for UCLA. That said, it doesn't look like he could resist the pull of the family business and now co-hosts a late-night talk show with Justin LaBoy called Respectfully Justin. One other fun fact: he also used to date Saweetie. The more you know!
As for Quincy, he may not be biologically related to Diddy, but he definitely got something of his dad's talent. The oldest of Diddy's kids now works as a successful actor and musician, who goes by the stage name Quincy. Diddy's youngest son Christian, meanwhile, is following in his father's footsteps in more than just the looks department (which, wow). Christian, AKA King Combs, is already well on his way to a highly successful music career.