The Crime You Didn't Know Bruno Mars Committed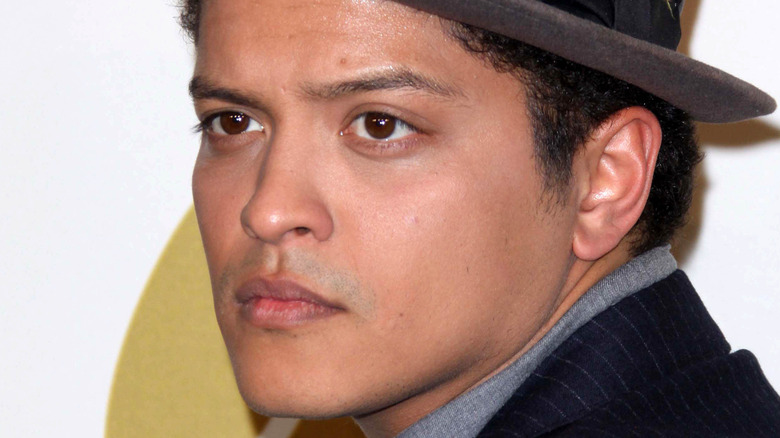 Shutterstock
There's no denying that Bruno Mars is a force to be reckoned with in the music industry. Since his first studio album "Doo-Wops & Hooligans," which debuted in 2010, he's been topping charts around the world. Two singles from the album, "Just the Way You Are" and "Grenade,"  topped Billboard's Hot 100 chart — and he was only 25 at the time. Since then, Billboard reports that he's continued his chart-topping reign, with 2014's "Uptown Funk" being his most popular track. The single spent a solid 14 weeks at the No. 1 spot in 2015. Not too shabby! The Hawaii native has also accumulated 11 Grammy awards, among other awards from the American Music Awards, Teen Choice Awards, and MTV Music Awards, to name a few, per IMDB.
There's no doubt that Mars is exceptionally talented, but that's not the only characteristic that has fans swooning over him. He has a charismatic flair that's evident in his very iconic, eye-catching style, which Flair Magazine describes as "along both lines of casual and dressy" by merging "sport and luxury." He also has an engaging sense of humor, which Mars demonstrated as an SNL host in 2021 and as a guest on James Corden's popular "Carpool Karaoke." Plus, his revelation to Rolling Stone about his struggles with perfectionism and anxiety makes him super relatable to many.
With all these endearing qualities, it's hard to imagine that he has any sort of scandal in his background — but he does. Read on for details of the crime you didn't know Bruno Mars committed.
Bruno Mars was arrested in Las Vegas for drug possession
Las Vegas Metropolitan Police Department/Getty Images
In 2010, just as his rise to fame had begun and his first single became a global hit, news headlines announced that Bruno Mars, whose real name is Peter Hernandez, had been "arrested on suspicion of narcotics possession," according to MTV. Uh-oh.
At the time of his highly-publicized arrest, Mars was at the Las Vegas Hard Rock Hotel & Casino where hotel security found him in the bathroom with "a bag of a white, powdery substance," per TMZ. The substance was later revealed to be 2.6 grams of cocaine. TMZ released details of the shocking police report, in which the then-24-year-old Mars "admitted he did a foolish thing and has never used drugs before."
His self-admitted foolishness didn't end there, however. His viral mugshot, which is forever immortalized online, went on to feed further unflattering headlines. CNN noted he was smiling "like he was at the Grammy Awards" rather than looking remorseful or concerned about the situation. He received ample criticism for the mugshot from other media outlets as well, who referred to it as "a silly mugshot" and an "ear-to-ear grin in [a] criminal pic." And Mars himself has admitted that he can't quite explain the broad grin. In a 2013 interview with GQ, he simply laughed it off by saying, "I have no idea. It was a picture." Hey, at least he gave an honest answer?
Bruno Mars moves forward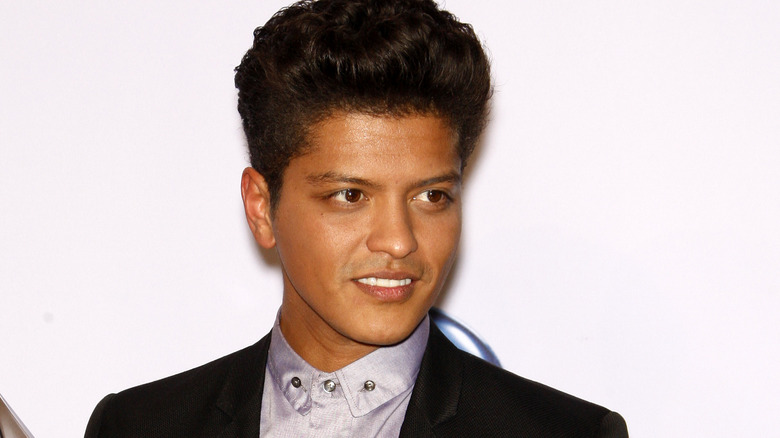 Shutterstock
If the mugshot implied Bruno Mars wasn't taking his arrest seriously, he made up for that by expressing remorse in various ways. He pled guilty, according to the BBC, accepting a fine of $2,000, 12 months of probation, and community service that would wipe his record clean. He admitted feeling regret about the incident in 2013 to GQ, but said, "I was young, man! I was in f**king Vegas. I wasn't thinking." He added that he was "really intoxicated" and that the night was a "big blur." Mars continued, "I try every day to forget and keep pushing."
The drug charge for Mars was unexpected and inconsistent with his "wholesome" image, the Las Vegas Review-Journal noted. But Billboard Editor Craig Marks argued that the arrest would help broaden Mars' fan base. "I don't think he meant it to come off that way, but his arrest shows that he has a little bit of edge I suppose," he speculated. Fair enough!
In a 2012 interview with CNN, Mars said he didn't want to be defined by the incident. "I hope I'm not here today because of what happened then. I hope I'm here today because of my achievements and because of my music. I want to be known and hopefully respected because of that." He added, "It's something I have moved passed ... It's behind, and the only way for me to move forward is to move forward." Thankfully, it seems he's done exactly that, as evidenced by his successful and controversy-free career.