Who Is Emma Stone's Brother Spencer?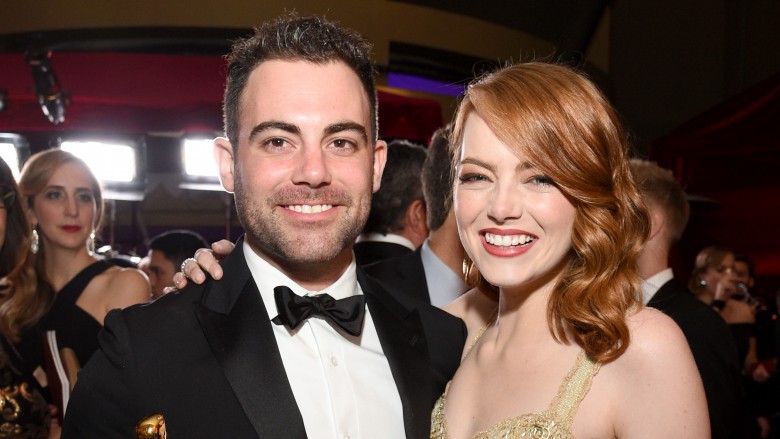 Getty Images
Ever since La La Land star Emma Stone swept the awards-shows circuit in 2017, people can't stop talking about the date she brought to pretty much every red carpet, her brother Spencer. Just who is this equally adorable member of the family Stone? Let's get to know the 26 year old who is catching Hollywood by storm.
He once got a citation for peeing in public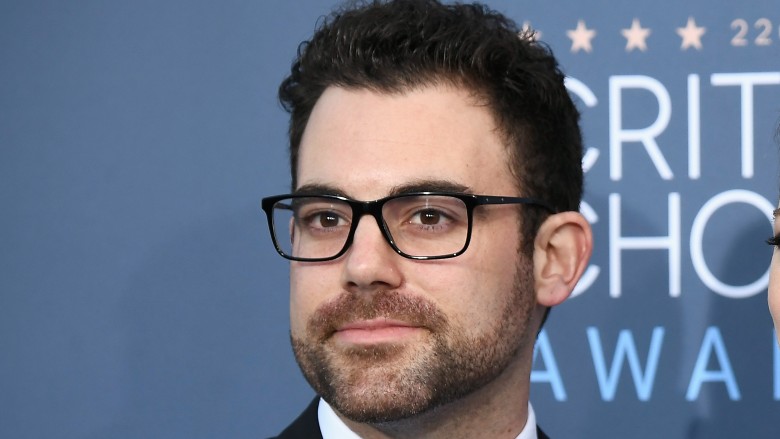 Getty Images
If Spencer's record is any indication, he may be the troublemaker in the family. Radar Online obtained police reports from an incident in which he was cited for allegedly urinating in public.
According to reports, a cop saw him walking in a parking lot where he had unzipped his pants. "I was standing in full SPD uniform approximately 100 feet away from Stone," the report reads. "I observed as Stone was unzipping his pants, he looked over in my direction and immediately ceased his activity."
Spencer reportedly moved away and then began to pee in another spot. The officer allegedly shined a flashlight on him and asked him to step away from the area, where there was apparently a puddle of urine.
Spencer was cited for the incident and eventually called to court, where he pleaded guilty to urinating in public and paid a total of $334.95 in fines and fees. Hey: one sibling's Oscar is another's public urination violation!
He's a stuntman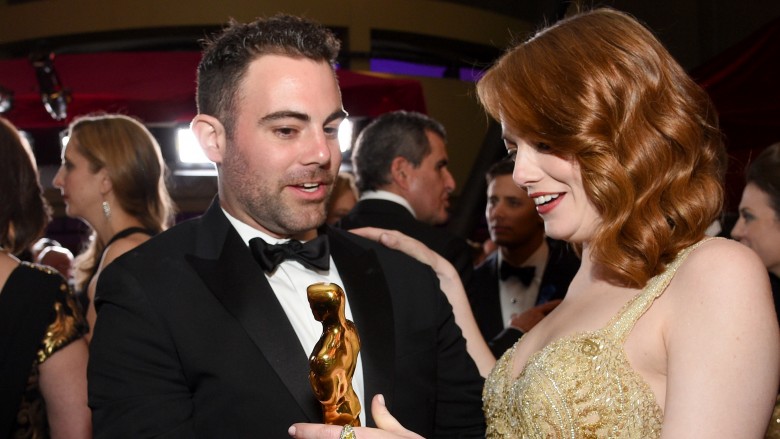 Getty Images
Emma isn't the only Stone sibling involved in movies: Spencer's been building up a pretty solid resume working behind the scenes as a stuntman. Along the way, he's landed gigs on some pretty high-profile Hollywood movies, including Divergent, Sharknado and V/H/S/2, according to Entertainment Tonight. He's also done stunts for Grimm, G.I. Joe: Retaliation, True Blood and several other projects.
He once wrote an acceptance speech for Emma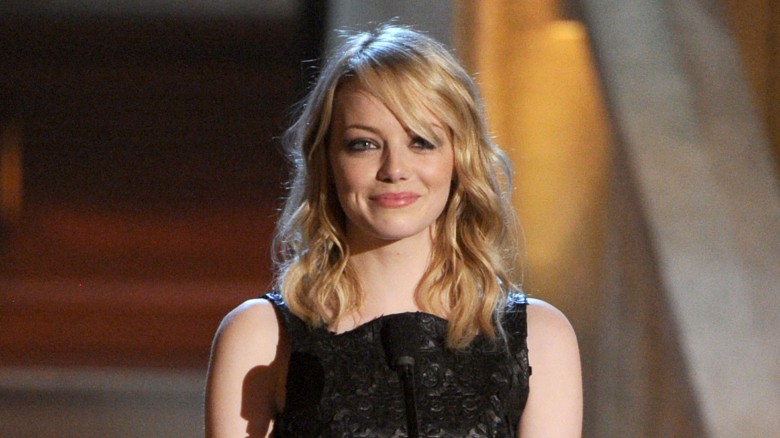 Getty Images
According to Movie Pilot, Emma and Spencer once made a bet that, if Emma won the Guy's Choice Award for being "Hot and Funny" (yep, that's a real thing), she'd have to read a speech written by her little bro.
Well, she won, and, well, she read the speech, much to the laughter of everyone from the audience.
"You guys are idiots. I am neither hot nor funny," she said on stage. "And Spencer... Oh God, do I have to say this? Spencer Stone is the f****** coolest. He is fly as hell. Do people even say fly anymore? And he could have a professional rap career if he wanted to but he's too chill and wants to lay low. Also if Mila Kunis is here, he will be backstage for the next 45 minutes."
Can someone put them in a buddy-comedy, please?
He's a red carpet pro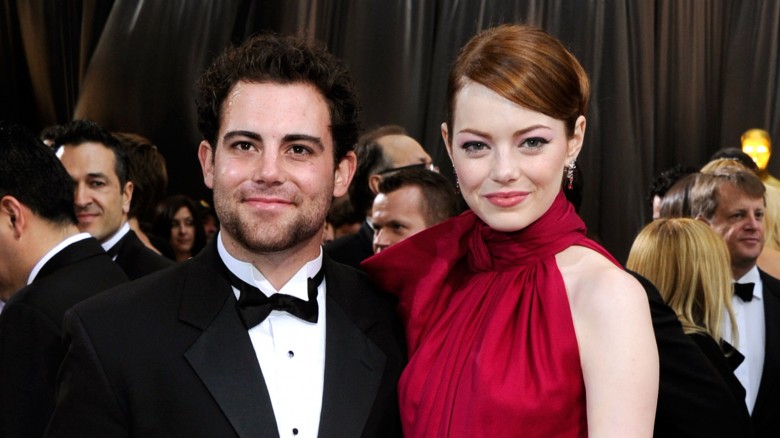 Getty Images
Although he made a name for himself in 2017, Spencer has actually been walking the red carpets with his big sis for years. According to E! Online, Spencer has attended numerous awards shows over the years, including the 2015 Golden Globes, the 2012 Oscars and the Critics' Choice Awards in 2016.
"I'm taking it all in," Spencer told E! News (via Us Weekly) at the 2017 Screen Actors Guild Awards. "We keep it in the family."
At this point, if Spencer ever gets nominated for an Oscar, he's pretty much contractually obligated to bring Emma as his date.
He may be Emma's good luck charm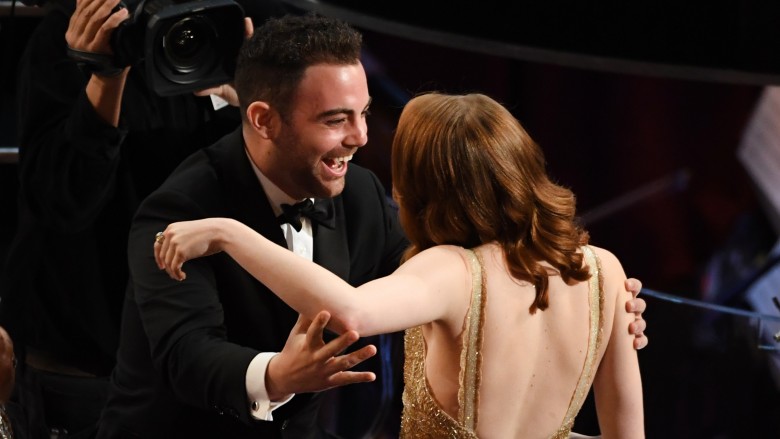 Getty Images
When it's not broke, why fix it? Spencer proved to be Emma's lucky charm on her march to the Academy Awards in 2017. He joined her at the Golden Globes in January, at which she won the prize for Best Actress in a Musical or Comedy. Later that month, Spencer also attended the SAG awards, where she won Best Actress. He also joined her at the Oscars in February, where, yep, she won again.
Memo to celebrities who want to win an Oscar: always, always bring your sibling as your date.
He spills Emma's secrets on red carpets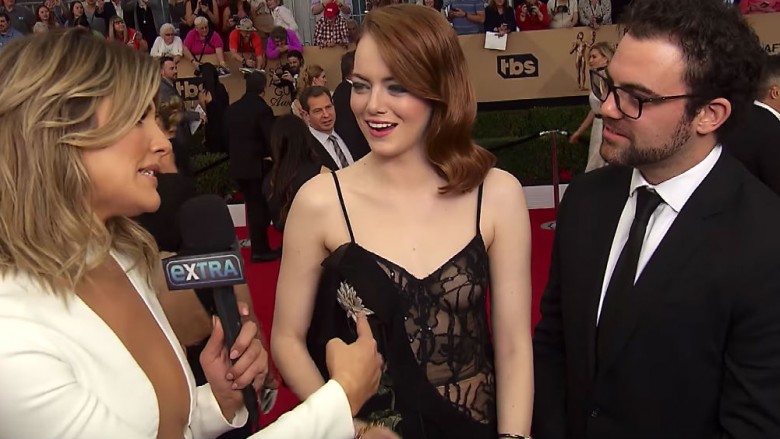 YouTube
Spencer could be Emma's good luck charm, but he's still her brother at heart and completely unafraid to dish a little dirt on his big sis. While walking the carpet at the SAG Awards, Extra TV stopped the duo for a pre-show interview. After a little fashion talk, the on-camera host looked at Spencer and said, "She's probably sick of answering questions, So, tell us something about your sister we might not know."
After thinking about it for a second, he let Emma's guilty pleasure slip. The La La Land actress is apparently a big fan of cheese! Although that tidbit wasn't too juicy, we can only hope Spencer lets a few more of Emma's secrets out during joint interviews.