How Adam Sandler's Wife Really Feels About Jennifer Aniston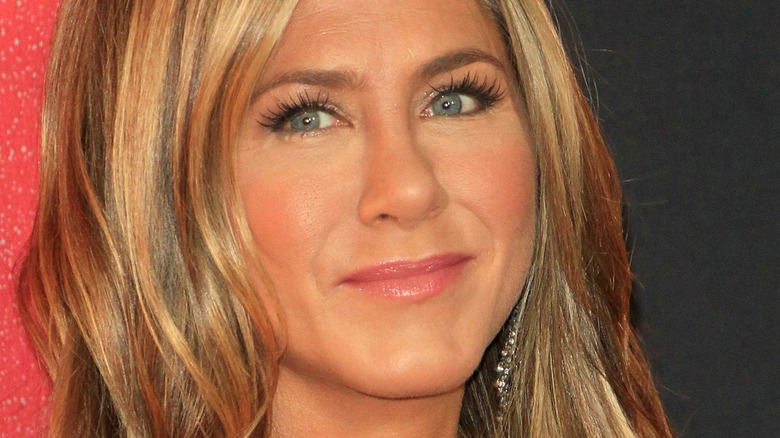 Shutterstock
Adam Sandler and Jennifer Aniston have shared the screen twice so far in their careers. They first worked together in 2011, when they starred in the rom-com "Just Go With It," in which they play best friends who fall in love. The latest collaboration came in 2019 in the form of "Murder Mystery," a Netflix film about a couple who becomes involved in a crime while on the yacht of a billionaire. The easy chemistry between the two A-list actors is palpable, which might stem from the fact that Sandler and Aniston are actual real-life friends. 
However, theirs isn't a friendship born on movie sets. Sandler and Aniston go way back to the early 1990s, when neither knew they would go on to become major stars. At the time, Aniston was casually seeing a man who took her to an eatery called Jerry's Deli for breakfast with his buddies, which included Sandler, they revealed on Jimmy Kimmel Live! in 2019. The two immediately clicked. "I knew I was going to be friends with her," Sandler said. Aniston and the nameless friend didn't work out, but she found something better that day, she said. "We must have been family, like real family, in another life," she added. 
Both actors grew up, became famous, and got married, but their bond never waned. But how does Sandler's wife, Jackie, feels about Sandler being so close to one of Hollywood's most recognizable (and gorgeous) faces? Keep reading to find out.
Jackie Sandler 'loves' Jennifer Aniston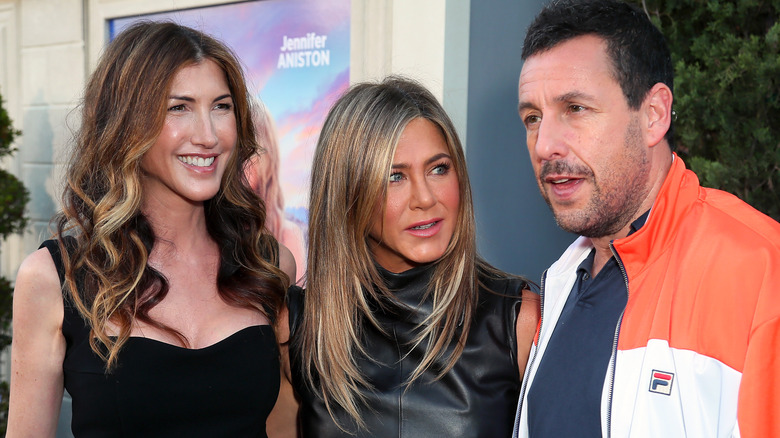 Leon Bennett/Getty Images
According to Adam Sandler, Jackie Sandler has no issues with her husband's tight friendship with Jennifer Aniston. In fact, she herself "loves" the "Friends" alum, Adam said in his speech during Aniston's Hollywood Walk of Fame ceremony in 2012. "I love this girl, my wife loves this girl, the entire world loves this girl," he said. And apparently, Jackie and Aniston talk on a regular basis. "She just loves everything that Jennifer has to say about anything," Adam said about his wife on The Howard Stern Show. In their joint appearance on Jimmy Kimmel Live in 2019, Adam noted that their friendship extends to their personal circles as well, including their families.
Jackie is also okay with her husband's romantic scenes and is not jealous at all of his co-stars, which include Aniston. Jackie even played a small part in their 2019 film, "Murder Mystery," which means she was right there when Adam and Aniston, who played a married couple, had to kiss on-screen. The situation was indeed awkward, but not for the reason one might expect. "The only awkward part is hearing my wife on the side going, 'Harder! Harder! Kiss her harder! Deeper!'" Adam told the Associated Press in 2019. "They (Jackie and the kids) watched the kissing. They love it. They love Aniston, and they want her to have good things and they say, 'Give her something nice,'" he continued. It's clear that Sandler's wife and their two daughters, Sadie and Sunny, are opened minded and supportive of his on-screen endeavors.
Jackie and Adam Sandler have been together since 1999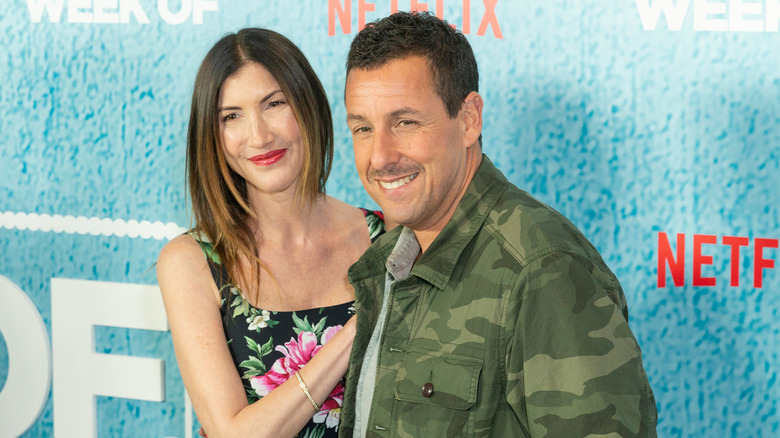 Shutterstock
Adam Sandler met Jackie Sandler (née Titone) in 1999 on the set of "Big Daddy," in which she had a small role as a waitress, according to the Daily Mail. Previously, the Coral Springs, Florida, native worked as a model, making as much as $5,000 per shoot, per the Sun Sentinel. She moved to California to try her luck as an actor and landed a small part in "Deuce Bigalow: Male Gigolo," according to her IMDb biography. Rob Schneider then mentioned her to Adam, who cast her in "Big Daddy," the bio noted. Sparks flew, and Jackie and Adam started dating shortly after the movie came out, according to Fame 10.
While Jackie hasn't had the big break she had traveled to Hollywood for, she does have a series of small roles, mostly thanks to Adam. According to Fame 10, he often casts her in his movies or asks producers to include her in films. A few examples include "Little Nicky," "50 First Dates," "Just Go With It," and "Murder Mystery." 
Adam and Jackie tied the knot in June 2003, the Sioux City Journal reported at the time. The star-studded ceremony included Adam's lifelong friend, Jennifer Aniston, per Good Housekeeping. The couple welcomed their first daughter, Sadie, on May 6, 2006 and their second girl, Sunny, on November 2, 2008. Over two decades and a few kisses with Jennifer Aniston later, it seems like Adam and Jackie are still going strong.