Inside Fantasia Barrino And Jennifer Hudson's Relationship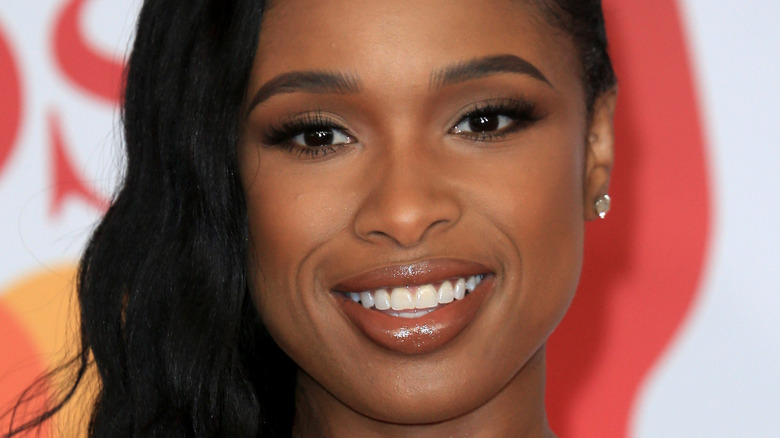 Shutterstock
As soon as Jennifer Hudson revealed that she'd be open to doing a Verzuz with fellow "American Idol" alum and personal pal Fantasia Barrino, the internet reacted exactly as you might have expected: they went nuts.
"Jennifer Hudson & Fantasia is the #VERZUZ i need," one Twitter user wrote, along with a fire emoji. Many others joked that a battle between the two powerhouse divas would be maybe even a smidge too loud. "Fantasia and Jennifer Hudson in the same room gon be loud asfff," one person tweeted. "Our speakers after Fantasia and Jennifer Hudson's versuz," wrote another, accompanied by a photo of an exhausted restaurant worker slumped on an outdoor bench. And a lot of folks agreed that much as they love Hudson, Fantasia was going to be the clear winner. "Jennifer Hudson said she can go hit-for-hit with Fantasia. I love my big sis' confidence but..." one person tweeted.
While we wait for what will inevitably be an epic battle, let's take a look at the two singers' personal history with one another.
Fantasia and Jennifer Hudson had a rough beginning
Shutterstock
While they may have been fierce competitors during their time on "American Idol" approximately a million years ago, Fantasia Barrino and Jennifer Hudson have formed a close bond since their on the show. They are so close in fact that Fantasia even sang at Hudson's nephew's funeral in 2008. Per MTV News, after singing "Your Grace and Mercy," Fantasia "called the Hudsons 'my family' and walked offstage into the aisle, where she took Hudson's hand and sang directly to her."
The pair's paths first crossed when they both competed on "American Idol" in Season 3 way back in 2004. Fantasia was just 19 years old, and Hudson was only 22, and they, along with fellow contestant LaToya London, were dubbed "The Three Divas" on the show and in the media. Of course, the show is a competition, and at the time, Fantasia and Hudson were not as close as they now seem to be. As Fantasia revealed in an Entertainment Weekly interview, they "bumped heads and had words." Fantasia ultimately won the competition, but she was also up for the part in "Dreamgirls" that ultimately went to Hudson. While she admitted she was "a little hurt" at first, she and Hudson remained friends and she was proud of her fellow Idol competitor.
Jennifer Hudson and Fantasia have stayed friends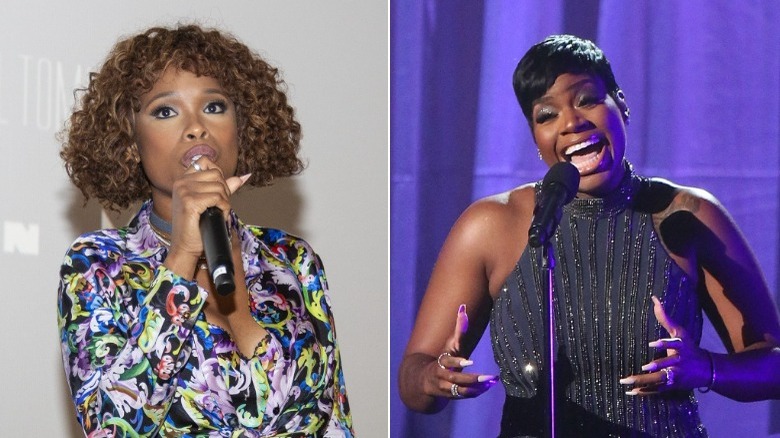 Barry Brecheisen, Maury Phillips/Getty Images
These days, while they may be gearing up for another rivalry on Verzuz, Jennifer Hudson and Fantasia Barrino remain nothing but good vibes all around. In 2017, for example, after Hudson split from her long-time partner David Otunga, Barrino was full of love and support. Speaking to Life & Style, Barrino said, "She's a tough cookie and she bounces back." The singer continued, "I'm proud of her for being where she is right now, after losing some of the things that she lost. I'm proud of her and I want her to find love however that comes for her."
As for the potential head-to-head Verzuz matchup, Hudson at least is totally down. When asked on The Shade Room if it was a possibility she said, "That's a dope idea!" She continued, "That's a beautiful idea; maybe one day we can make that happen." Clearly, there's still a lot of love between the two of them, even beyond the rivalries.