The Tragic Death Of Kool & The Gang Co-Founder Dennis 'Dee Tee' Thomas
Gilbert Carrasquillo/Getty Images
Dennis "Dee Tee" Thomas, founding member of the legendary band Kool & the Gang, has died at the age of 70. The group announced Thomas' passing in a post on its official Facebook page on August 7. "An original member of Kool & the Gang, Dennis was known as the quintessential cool cat in the group, loved for his hip clothes and hats, and his laid-back demeanor," the statement read. Thomas played the alto saxophone, flute, and drums at the group's shows, in addition to serving as the master of ceremonies.
Thomas originally hailed from Orlando but was a longtime resident of Montclair, New Jersey, a suburb of New York City, with his wife Phynjuar Saunders Thomas. 
Per the band's statement, it was in Montclair that Thomas "passed away peacefully in his sleep." Before his death, Thomas performed with Kool & the Gang one last time on July 4 at the Hollywood Bowl, an event CNN called "the opening of America," referring to the rescinding of COVID-19 restrictions.
Dennis "Dee Tee" Thomas cemented his status as a legend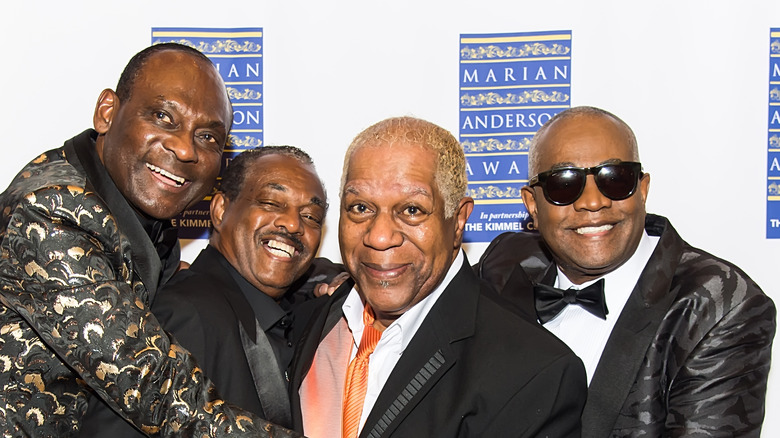 Gilbert Carrasquillo/Getty Images
Kool & the Gang's roots go back to 1964, when two teen brothers, Ronald Bell and Robert "Kool" Bell, joined forces with their friends Dennis "Dee Tee" Thomas, Spike Mickens, Ricky Westfield, George Brown, and Charles Smith to create a sound fusing jazz with soul and funk. The group went through many names before settling on Kool & the Gang in 1969, per the official statement on the group's Facebook page.
Kool & the Gang is best known for its smash hits like "Celebration" and "Get Down On It." The band has amassed a total of two Grammy Awards, seven American Music Awards, 25 Top Ten R&B hits, nine Top Ten Pop Hits, and 31 gold and platinum albums, per the group's Facebook statement. Kool & the Gang also received a Soul Train Lifetime Achievement Award in 2014, followed by a star on the Hollywood Walk of Fame a year later.
Thomas is survived by his wife Phynjuar Saunders Thomas, his sons David Thomas and Devin Thomas, and his daughter Tuesday Rankin. He is predeceased by his two daughters, Michelle Thomas and Tracy Jackson. Our condolences go out to his family.