Dwayne Johnson Reveals His Bathing Habits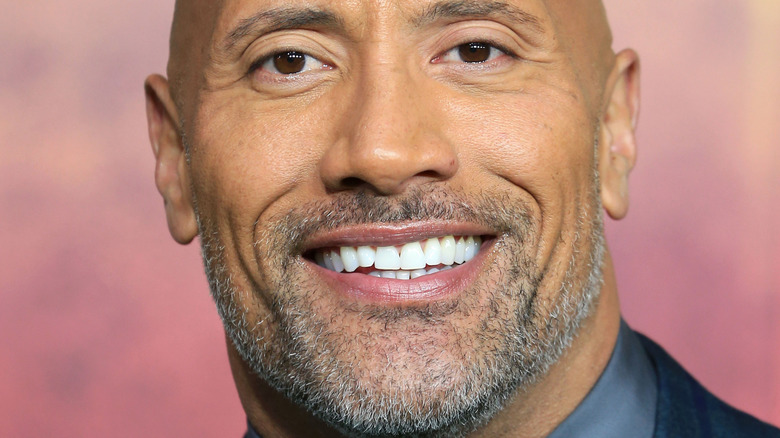 Shutterstock
Dwayne Johnson has weighed in on the celeb bathing debate of 2021 — and yes, it's the news hygiene enthusiasts all want to hear. If this year couldn't get any weirder, news about celebrities opting to clean themselves only once they get "the stink" has been making the rounds, per Insider. The daily showering discussion came about last month after Mila Kunis and Ashton Kutcher revealed they only wash their children if they can physically "see dirt on them." Appearing on Dax Shepherd's "Armchair Expert," Kunis said, "When I had children, I also didn't wash them every day. I wasn't that parent that bathed my newborns — ever." The pair also said, while they wash their face daily to "get all the salts out," they don't go full-body on the regular.
The absorbing topic saw Shepherd and his wife Kristen Bell also discuss and agree with Kunis and Kutcher's low-maintenance hygiene on "The View." "Once you catch a whiff, that's biology's way of letting you know you need to clean it up. There's a red flag. Honestly, it's just bacteria; once you get bacteria you gotta be like, 'Get in the tub or the shower.' So I don't hate what [Kunis and Kutcher] are doing. I wait for the stink." Even Jake Gyllenhaal has admitted he's a fan of the old sporadic scrub, telling Vanity Fair less showering allows for "skin maintenance." "More and more, I find bathing to be less necessary, at times. I do also think that there's a whole world of not bathing that is also really helpful for skin maintenance, and we naturally clean ourselves." 
Dwayne Johnson says he enjoys singing in the shower three times per day
Dwayne "The Rock" Johnson has got to get those "rock" hard abs squeaky clean on the daily, surely? Well, you'd be right, as the wrester turned actor revealed he showers not once, not twice, but three times. The "Jungle Cruise" star responded to a fan's Twitter query, which said he "can't possibly be one of those stinky ones and we would all be weirdly heartbroken to find out otherwise." Retweeting the post, Johnson clarified that he's not part of Hollywood's "not washing themselves" club and in fact enjoys a variety of temperatures ... and tunes while showering. "Nope, I'm the opposite of a 'not washing themselves' celeb," he wrote. "Shower (cold) when I roll outta bed to get my day rollin'. Shower (warm) after my workout before work. Shower (hot) after I get home from work. Face wash, body wash, exfoliate and I sing (off key) in the shower."
Despite some fans thanking Johnson "for not crushing our spirits," others questioned why he would even consider a "COLD shower so early in the morning." The 49-year-old replied to a specific cold-washing comment to set the record straight, writing that "the morning shower is cold-ish. Not 'WTF am I doing' cold, but 'ok this is chilly water and I'm really awake now ready to kick start my day' cold. Give it a shot." While we're glad that Johnson has come out in defence of daily bathing, we might pass on the morning cold temp tip. Nothing could be worse in winter.