Carrie Fisher Wasn't Allowed To Wear This While Filming Star Wars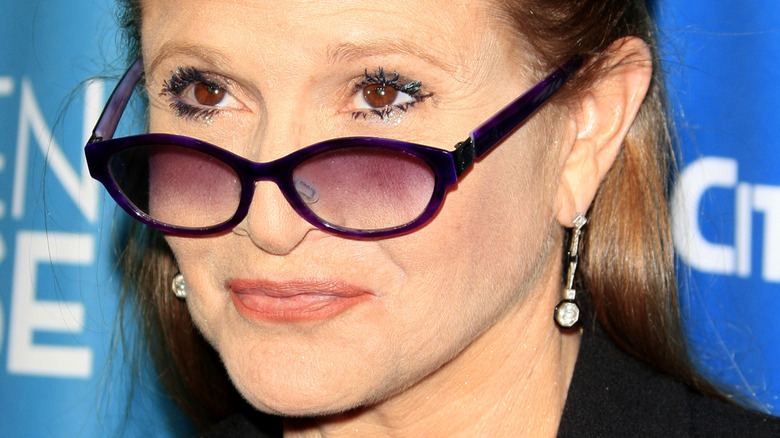 Shutterstock
For decades after the first "Star Wars" trilogy captivated moviegoers with its alien worlds, the late Carrie Fisher regaled fans with tales of her experiences filming the beloved space opera — and oh, what a storyteller she was! She possessed a sharp wit and a fearlessness when it came to speaking out about the treatment she had to endure as a woman in the entertainment industry, including being pressured to lose over 30 pounds for "The Force Awakens." "They don't want to hire all of me — only about three-quarters!" she told Good Housekeeping in 2015. "Nothing changes: it's an appearance-driven thing."
She was also not shy about sharing her opinions of Princess Leia Organa's outfits. While Fisher's commanding presence made her the ideal choice to play the brave and defiant princess who later became a general, she did not always feel like space royalty or a rebel leader in her costumes. During a 2015 interview with The Daily Beast, she lamented that she looked like a "high-fashion gas station attendant" in the light gray jumpsuit and eggplant-colored vest that she wore in "The Force Awakens." "Will that be regular or... would you like some Force in it?'" she quipped. Fisher's opinion on one of her hairstyles was even harsher. As reported by Metro, she compared General Leia's updo to a "baboon a**" at Star Wars Celebration Europe 2016. However, what really seemed to bemuse Fisher is something she was not allowed to wear.
Carrie Fisher blamed George Lucas for her lack of support in 'A New Hope'
Princess Leia was not your average damsel in distress, even though she looked like your typical space princess when she was first introduced wearing a pristine long dress. While speaking to The Daily Beast, Carrie Fisher described the regal garment as "that damn white thing." In her book "Wishful Drinking," she revealed that director George Lucas insisted that she wear it without a supportive undergarment underneath it. "You can't wear a bra under that dress,'" she recalled him saying, per Goodreads. "So, I say, 'Okay, I'll bite. Why?' And he says, 'Because... there's no underwear in space.'"
Fisher started sharing this story during her one-woman show, and Lucas attended one of the events. He spoke to the actor backstage and attempted to explain his reasoning. While she joked that he had acted as though he had visited a galaxy far, far away and "didn't see any bras or panties or briefs anywhere," he simply theorized that a brassiere would become too constricting in space. (Apparently, no one informed Lucas that many bras are adjustable.) "But then your body expands??? But your bra doesn't — so you get strangled by your own bra," Fisher wrote. "Now I think that this would make a fantastic obit — so I tell my younger friends that no matter how I go, I want it reported that I drowned in moonlight, strangled by my own bra."
Carrie Fisher did eventually wear a bra in space
For the record, Carrie Fisher's "Star Wars" co-star Mark Hamill has tweeted that he was not asked to go commando, nor did he ever have to run around in an outfit that was essentially underwear. Fisher famously had to do the latter in "Return of the Jedi," when Jabba the Hutt forced her to wear a gold-embellished bikini that became known as the "Slave Leia" costume. In 1983, Fisher told People that she had to be ever-vigilant while wearing it lest she suffer a wardrobe malfunction. "It was, 'CUT. Hey, how they doin'? The hooters in place?'" she recalled crew members asking.
During an interview with NPR's "Fresh Air," Fisher said the costume was also a pain because she "had to sit very straight" to avoid making creases on her skin. However, the discomfort made it all that more satisfying when she got to take Jabba out. "I really relished that because I hated wearing that outfit and sitting there rigid straight, and I couldn't wait to kill him," she said.
The saucy star eventually got her revenge on Lucas, much like Leia did when she strangled her captor with the chains that bound her. She mentioned the costume when she roasted him at AFI's 2005 Life Achievement Award ceremony. Fisher joked, "George Lucas is a sadist, but like any other young girl in a metal suit chained to a giant slug about to die, I keep coming back for more."