The Truth About Kaley Cuoco And Pete Davidson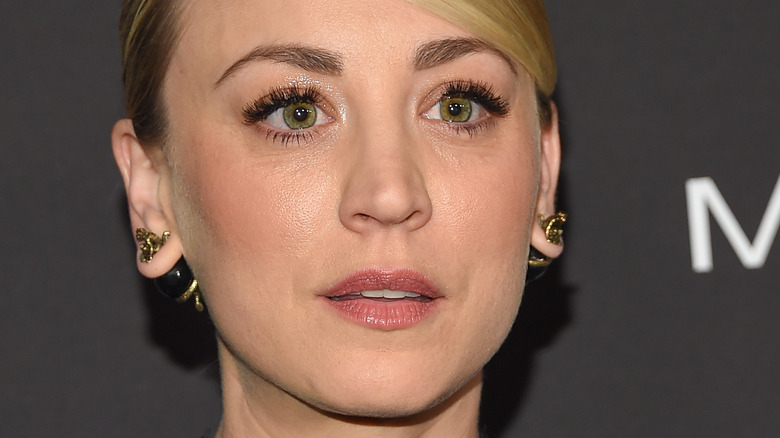 Shutterstock
2021 has been a year for celebrity couples. Almost weekly, it seems there is news breaking around A-lister romances and who's being spotted with who. It's safe to say that the most notable of these is Jennifer Lopez and Ben Affleck's reboot of "Bennifer." Love is officially in the air, and ever since these two stars rekindled their early aughts relationship, more and more stars are getting in on the action. Who else remembers "Selling Sunset's" Chrishell Strause's relationship announcement to Jason Oppenheim in July? 
So, who are the latest celebrities taunting that they may be going steady? In early August, "The Big Bang Theory" star Kaley Cuoco and "Saturday Night Live's" Pete Davidson sparked romance rumors after being spotted at New Jersey's Six Flags amusement park. Cuoco even took to her Instagram Story to share a series of videos where the two are looking awfully close on a sling-shot type of rollercoaster ride. She captioned one story, "When Petey peer pressures me into the scariest ride of my  life..." So, does this mean they are dating? The nickname "Petey" does seem adorably suspicious, right?
Keep reading to find out the inside scoop on these two stars raising eyebrows.
Pete Davison and Kaley Cuoco were spotted looking pretty romantic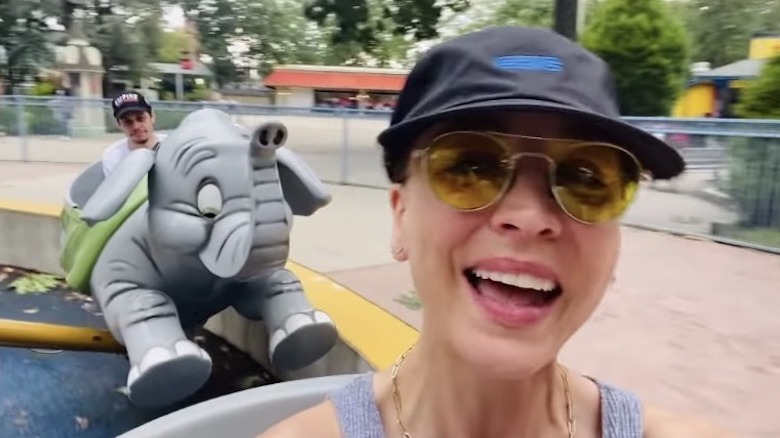 Kaley Cuoco/Instagram
If you're wondering if these two stars are the next celebrity couple to admit they've been secretly dating, you've come to the right place. We decided to do some digging to put the Kaley Cuoco and Pete Davidson's romance rumors to bed — you're welcome!
Despite looking awfully close at New Jersey's Six Flags amusement park in August, SNL's Pete Davidson is not seeing actor Cuoco. At least, not in real life. Turns out the duo are working together on a new romance film called "Meet Cute." According to Deadline, the new film is set to be directed by Alex Lehmann, and is a "wildly inventive deconstruction of the romantic comedy built around the question: What would you do if you could travel to your loved ones' past, heal their traumas, fix their problems, and change them into the perfect partner?" Cuoco is in talks to play Sheila while Davidson could portray Gary in the new movie. Besides, Davidson has reportedly been getting serious with his real-life girlfriend, "Bridgerton" star Phoebe Dynevor. 
So, sorry fans, it looks like this 2021 couple is just proof that two stars are really good at their jobs and acting like they are in a new relationship. 
Here's what we know about Kaley Cuoco and Pete Davidson new rom-com.
Jeff Kravitz, Rodin Eckenroth/Getty Images
Still want to know more about Kaley Cuoco's Instagram stories from on the set of her new film with Pete Davidson? While the star has been posting a lot of date-like videos to her social media, it looks like it is just all in good fun. While on set for the new rom-com "Meet Cute" Cuoco appears to just like annoying Davidson in a playful, friendly way, of course.  
According to Too Fab, the amusement park story isn't the video she posted that seemed like the couple was dating while filming, either. The outlet reported on August 6, three days before the amusement park stories, that Cuoco had posted other videos from the set, which showed Davidson saying "trying to learn my lines" while she messes around behind him. 
So while it's not unheard of for a real-life romance to blossom from the set of a rom-com — that is, in fact, what happened with "Bennifer" when they first met on the set of their 2002 film "Gigli" — it seems like these two are just friends. But, hey — anything is possible in Hollywood.