You've Misunderstood The Lyrics To Bruce Springsteen's 'Born In The USA' This Whole Time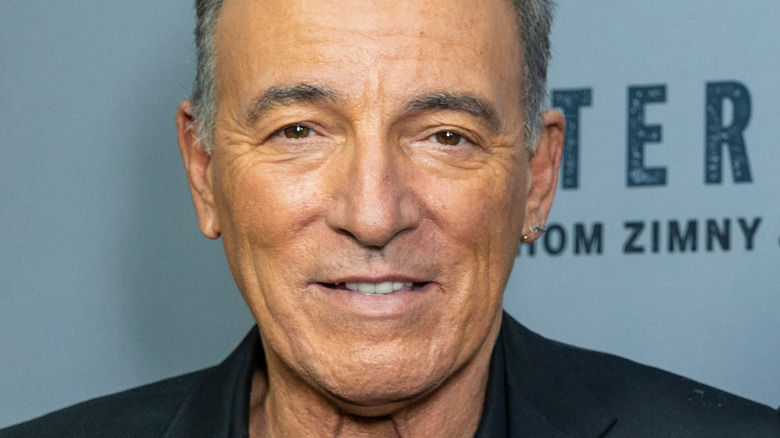 Shutterstock
Of Bruce Springsteen's many greatest hits, "Born in the USA" still manages to stand out as one of his most memorable. The iconic rock anthem, with its catchy chorus and riveting guitar riffs, has played in many a karaoke bar and over countless car road trips since its 1984 debut. Reaching No. 9 on the Billboard Hot 100 (on which it charted for 17 weeks) in 1985, "Born in the USA" scored Springsteen and his E Street Band a major hit off one of the best-selling albums of all time (per the BBC).
With Springsteen repeating the line "I was born in the USA" over a fast and loud drumbeat in the chorus — and the rocker leaping mid-air against a backdrop of the American flag on the album cover — many still view the song as a tribute to patriotism. After all, it was released in 1984, during Ronald Reagan's America. According to the BBC, in then-president Reagan's 1984 re-election campaign, he called Springsteen's song a "message of hope" about the American Dream to a crowd of supporters in Springsteen's native New Jersey. And how many times has it been played at July 4th barbecues ever since?
However, the truth behind Springsteen's famous song couldn't be further from this patriotic perception. Here's what so many have apparently misunderstood about the lyrics to "Born in the USA." 
'Born in the USA' is not a celebration of American identity at all
In hindsight, it's hard to miss the meaning behind Bruce Springsteen's "Born in the USA." The song's lyrics — in spite of its upbeat-sounding chorus in which Springsteen rousingly croons, "I was born in the USA," to a danceable melody — are bleak. At one point, Springsteen paints a portrait of a Vietnam War veteran who lost job prospects after he was drafted, singing, "Come back home to the refinery / Hiring man says, "Son if it was up to me" / Went down to see my V.A. man / He said, 'Son, don't you understand.'" In another verse, he woefully sings, "I had a brother at Khe Sanh / Fighting off the Viet Cong / They're still there, he's all gone." In light of this, it's no wonder, per MentalFloss, that Springsteen called "Born in the USA" a "protest song" in his 2016 memoir "Born to Run."
The song's production is partially blame, MentalFloss opined, for the public's misattribution of patriotism. Opening to a galvanizing, bombastic drumbeat from E Street Band drummer Max Weinberg, it sounds all but like a call to national pride. Per NPR, the song was originally titled "Vietnam," with Springsteen later scrubbing more pointed condemnations of the war and only adding the "Born in the USA" line late in the songwriting process. 
To be fair to the casual listeners, perhaps they first heard Springsteen's power anthem at a loud party or bar?