The Truth About Britney Spears' Friendship With Jessica Simpson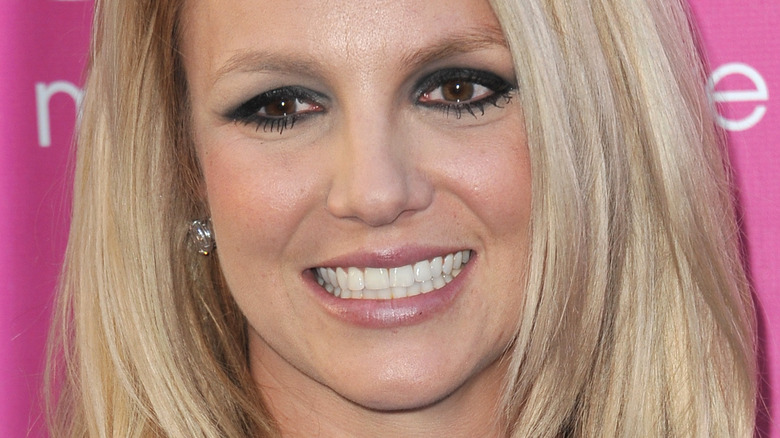 Shutterstock
Britney Spears and Jessica Simpson were pitted against one another during bubblegum pop's heyday. It was easy for entertainment media to portray them as rivals because they were both talented teens, but they had a lot more in common than their music careers.
For one thing, the performers are Southern gals — Spears was born and raised in Kentwood, Louisiana, while Simpson grew up in Richardson, Texas. They also both starred in reality series that centered on their relationships with men who they are no longer with, and the women were ruthlessly mocked for some of the footage. Remember how Simpson became a laughing stock when she asked ex-husband Nick Lachey if her Chicken of the Sea tuna was chicken or fish during a 2003 episode of "Newlyweds: Nick and Jessica"? And, while Spears and Kevin Federline were ahead of their time when they filmed themselves for their 2005 reality series "Britney and Kevin: Chaotic," the world was not yet prepared to watch a celebrity pointing a camera at her knees and saying, "They look just like boobs. But they're not. They're my knees!" 
Nowadays, such silliness is the norm on social media. You would think Spears and Simpson would have plenty to talk about due to their shared experiences, but have the two singers ever been friendly, or did their similar career paths cause them to be sworn enemies?
What Jessica Simpson said about being compared to Britney Spears
Shutterstock
Jessica Simpson lost out on the chance to star on "The Mickey Mouse Club" when she was 12 years old thanks to Christina Aguilera. After Simpson watched the future diva perform, her confidence was shaken, and she flubbed her audition. "I froze and forgot everything," she said, per Vogue. The spot that would have been hers went to Britney Spears instead.
By 1999, Spears, Simpson, and Aguilera had all released albums. During an interview with E! News, Simpson addressed how she was being compared to Spears at the time. "The reason why I'm coming out with a ballad is to set me apart," she said. "Britney's very successful and she's very good at what she does, so in some ways, I take that as a compliment." Simpson also revealed that her emphasis was on getting fans to appreciate her vocal talent. "The comparisons — yeah, we both have long blonde hair and we're young, but I think that's where it stops." Simpson's vocals impressed Spears, who praised her contemporary during a 2000 interview. "She has the most amazing voice," she said.
In 2005, Simpson beat out Spears for the role of Daisy Duke in the movie "Dukes of Hazzard." Once again, the "Toxic" singer had nothing but love for her fellow performer when she spoke about missing out on the part. "I'm proud of Jessica — she's doing really well," she told WENN (via Digital Spy).
Why Jessica Simpson couldn't watch 'Framing Britney Spears'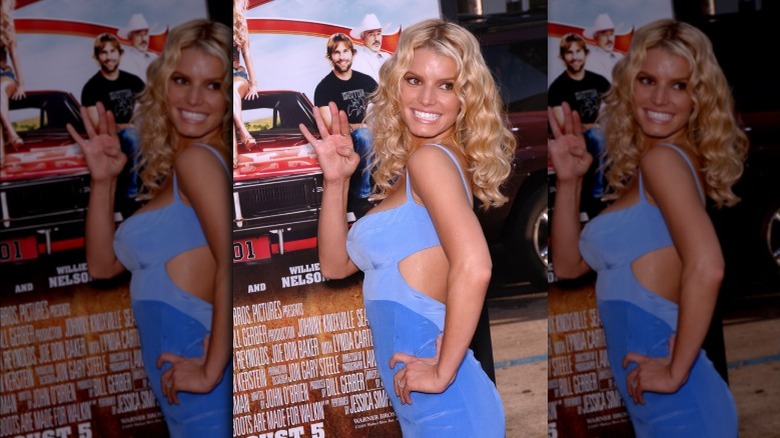 Shutterstock
These days, neither Britney Spears nor Jessica Simpson are making music. Spears is embroiled in a legal battle to have her father removed from her conservatorship, and Simpson is busy running her apparel empire. While promoting her memoir "Open Book" in 2020, Simpson told Entertainment Tonight that she was happy that she, Spears, and Christina Aguilera all "found their own way, in such a beautiful, inspiring way." Simpson also said that "Britney owns herself," which is a statement that some Spears supporters might disagree with.
Simpson's experiences with tabloid culture and the entertainment industry were so similar to those of Spears that she simply could not bear to watch the documentary "Framing Britney Spears." "It's like one of those triggers, you know. It definitely gives me anxiety, and I lived it," she said on Tamron Hall in March. "And I know Britney and I know what she went through and it's so hard, because it's so many people's opinions on you just trying to live your life as a normal human being." 
Simpson said that writing her memoir was like "family therapy" during a 2020 ET interview, and she revealed she was trying to convince her younger sister Ashlee Simpson to write her own book. Spears could use all the help she can get when it comes to her family issues, so maybe Simpson should also be trying to talk her into penning a tell-all.