Andrew Cuomo's Beef With Bill De Blasio Explained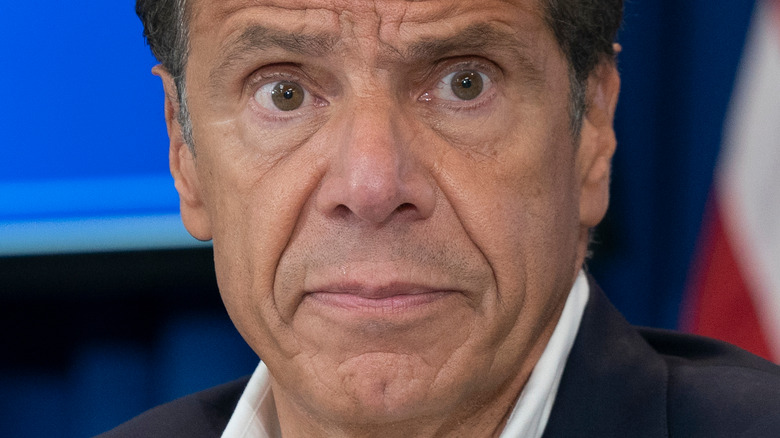 Shutterstock
Andrew Cuomo was the governor of perhaps the most influential state in the United States, while Bill de Blasio is the mayor of the most influential city in the world. They are also two politicians that are standing on the same side of the political fence. And while part of their job is to make sure that New York City and the state of New York remain a great place for all to visit and live, they just can't seem to get on the same page. In fact, Cuomo and de Blasio's long-running feud has a lot of people wondering: How did it all begin?
While no one knows exactly what is being said and what goes down behind closed doors, it seems like Cuomo has a history of trying to stop de Blasio in his tracks. Back in 2015, when de Blasio tried to cap the growth of Ubers in the city, Cuomo publicly praised the company, according to The Nation. If that weren't enough, Cuomo has belittled de Blasio in the press, shut down the city's subway system without notifying him, and deployed state troopers, which severely frustrated law enforcement leaders, per The New York Times. 
The media has even pointed out many times that this back-and-forth drama between two grown men often looks childish and immature. So, how did Cuomo and de Blasio even reach this point to begin with? Keep reading below to find out.
Behind Andrew Cuomo and Bill de Blasio's ire for each other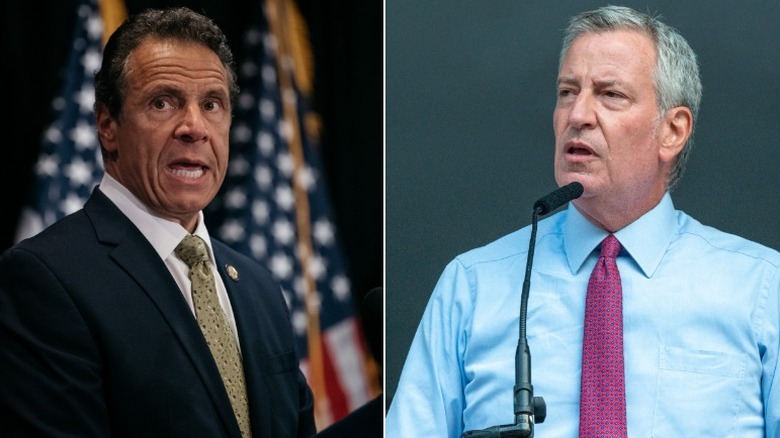 Scott Heins, David Dee Delgado/Getty Images
For two politicians who can't stand to be in the same room together, Andrew Cuomo and Bill de Blasio sure have a lot in common. They both are Italian-American, Catholic, and depend on the support and strength of their families. They also both held positions in the Clinton administration, which ironically even had Hillary Clinton shading their feud, according to the Democrat & Chronicle. In fact, one of the reasons why they can't get along is because they might be too much like each other. Even the ex-governor's own father, former New York Governor Mario Cuomo, said de Blasio is "a lot like Andrew" in 2009, when he endorsed him as a public advocate, according to The New York Times.
And while there hasn't really been a known moment in their history that began their long-running feud, Cuomo has been taking potshots at his political rival for as long as his ex-girlfriend Sandra Lee has been making apple butter spice bars. When asked about de Blasio in 2015, Cuomo said, per Vanity Fair, "He is more politically oriented in terms of his approach ... and then he makes it almost impossible for him to achieve success. What we're dealing with is a mayor who is universally acknowledged to be bumbling and incompetent."
So, why is it that Cuomo and de Blasio hate each other so much? Well, the answer might not be so straightforward.
Bill de Blasio's lacks brotherly love for Andrew Cuomo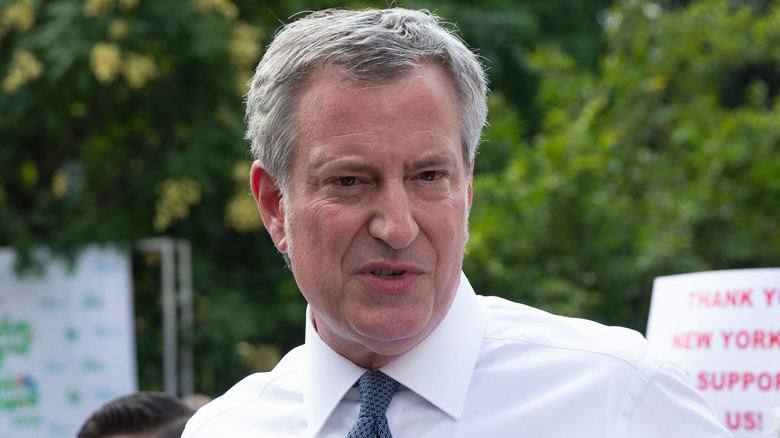 Shutterstock
Simply put, Andrew Cuomo and Bill de Blasio's ire for one another might stem from their seemingly mutual desire for the spotlight. As The New York Times puts it, many have said that both men are "demanding, if not difficult bosses," who have worked against one another, rather than together, out of spite. They've also acted like two brothers battling for their mother's last meatball.
The feud intensified amid the sexual harassment investigation against Cuomo. It didn't take very long for de Blasio to comment on the matter, telling reporters that Cuomo should just resign and "get out of the way." According to Fox News, he said, "If he was not such a narcissist, and he actually could think about other human beings, he would say, 'Hey, you know what, I'm doing a lot of damage at this point, it's time to go.'" Of course, de Blasio didn't mince words when reacting to Cuomo's resignation on Aug. 10, tweeting, "Make no mistake, this is the result of survivors bravely telling their stories. It was past time for Andrew Cuomo to resign and it's for the good of all New York."
Something tells us that although Cuomo is no longer heading the state of New York, the feud between him and de Blasio is far from over.