Inside Charli D'Amelio's Struggle With Her Eating Disorder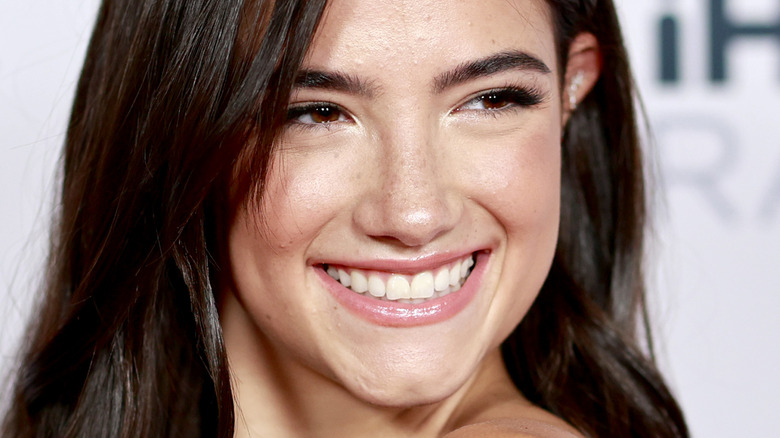 Emma Mcintyre/Getty Images
Charli D'Amelio isn't your average teenager. Like fellow TikTok star Addison Rae, D'Amelio's rise to fame happened in hypersonic speed. From her collaboration with Dunkin Donuts to her new reality show with Hulu, the teenager is already a household name just a few years after posting her first video onto TikTok. 
According to Newsweek, D'Amelio is the most followed TikTokker, having over 120 million subscribers on the app. And while the teen became famous for her viral dance videos, she now multitasks as a beauty influencer, nabbing deals with makeup brands like Morphe and Oroso, per Allure.  
The social media star seems to have a pretty sweet life, evident from her carefully curated Instagram feed and the fact that she's constantly out with her friends (even allegedly partying during the peak of the coronavirus pandemic), but D'Amelio's life isn't as perfect or carefree as her fans might suspect. And in 2020, the star opened up about struggling with an eating disorder — here's what she had to say.
Charli D'Amelio got candid with her fans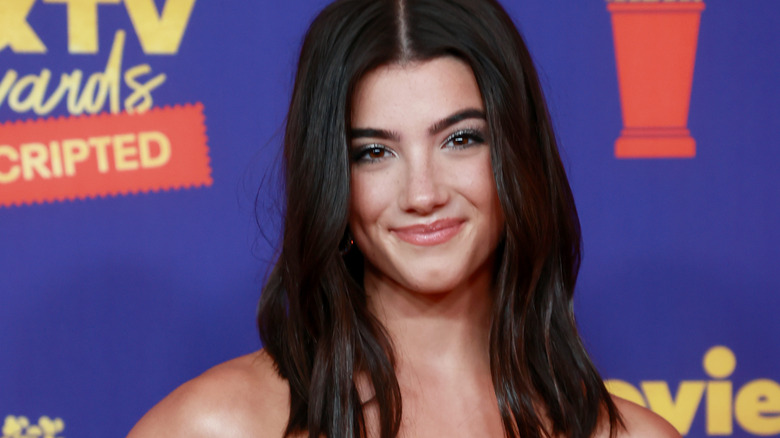 Matt Winkelmeyer/2021 Mtv Movie And Tv Awards/Getty Images
In September 2020, Charli opened up to her legions of fans about suffering from an eating disorder. After posting a video lip-syncing to the song, "Prom Queen" by Beach Bunny, many fans were upset by the potentially triggering lyrics. The song's opening line states, "shut up, count your calories/ I never looked good in mom jeans." Not only did D'Amelio apologize for featuring the video, according to Cosmopolitan, but the teen also proceeded to discuss her own issues with her body image on her Instagram stories.
"I've always tried to use my voice when it comes to issues surrounding body image, but I've never talked about my own struggles with eating disorders," she said. "It's so uncomfortable to admit to even your closest friends and family, let alone the world."
Though D'Amelio did not further expand on the topic, she concluded the post by reminding her fans that it's okay to ask for help and shared a link to the National Eating Disorders Association.
Charli D'Amelio reveals how fame led to her struggle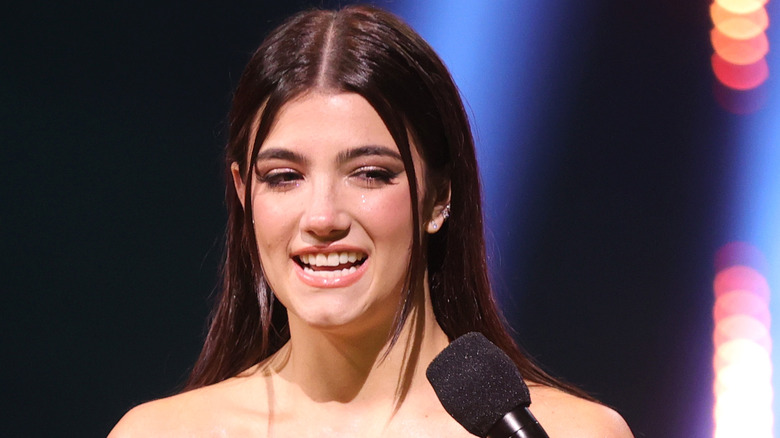 Rich Fury/kca2021/Getty Images
The Instagram Story wasn't the first time the teen discussed the topic, however. In February, D'Amelio partnered with Unicef for a video highlighting "safer internet day," and shared her experience with internet bullying. Unsurprisingly, D'Amelio revealed the downsides of becoming internet famous. 
In a video posted onto her Instagram, D'Amelio said she had received negative comments online about her body and explained how it impacted her. "...I struggled a lot with body image, body dysmorphia, bad eating habits. No one really knows that," she said. "It hurts for everyone no matter who you are. Getting hundreds of thousands of hate comments per week is a lot to handle."
Now that the TikToker's reality show will be streaming on Hulu this fall, it's safe to assume the dancer will be sharing more of her personal life with her fans and the rest of the world. 
If you are struggling with an eating disorder, or know someone who is, help is available. Visit the National Eating Disorders Association website or contact NEDA's Live Helpline at 1-800-931-2237. You can also receive 24/7 Crisis Support via text (send NEDA to 741-741).