This Is How Far Donald Trump Actually Got In School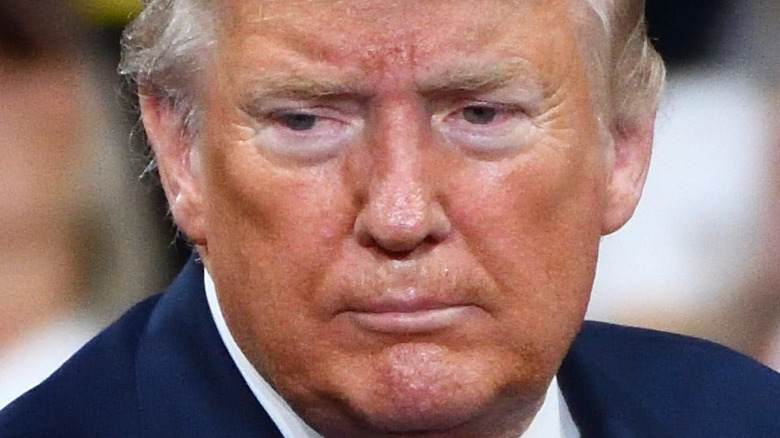 Shutterstock
Before Donald Trump became the 45th president of the United States, he was a real estate businessman and media personality who thoroughly enjoyed his A-list status in the celebrity world during the 1980s and 1990s. Trump insisted that his business and construction empire is his doing (though his father, Fred Trump, famously started the family's real estate business.) He told Playboy in 1990, "Rich men are less likely to like me, but the working man likes me because he knows I worked hard and didn't inherit what I've built. Hey, I made it myself; I have a right to do what I want with it."
And while he did hint at wanting to run for the highest office in the White House at the time, it wasn't until 2015 that he and his wife Melania Trump took an elevator ride down to the lobby of the Trump Tower to kick off his bid for the presidency, according to The Guardian. And, of course, it wasn't until 2017 that Trump actually assumed office as the president.
But just how hard did Trump work for all that he has, particularly in terms of his education? That's what a lot of critics want to know, as his schooling has often come into question. Here's what you need to know.
Donald Trump's Wharton education, explained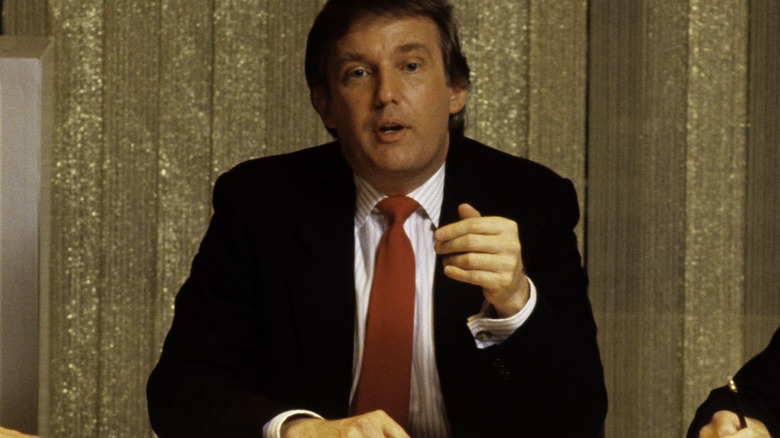 Joe Mcnally/Getty Images
Donald J. Trump graduated from the University of Pennsylvania with a Bachelor's degree in May 1968, according to The Washington Post. But, as Salon points out, Trump did not go on to Wharton's prestigious MBA program at Penn, which many have come to believe due to some of Trump's own remarks that side-step his undergraduate degree — as what the POTUS actually received was a bachelor's degree in economics from the Wharton School of Finance.
In 2011, Trump had no problem questioning another president's education. "I heard [Barack Obama] was a terrible student, terrible. How does a bad student go to Columbia and then to Harvard? I'm thinking about it, I'm certainly looking into it. Let him show his records."
But as for his own records, The Washington Post revealed that the White House — as well as the University of Pennsylvania — refused to show them. In his 1989 autobiography, "The Art of the Deal," Trump revealed that a good education was something he always valued. He wrote, via Metro, "I decided that as long as I had to be in college, I might as well test myself against the best."
Donald Trump's education and intelligence in his own words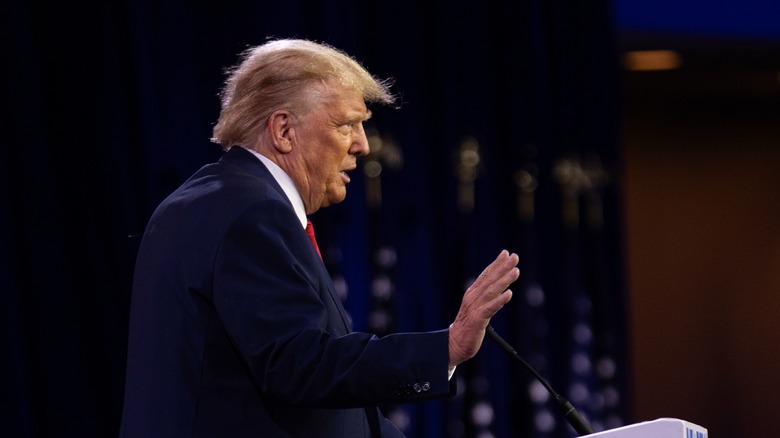 aaronschwartzphoto/Shutterstock
As for Donald Trump's own records, a New York Times profile from 1973 suggested that the future president graduated first from his class from the Wharton School of Finance of the University of Pennsylvania in 1968. He also transferred to Wharton after his spending his first two undergraduate years at Fordham University in the Bronx.
But to disprove the idea that Trump was first in his class — though it's important to note that Trump never claimed he was — The Washington Post noted that "Trump's name was not among the top honorees at his commencement. Nor was he on the dean's list his senior year, meaning he was not among the top 56 students in his graduating class of 366." 
While there are some discrepancies over Donald Trump's education, that doesn't seem to matter much to the businessman. Because, according to Trump, he is a "really smart guy" who was a "good student at the best school in the country." Trump told CNN in 2004, "I went to the Wharton School of Finance, I got very good marks, I was a good student, it's the best business school in the world, as far as I'm concerned." The Washington Post later recalled that Trump enthused even more about the Wharton School of Finance, calling it "the hardest school to get into, the best school in the world," adding that it was "super genius stuff."