Tom Hanks' Son's Wild Rant About Vaccines Has The Internet Seeing Red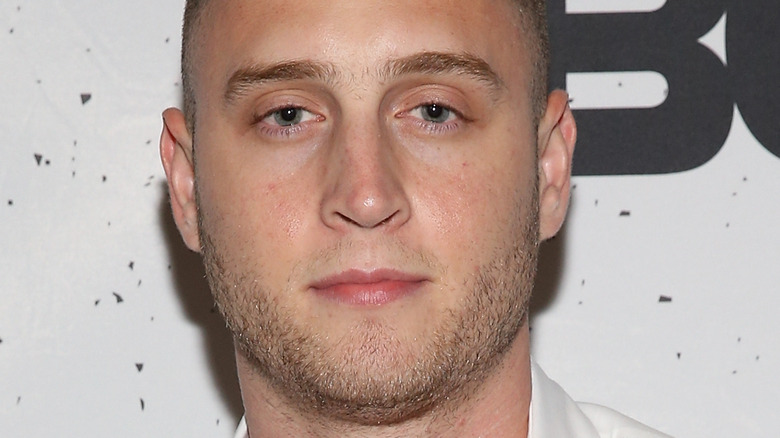 Bennett Raglin/Getty Images
In March 2020, Tom Hanks and wife Rita Wilson shocked fans around the world when they became the first Hollywood actors to contract the coronavirus. At the time, Hanks was busy filming Baz Luhrmann's currently untitled Elvis Presley movie, and announced their shared diagnosis on his Instagram page. He wrote that he and Wilson had "felt a bit tired, like we had colds, and some body aches," before they were tested and confirmed to have the virus, per The New York Times. Wilson had just finished a performance at the Sydney Opera House when she was diagnosed alongside Hanks, who was filming in Australia.
After Hanks made the announcement, he also encouraged his fans and supporters to follow public health measures as the virus was spreading in various parts of the world. "There are those whom it could lead to a very serious illness. We are taking it one-day-at-a-time," Hanks wrote in a social media update days after their diagnosis. There are things we can all do to get through this by following the advice of experts and taking care of ourselves and each other, no?"
Throughout the past year, the couple has continued to encourage people to abide by public health guidance. During an interview with TODAY in April, Wilson said that she and Hanks would get vaccinated as soon as they were eligible, but while they believe in vaccines, their son has a different opinion about them.
Chet Hanks is not a fan of vaccines
In an Instagram video posted on August 10, Chet Hanks — son of Tom Hanks and Rita Wilson — shared that he's "tired of wearing masks" and referred to the coronavirus as the "flu." Chet began his anti-vax rant by encouraging people to trust public health guidelines and science around vaccines, while claiming he had gotten vaccinated. "I've been on the fence about this for a while, that's why I never spoke on it," he said. "But with the amount of people I know recently that have gotten COVID, and with the numbers rising, I think it's important for me to say I got the vaccine, I think everybody should. It's really important that we all do this."
Chet then immediately changed his tone and mocked his initial comments — before likening COVID-19 to the flu. "Psych! If it ain't broke, don't fix it. I never had COVID. Y'all ain't sticking me with that motherf****** needle," he continued. "It's the motherf****** flu. Get over it, okay? If you're sick, stay inside. Okay, why we working around y'all? If you're in danger, stay your a** inside. I'm tired of wearing a motherf******* mask."
Needless to say, people on social media were critical of his dangerous messaging. "Chet Hanks is the price we have to pay for Tom Hanks being such an amazing human," one Twitter user wrote, whereas former basketball player Rex Chapman just wrote, "Wow..." Chet's parents have not commented on the video.