The Music Videos That Pauley Perrette From NCIS Starred In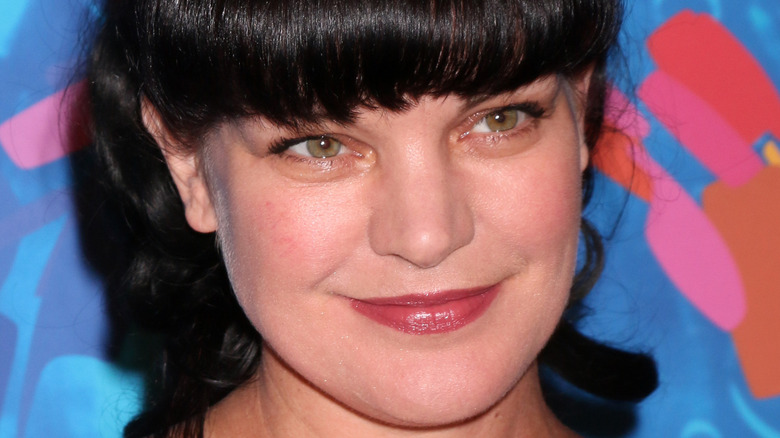 Shutterstock
On "NCIS," the now-retired actor Pauley Perrette portrayed a pigtailed, peppy forensic scientist who was pretty passionate about music. Tattooed goth girl Abby Sciuto could often be seen blasting music in her lab while she got her crime-solving on, and her taste in tunes was another way that her character defied the stereotype of the stuffy, aloof scientist.
During the scenes in which Perrette was jamming out, she had to do so to the music in her head, aka, it wasn't playing out loud. During a Twitter Q&A, she revealed that the songs were added in post-production. Sciuto loved music so much that Perrette once tweeted that she wanted her character's "middle name to be 'Beethoven.'" However, the quirky lab rat's eclectic musical selections were more likely to be EDM and industrial rock from the likes of Android Lust, Taime Downe, and Collide — not classical pieces. Perrette shares Sciuto's passion for music, but her favorite tune isn't quite as heavy and hardcore as those on her character's playlists, despite its name "Prince of Darkness" by the folk rock duo the Indigo Girls.
Perrette's strict parents forbade her from listening to secular music while she was growing up in the South, but she found a way to hear the velvety voice of The Purple One. "Prince raised me," she tweeted in 2016 after the artist passed away. "Sneaking vinyl on my Mickey Mouse record player." The actor's rebellious spirit eventually drew her to New York City, where she found work appearing in more than one music video, per Parade.
You might not recognize Pauley Perrette in her old music videos
Pauley Perrette once dreamed of being an FBI agent, a goal she pursued by studying at John Jay School of Criminal Science. But a gal also had to eat. "Not only was I bartending in the club-kids scene, with a bra and combat boots and a white Mohawk, but I wore a sandwich board on roller skates passing out fliers for Taco Bell in the Diamond District," she told The Associated Press in 2011 (via Today). However, she was soon able to add "video star" to her colorful resume.
"I have been in hundreds of music videos," she said during a 2015 appearance on "The Queen Latifah Show." If you want to go searching for her in them "Where's Waldo" style, just keep your eyes peeled for a wild hairstyle, not her signature dark pigtails and bangs. "I was bald in one. I had short black hair in another one, and green short hair," she recalled. A few of the artists she worked with include Salt-N-Pepa, Madonna, George Michael, Tears for Fears, and Right Side Fred. In "Metallica's "The Unnamed Feeling" video, she played "the panic attack girl." 
In a 2012 interview with Parade, Pauley said she'd get just $50 for 12 hours of work. While the pay was dismal, the experience was priceless. "I was in Madonna's video for 'Secret' and we shot that up in Harlem. It was beautiful, it was fun," she said.
Pauley Perrette made her own music, too
One of Pauley Perrette's most memorable gigs was dancing with "The Wire" star Michael K. Williams in George Michael's music video for "Killer/Papa Was A Rolling Stone." In a 2016 tweet, she recalled how she got the job by "storming a music video director's office" when she was in desperate need of dough. She was hired on the spot. "So yes, that's me. My mouth singing the words, my ears, my stomach, my pierced self," she wrote. "Me dancing on a rooftop with my mohawk in a ponytail."
But Perrette wasn't just content to be silent and move to other artists' music; She also made her own. She was the lead singer of an all-female punk rock band called Lo-Ball in the early aughts, and she had a bit of a Harley Quinn look going on in those days. "Lo-Ball was a bunch of really talented chicks. I'm proud of what we did," she told Punk Globe. Their song "Can't Get Me Down" was featured in the 2001 movie "Legally Blonde."
Perrette was so dedicated to her craft that she suffered a throat injury while performing with Lo-Ball during her early "NCIS" days. She explained that this is why her voice sounded different in later seasons. Her songs "FEAR" and "Somebody Saved You" were included on the show's soundtracks, per CBS and Us Weekly. Per Entertainment Tonight, she also lent her voice to a good cause by recording "Beautiful Child" to promote the LGBTQ suicide prevention organization, The Trevor Project.