The Real Meaning Behind Lizzo And Cardi B's 'Rumors'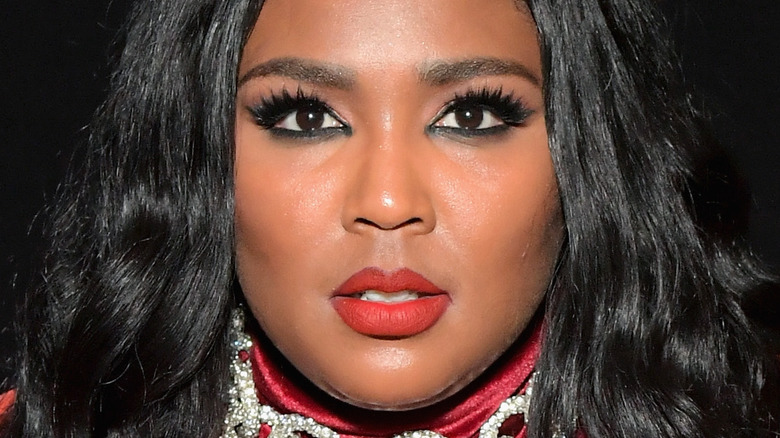 Charley Gallay/Getty Images
The always buzz-worthy Lizzo is back and she's brought Cardi B along for the ride! After stepping back from music for a bit following her show business breakout back in 2019, Lizzo has released her first single of 2021 and decided to get fans fired up by teaming up with the equally take-no-BS type of star Cardi B for a song — and heavenly Greek goddess-themed video — they decided to call "Rumors."
Coming out before Lizzo hits the road to headline the Bonnaroo Music and Arts Festival — the first woman to ever do so, per Entertainment Weekly — and prior to taking the stage at both Global Citizen Live and the Firefly Music Festival, "Rumors" was definitely sure to stir up some attention thanks to the fact that it's the very first collaboration between Lizzo and Cardi.
"You know why I'm extra cool? 'Cause I have the baddest motherf**ker on this song with me. Who? You already know who it is!" Lizzo said during the Live with Lizzo & Cardi B online broadcast that the star sat down while releasing the song. She added, "The clapback queen herself, Miss Cardi B." Considering that's how Lizzo thinks of Cardi, it totally makes sense that she would want to have the fellow music industry powerhouse on this song. Read on to find out why this song was simply the perfect choice for this pair!
Rumors and haters can't touch Lizzo and Cardi B
"They don't know I do it for the culture, g*dd*mn / They say I should watch the sh*t I post, oh, g*dd*mn / Say I'm turnin' big girls into hoes, oh, g*dd*mn / They say I get groupies at my shows, oh, g*dd*mn," Lizzo sings in the intro for "Rumors," per Genius. While the star is clearly mentioning the various ways that she's spoken about by the public and the media, she goes on in the pre-chorus to explain why it's all so irrelevant, telling those who criticize her, "Spendin' all your time tryna break a woman down / Realer sh*t is goin' on, baby, take a look around."
From there, Newsweek suggests that Lizzo brings up an incident in 2019 when she wore a backside-revealing dress to an NBA game as well as the COVID-19-related stay-at-home orders. In "Rumors," she notes, "If you thought that I was ratchet with my a** hangin' out / Just wait until the summer when they let me out the house, b***h."
And what about Cardi B? Well, she can be heard in the chorus along with Lizzo taking down trolls. "(Talkin', talkin', talkin') / Give 'em somethin' to talk about / Sick of rumors (Ooh) / But haters do what they do (Uh) / Haters do what they do." While that might make it seem like Lizzo and Cardi are denying the rumors that spark about them, it turns out that's not quite true.
Lizzo and Cardi B aren't denying the rumors
There's undoubtedly a lot said about Lizzo and Cardi B that's beyond ridiculous. However, in "Rumors," the two aren't afraid to own up to who they are and what they do while also taking on false claims. In the first verse, Lizzo tells her listeners, per Genius, "All the rumors are true, yeah / What ya heard, that's true, yeah." Granted, Lizzo then goes on to address some specific items that have gone around, saying, "Last year, I thought I would losе it / Readin' sh*t on the internеt / My smoothie cleanse and my diet / No, I ain't f**k Drake yet (Ha)." She did slide into his DMs, though, which you have to love.
In the second verse, Cardi comes in again to join Lizzo as they both add, "All the rumors are true, yeah / Fake a**, fake boobs, yeah / Made a million at Sue's, yeah / Y'all be runnin' with fake news, yeah." Cardi also shouts out her controversial "WAP" performance at the Grammys, rapping, "Last time I got freaky, the FCC sued me / But I'm gonna keep doin' what I wanna do." As the duo repeat, "'Cause all the rumors are / All the rumors are true, yeah." Fair enough and oh-so-awesome!