Why Brandi Passante Doesn't Want Her Kids To Follow In Her Footsteps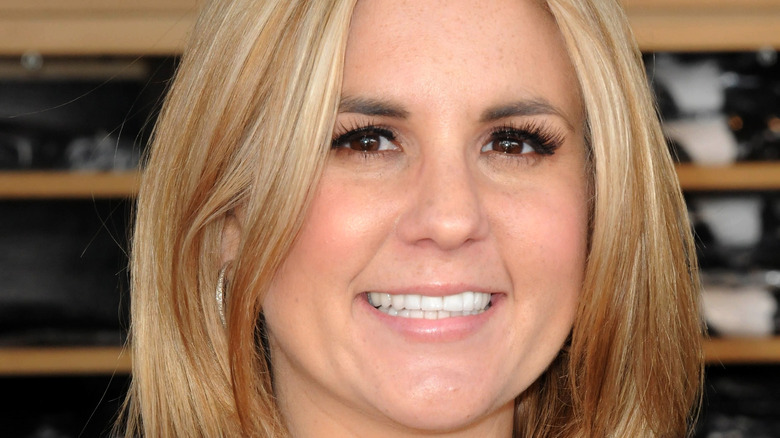 Albert L. Ortega/Getty Images
Unlike many celebrities, Brandi Passante never aspired to be famous. The Kim Kardashian of the "Storage Wars" universe was just working at the second-hand shop owned by her and her now-ex-partner Jarrod Schulz when she was discovered by the show's producers.
Jarrod had previously met the producers at a storage auction, and they asked for permission to film at his Now and Then store located in Orange, California. "They asked me, 'Who's the girl up front?' Jarrod recalled during a 2014 interview with The Orange County Register. "'Would she mind being on TV?'" Brandi clearly didn't mind, and she began joining her boyfriend on his treasure hunts.
Before finding fame and taking on a full-time job, Brandi was a stay-at-home mom. In a 2017 Facebook video, Jarrod said that they eventually decided it would be "more inviting for the customers to talk to Brandi" than to him. In 2013, she told Lifetime Moms that she didn't feel any "mom guilt" about going to work. "I think I'm a better parent because I work," she said. However, while she and Jarrod were able to provide a comfortable life for their kids as a team, they determined that they did not want their daughter and son to follow in their footsteps.
Brandi Passante's kids didn't enjoy their brush with fame
During a 2016 interview with The Philippine Daily Inquirer, Brandi Passante and Jarrod Schulz were asked if they could imagine their kids, Cameron and Payton, working in the storage auction business. "Lord, I hope not!" Brandi said. Jarrod revealed that he even forbade his son Cameron from helping out at the thrift shop. "'You need to make your own path. Don't follow in my footsteps,'" he recalled telling him. If they really wanted to scare them away from the job, perhaps they should have told them about some of their freakiest storage locker finds, like bagged dog ashes.
While Brandi and Jarrod didn't want their kids involved in the family business, they did allow them to experience life as reality show stars. They were featured on the 2014 spinoff series "Married to the Job," which gave fans a glimpse inside the family's home life. They helped Jarrod propose to Brandi, but a wedding never happened on or off the show.
Brandi revealed that her kids quickly grew tired of life in the limelight. "I don't think they cared for what comes with it," she said on the Scorch's Sloppy Seconds podcast in April. "But they were good at it. They did enjoy it for a period of time." However, Jarrod told the Philippine Daily Inquirer that Cameron did want to be involved in the entertainment industry someday — he just aspired to stay behind the camera as a director or producer. 
Fame caused Brandi Passante's kids to be harassed
In June 2020, Brandi Passante told The Dad Diary host Danny Jordan that her demanding job and her celebrity status were tough on her kids. For one thing, the family had to move to a gated, guarded community to ensure their safety after Brandi started getting "scary letters." And because she spent long hours filming "Storage Wars" and running the second-hand store, Brandi missed out on some major milestones in her children's lives, like Payton's first day of kindergarten. "That was pretty tough for me," she said.
Another drawback of being a famous mom is how fans can turn a family day out into a meet-and-greet, much to her children's irritation. Not only did Payton and Cameron lose even more time with their mom when she was recognized in public, but they also received their own form of unwanted attention because she was famous. "They hated it," Brandi stated. "They didn't like it all. The kids gave them a hard time at school, and I think they were more annoyed by it than anything."
In February 2020, Brandi had to beg her Instagram followers not to be "gross" when she shared a photo of her teen daughter. She explained that she had stopped posting pictures of her kids as often because "some creepy a** dudes were harassing them." It's hard to believe her kids would want any part of their mom's work life after their experiences.