How Much Did A Piece Of Prince Charles And Princess Diana's Wedding Cake Really Sell For?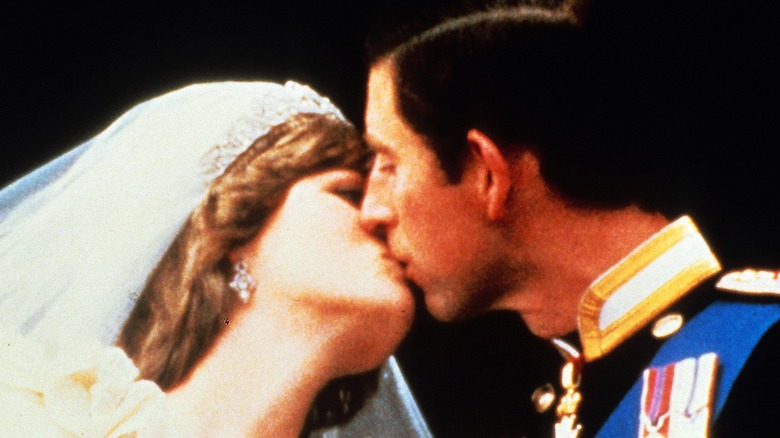 Anwar Hussein/Getty Images
Perhaps no royal wedding has ever captured the public's imagination quite like the ceremony of Prince Charles and Princess Diana. The heir to the throne of England had been searching for a bride for some time. In fact, when their engagement was announced, royal watchers were thrilled that Diana's virtue had made it intact, per Smithsonian Magazine. Yes, despite the sexual revolution of the '60s and '70s, Lady Diana Spencer had saved herself for marriage even though Charles had done nothing of the kind. And, although by Diana's count, the two had only met 13 times before their wedding day, the doomed nuptials went ahead to much fanfare.
The Prince and Princess of Wales tied the knot on July 29, 1981, and 750 million people tuned in to watch them say "I do." By contrast, per the Observer, a combined total of 52 million viewers watched Prince Harry and Prince William tie the knot. It's safe to say that Diana and Charles' wedding was a big thing back in the day.
Even though much has been written about Diana's 25-foot wedding dress train, their primary cake was equally spectacular. (In total, the royals had more than 20 cakes at their reception.) As with all things royal, it was over the top. The 5-foot 200-pound fruit cake was designed by the head baker of the Royal Naval Cookery School, David Avery. Regal columns separated each icing-bedecked tier, and Avery even tacked on the royal family's coat of arms for good measure. Forty years later, per BBC, and the cake has been resurrected ... with icing intact, of course.
A slice of history at a whopping price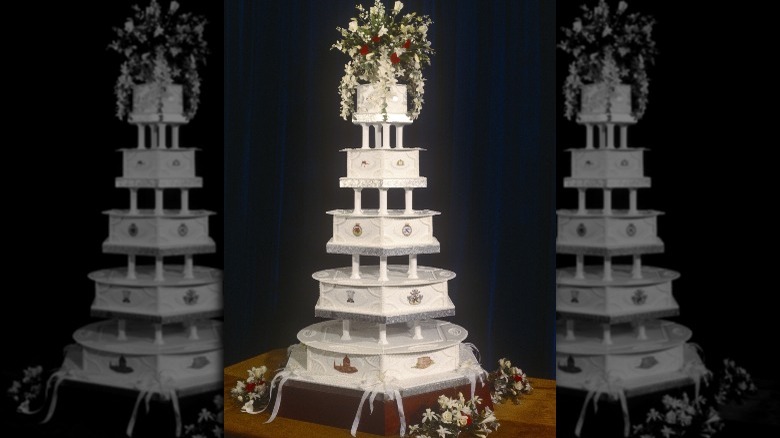 David Levenson/Getty Images
Princess Diana and Prince Charles' decades-old cake still seems to be sparking interest even though their marriage only lasted 11 years before they separated. BBC reported that a slice of the royal wedding cake sold for £1,850 (approximately USD 2565) at a recent auction. The auctioneers confirmed that they were surprised by the interest this piece of memorabilia generated. "It seemed to get far more attention than when we sold it with a Charles and Diana thank-you letter 13 years ago," the auctioneer, Chris Albury, said.
Apparently, they had estimated that the confectionary might fetch £500, but were stunned as the proceedings got underway. "The bidding started at £300 and with commission bids, the internet and phone bidding quickly rose to the winning price of £1,850," they said, before adding a possible reason for the interest. "This was an irresistible piece of royal memorabilia history for many," they suggested. 
The piece of cake was originally given to Moyra Smith. At the time of Charles and Diana's nuptials, she was employed at Clarence House, the abode of the Queen Mother. Per Metro UK, it had been stored in a cake tin with a note taped to the lid identifying its contents. "Handle with care. Prince Charles and Princess Diana's wedding cake, M.C Smith 29/7/81," it said. Smith had wrapped the cake in cling film and it is seemingly in very good condition. The royal emblem, silver leaf, and other embellishments are still intact.
New owner has put Diana and Charles' cake in his will
Moyra Smith's family sold Prince Charles and Princess Diana's wedding cake to a collector in 2008. Thirteen years later, the second owner decided to put it up for auction through Dominic Winter Auctioneers. Gerry Layton was the winning bidder, who parted with £1,850 (about USD 2565) for a slice of history, according to BBC. He seemed to be thrilled with his purchase and declared, "I will have to think of a way to stop myself from trying to eat it though."
Layton also revealed that he had put the cake in his will. Apparently, the piece of confectionary and his estate will be given to charity after he dies. The luxury boat charterer added, "I also thought that I could put it up as a raffle prize with some of the money going to Centrepoint, which Princess Di was patron of." It seems as if Layton may have an altruistic bent, something which would have made Diana proud.
As for eating the cake, Chris Albury, who works as a specialist royal memorabilia valuer at the aforementioned auction house, cautioned the new owner from tucking in. "I still wouldn't recommend eating it but after 40 years it's clearly destined to last," he said, via Metro UK. Albury continued, "It's a curious and unique keepsake celebrating a royal wedding that holds an enduring fascination with British royalty aficionados worldwide." Seems as if Layton can't have his cake and eat it, too.