Why Stephen Amell Almost Got Kicked Out Of Jimmy Kimmel Live
DFree/Shutterstock
For eight years, Stephen Amell starred as the crime-fighting billionaire vigilante Oliver Queen a.k.a. Green Arrow on the hit CW series "Arrow." After several years of cutting his teeth in smaller roles (including appearances in "Queer as Folk" and "The Vampire Diaries" the actor finally landed his big break in 2012 when he got cast as the lead of the network's adaptation of DC's Green Arrow. With his athletic prowess and impeccable charisma, Amell's lead role spearheaded the CW's "Arrowverse," ultimately paving the way for other superhero-based TV series taking place within the same universe — including "The Flash," "Supergirl," and "Legends of Tomorrow."
But before the fame and the responsibilities that came with playing Green Arrow, Amell was just another actor trying to make it in Hollywood. In fact, during the early stages of his career, Amell was just one face in the crowd on "Jimmy Kimmel Live!" before finally appearing on the other side of the camera in 2015. During his appearance on the popular late-night talk show, Amell shockingly revealed that he was almost kicked out of the studio while attending as a young actor years prior.
Despite Amell's charm and ability to captivate an audience, his presence was simply not welcomed by one very alert security guard. So that begs the question — why was Stephen Amell almost kicked out of "Jimmy Kimmel Live!"? Read on to find out!
Stephen Amell's phone almost got him booted
During his 2015 appearance on "Jimmy Kimmel Live!" Stephen Amell confessed that it had been a "dream come true" to be sitting alongside host Jimmy Kimmel himself. He humbly recalled the story of landing his first acting gig in America — which, ultimately, almost got him kicked out of the studio about five or so years before.
"I got my first American job sitting in that audience," the Toronto native revealed to a massive ovation from the crowd — noting that he was "95 percent sure" he got the gig when his phone went off right before taping. However, Amell recalled how the crowd got informed of a strict no-phones policy, and anyone seen using their phone would immediately get ejected from the audience. Though Amell was well aware of this policy, the actor attempted to finesse his way around the system — revealing a feeble attempt to check his pocket before a vigilant security guard eyeballed him and mouthed, "Don't touch your phone."
Amel said he dipped out of the studio during the musical performance of the night (whom Amell recalled having potentially been Flo Rida) to find out whether he scored the gig. What did the gig entail? We reveal the answer after the jump.
Stephen Amell played a villain on 'CSI: Miami'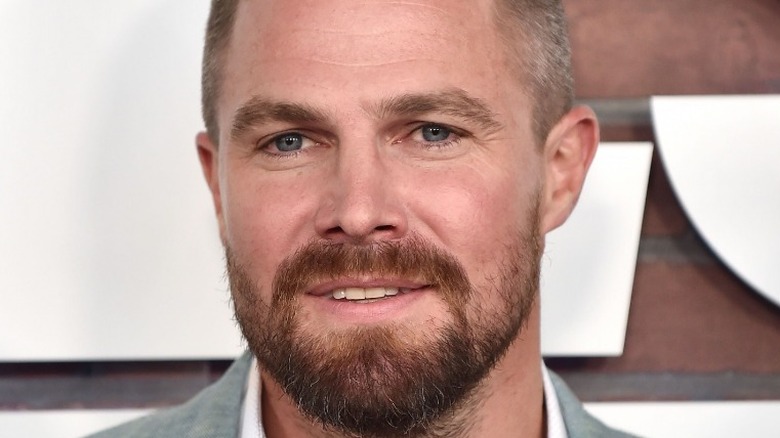 Shutterstock
Stephen Amell ultimately landed his first American gig in 2010 as Peter Truitt, a killer con artist, on "CSI: Miami." During the interview, Amell jubilantly called back to pointing a gun at David Caruso (who played the lead role of Horatio Caine) before his villainous character gets hit by a truck. Per IMDb, Amell appeared on-screen five times that year — the second of which was the aforementioned role in "CSI: Miami." Two years later, Amell would land the starring role on CW's "Arrow" — which Amell humbly recalled was his "10th American job" during his sit-down with Kimmel.
Prior to the premiere of "Arrow's" final season, Amell spoke to Entertainment Weekly in 2019 and reflected on his decade-plus journey through Hollywood leading up to his big breakthrough. "I'm 38 years old, and I got this job when I was 30. I'd never had a job for more than a year [at that point]," he revealed. "... I remember that I was able to move to L.A. in 2010 because my grandfather lent me $15,000 and I had no citizenship, I had nothing," Amell further noted.
Clearly, everything worked out for Amell, and it's pretty cool how Jimmy Kimmel played a small role in his story!